Desert Hearts co-founder Mikey Lion has contemplated his unique life experience and channeled it into his magical debut LP, For The Love!
---
Love has always been the driving factor when it came to the inspiration, creation, and growth of Desert Hearts, a beloved house and techno imprint and festival brand that arose from humble beginnings in the Mojave Desert. At the heart of the collective's rise is Mikey Lion. This San Diego native is driven and has built a rock-solid resume to include DJ, producer, label owner, and self-proclaimed Love Conductor. But, after nine years of making magical memories and forging a sound true to the heart of the brand, there was still one thing missing… an album.
After spending time in deep reflection, Mikey Lion took to the studio to create his debut LP, For The Love, an effective love letter to the community that has sustained him for so long. With nine attention-snatching tracks to get your pulse pumping, Mikey Lion's vivid spirit and boundary-free creativity are on full display. He's poured all of his struggles, successes, tender moments, and outright wacky experiences into this collection of musical art, and we've already become privy to some of the album's most spectacular moments.
It began with the early unveiling of the lead single "Above the Clouds," followed by "Do Or Die" with Sacha Robotti and "When I'm With You" alongside Lubelski and Jackson Englund. These tracks represent the full circle vibe revolving around inventive melodies, dark connotations, and relaxed atmospheres. With the sneak peek behind us, that leaves six other unique musical expressions to enjoy, including three brand new solo offerings and three collaborative gems featuring Desert Hearts friends and family Justin Martin and RYBO, as well as Lubelski making a second appearance.
With the pieces all in place, it's finally time to kick back and allow For The Love to make a lasting impression on your heart. So gather up your closest friends and turn the volume up as we celebrate Mikey Lion's milestone. Grab your copy of For The Love on your favorite music platform, stream the album below, and continue on for my take on this release!
Stream Mikey Lion – For The Love on Spotify:
---
Mikey Lion sets the mood with lighthearted vibes, prepping the body for the wild shenanigans afoot.
As I drift away with the whimsical melody, in my mind I'm lifted far "Above The Clouds." Soaring carefree under the summer sun, I'm feeling loose and ready to take on the world. When the playful piano action appears out of nowhere, a giant smile spreads across my face. This track is undeniably lovely and the perfect way to kick off the lovefest!
"Through The Fog" welcomes Justin Martin into the mix and holds true to the calming essence that defines the first three offerings. This time, I'm coaxed back down to Earth where I stand among a gloomy mist. The eerie synth expression adds to the mystery before we kick things up a gear with a solid bassline punch. All of a sudden, I've stepped into another dimension as the disjointed top-end notes put me under a spell.
Now that my entire being is attached to the journey I let go of all inhibitions. Lubelski and Jackson Englund help to shake off the last bit of stress with the upbeat stylings of "When I'm With You." I love a good vocal, and this one sits perfectly on the ear and on the heart. In fact, this is a song that I believe we all need to share with the most important people in our lives. Because, at the end of the day, it's… all for the love! As the lyrics, "When I'm with you I feel so high…" cruise through my spirit as I close my eyes and give thanks.
Now that the rainbows and butterflies have been tended to, it's time to party!
Things are about to get crazy when RYBO drops by for a "Meditation" session. The kick is incredibly effervescent right from the jump and I feel my brain bubbling with pure happiness. But, oh my goodness, can we talk about the vocalist and her narrative on this one? Her voice is gentle, yet convincing, and I can't help but follow her commands to a T. As a person who consistently meditates on the dancefloor, I'm literally begging to hear this track in the club.
After listening to "Meditation" on repeat four times, it's time to move on, and the sloth master Sacha Robotti has just what we need to make the transition. "Do Or Die" is gritty in its electro elements, full of brooding bassline intensity, and comes with a touch of demonic flair. Everything one needs to unleash their wild side among a sea of sweaty bodies and spiraling lights!
After a brilliant array of top-notch collaborations, Mikey Lion goes solo on the next three tunes.
"Spot Freak" puts you in the mood to visit your favorite evening lounge thanks to its laidback attitude in both its instrumental and vocal elements. The slow simmer that morphs into festive vibes the deeper you get into the track is enjoyable, and you'll feel as 'cool as a cucumber' essence as your feet bop playfully in appreciation.
All of a sudden, endorphins are perked to attention when a robotic voice states, "I just wanna burn wit' ya." You can feel the nostalgia running deep as "Burn With Me" is clearly a nod to Mikey Lion's history as a burner. As the bassline pulsates, I close my eyes and imagine standing on the Playa (an experience I have yet to truly experience), dust swirling all around, enjoying the eclectic sites and sounds of the counterculture.
As the tempo picks up, "For The Love Of What?" poses a very important question. For Mikey Lion, it's for the love of his fans, friends, and family who have helped make his dreams become a reality. This track oozes with vocal swagger, and the upbeat drive calls everyone to the dancefloor for one last epic hurrah before settling down with a glorious closing track.
We come full circle as Mikey Lion makes me feel lighter than air!
Lubelski is back to help close out the show, and this time he's "Talking To The Trees." This track kicks off in the middle of a mystical fairyland forest, and you can even hear a crisp stream bubbling in the background. The organic elements set the mind at ease, and once again my body begins to lift up off of the solid ground. Just as I did in the beginning, I find myself soaring above the clouds, this time hand in hand with the winged creatures of the grove.
The best way to sum up my experience with For The Love would be that it's tender, reflective, inspiring, and invigorating. Sure there were moments of thrills and chills, but Mikey Lion held onto his vision of painting a picture of his life through the lens of love. To be so emotionally transparent on his debut LP may have been a risk, but it was a risk worth taking. I feel like he did a magnificent job, and as he continues to grow I'm looking forward to the music that follows!
---
Mikey Lion – For The Love – Tracklist:
Above The Clouds
Through The Fog w/ Justin Martin
When I'm With You w/ Lubelski and Jackson Englund
Meditation w/ RYBO
Do Or Die w/ Sacha Robotti
Spot Freak
Burn With Me
For The Love Of What?
Talking To The Trees w/ Lubelski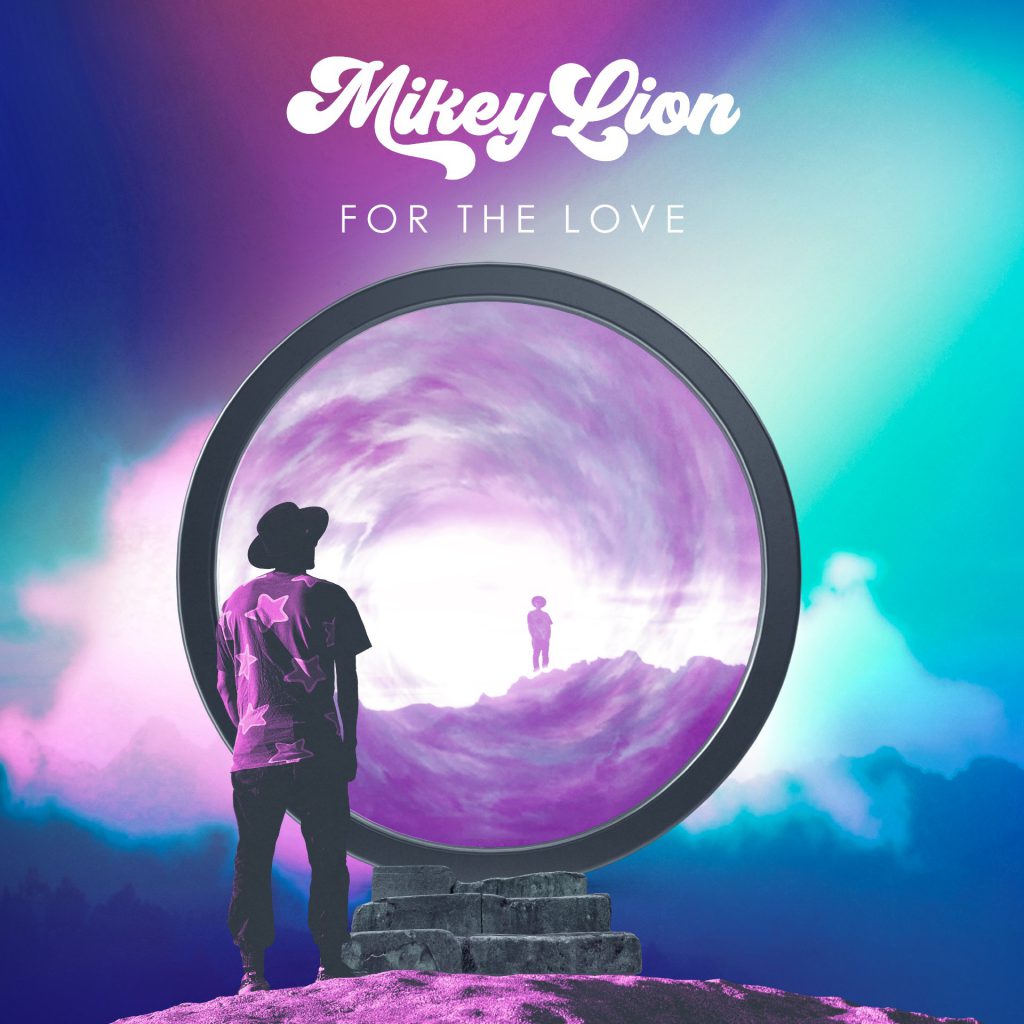 ---
Connect with Mikey Lion on Social Media:
Facebook | Twitter | Instagram | SoundCloud | Spotify