ford. revisits his sophomore album and selects artists to give its tracks an incredibly beautiful spin with The Color of Nothing (Reprise).
---
There's no denying that ford. is both a legend and a genius when it comes to his craft. His ability to transform, transport, inspire, and touch his listeners through his music is incredible, and it's plain to see that he's a standout in the electronic dance and lo-fi scene all around. From scoring Grammy nominations to releasing a phenomenal debut album (The Evening), there's really no limit to where his art can take him.
Although 2020 was a challenging time for musicians and fans alike, ford.'s sophomore album The Color of Nothing was a light amongst all the craziness. His music takes his listeners both on a journey outward and inward. It's like a glove that fits any moment you've had or have, and that at a certain point his music just simply transcends. In fact, if you're using four words to describe the album they would be: stunning, remarkable, thoughtful, and beautiful.
His latest 2021 release, The Color of Nothing (Reprise) revisits his sophomore album and gives it an array of spins from other artists who complement his style so fluidly and gracefully to intimate acoustic versions of tracks. There are even new songs for fans to feast their ears on as well. The nine-track package, alongside his fall 2021 tour announcement, quite literally solidifies his limitless and boundless ability to make people not only listen and be mesmerized by his music but to feel all the feels and some more.
Listen to ford.'s The Color of Nothing (Reprise) on Spotify or listen to it on your preferred streaming platform, and read on for a deeper dive into the sounds found within it!
Stream ford. – The Color of Nothing (Reprise) on Spotify:
---
The Color of Nothing (Reprise) includes two brand-new tracks that were not featured on the original sophomore album release.
The nine-track reprise album kicks off with "thursday drive," an ambient and blissful track that sets the tone for the entirety of the reprise of The Color of Nothing. ford. also graced us with a second track "mid day [focus piece]," another incredibly crafted track that complements the new cut of the album so well.
A majority of the release features remixes of songs from obli, weird inside, blnkspc_, and fantompower.
It's always such a treat someone can take an already brilliant track and make it their own, especially when collaborations are so in sync and complementary of each other's styles. And for the five remixes of tracks off his sophomore album, ford. picked some artists that did just that.
Foreign Family Collective member Obli delivers a refined, upbeat dance edit of "Hold On" with Ayelle that is simply stunning. Listeners are also treated to a remix from Weird Inside with a fresh take on "Fruit&Sun" that features fluttering beats that complement the original track's roots so well while giving it an impressive ambiance.
Another standout came from blnkspc_, who offers up some sexy, seductive saxophone sounds on a beautifully executed remix of "Headspace" to really take the track to the next level. And the cuts of "Living Breathing" from fantompower and "4:38am" from imagiro also hit the spot as they infused their unique stylings into the mix to create fresh soundscapes.
But the true standouts on the album were the more personal, stripped-back versions of tracks off the original.
There are two stripped-down versions found within the reprise of the album, both of which grace listeners with a very raw, personal side of ford. "In My Eyes – stripped" is absolutely breathtaking as piano notes and lo-fi beat take over the senses the moment the track begins to play.
My personal favorite from the entire collection is the Bedroom Reprise of "4:38am." Much in the same vein as the aforementioned version of "In My Eyes," this one places an emphasis on the vocals from Barrie with piano notes and metronome ticking to keep the beat. Paired with this cut is a beautiful music video of the intimate performance to add an even more profound layer to the listening experience.
Overall, the journey into melodic electronica that ford. takes us on is an experience to be had and to relive over and over again, and this album is quite literally my warm blanket to cozy myself up in for any and every moment life throws my way. So what are you waiting for? Check out The Color of Nothing (Reprise) for yourself and get ready to feel. And make sure you're staying up-to-date on his 2021 tour, including his performance at Life is Beautiful this September.
---
ford. – The Color of Nothing (Reprise) – Tracklist:
Thursday Drive
Hold On – obli Remix
Fruit&Sun – weird inside Remix
mid-day – focus piece
Headspace – blnkspc_ Remix
Living, Breathing – fantompower Remix
In My Eyes – stripped
4:38am – imagiro Remix
4:48am – Bedroom Reprise ft. Barrie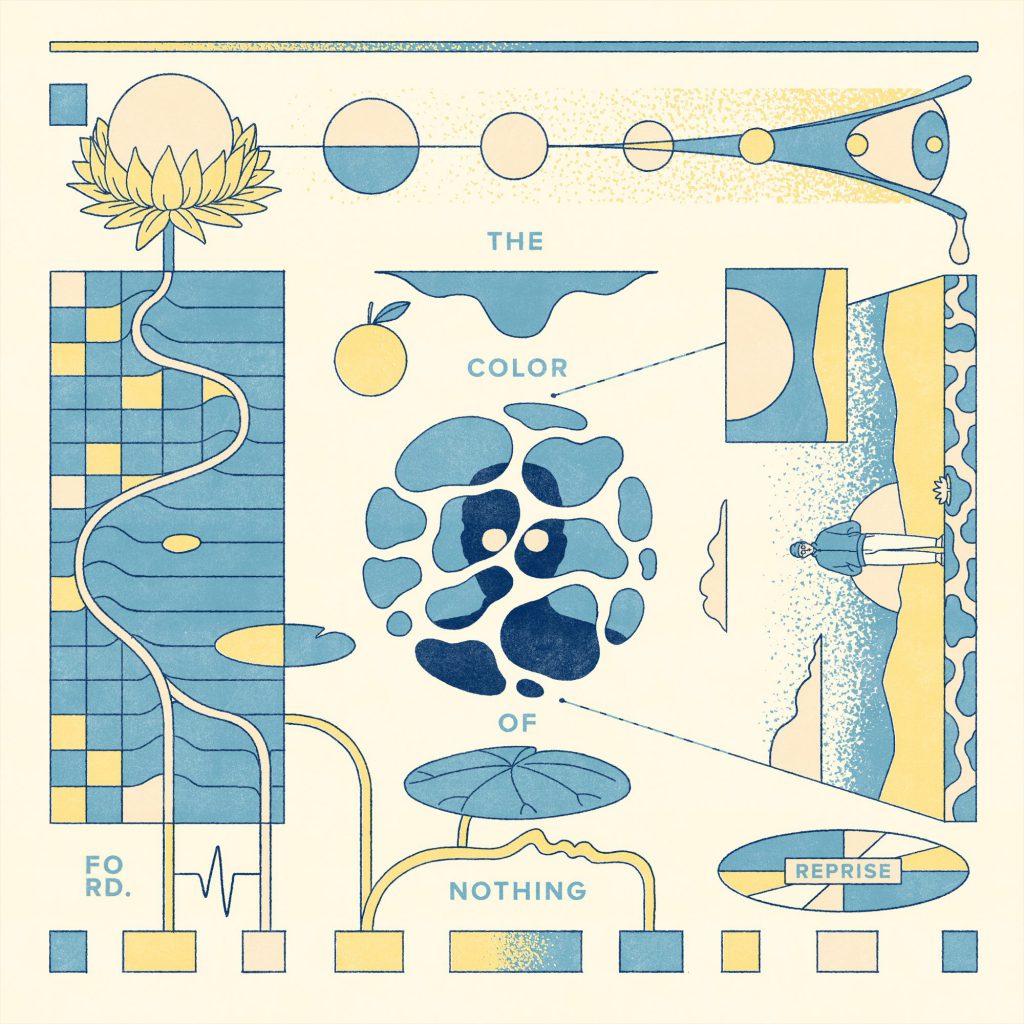 ---
Follow ford. on Social Media:
Website | Facebook | Twitter | Instagram | SoundCloud