All-virtual music label, Spirit Bomb, debuts three new characters joined by some of bass music's finest artists for the dynamic Spirit Bomb 001.
---
From virtual festivals to livestreams to NFT's, this past year has blurred the lines between the physical and virtual worlds in an unprecedented way. With the conception of the first-ever fully virtual music label, the Spirit Bomb Collective, created by Strangeloop Studios, is paving the way to the next level of existence. The trail-blazing label pairs up their virtual entities with producers, giving them a new outlet to create as their alter-ego. Spirit Bomb 001 introduces us to three new virtual entities: DET, LV4, and IZI — embodied by Sweater Beats, Mr. Carmack, and Salva, respectively.
Reaching their hands even further into the digital realm, Spirit Bomb is also slated to release a set of bespoke NFT creations for each character and single on Spirit Bomb 001. Their debut NFT, featuring their first virtual character, Xen, sold earlier this month for $4,058/2.20ETH, with all proceeds benefitting the Asian American Feminist Collective, Open Earth Foundation, and Offsetra. Now, they released the first NFT of Spirit Bomb 001 with Mr. Carmack and LV4. The auction for this audio-visual masterpiece is live now via Foundation. Check it out and get a peek at Mr. Carmack's virtual alter-ego!
Dive into the Spirit Bomb world by listening to Spirit Bomb 001 on Spotify or your favorite platform, and read on for a deeper dive into the release!
Stream Spirit Bomb 001 on Spotify:
---
Spirit Bomb 001 is stacked with some of the most talented bass music producers in the industry — from Mr. Carmack, Huxley Anne, Tsuruda, Salva, and Sweater Beats.
With so much talent behind these entities, it's no surprise that the four-track EP is packed a wide range of electronica that pushes the envelope as much as the concept of Spirit Bomb itself. Things begin with "We Heavy," which is a creation of DET with Huxley Anne's ethereal, experimental sounds rounded out with Tsuruda's wobbly vibes to make for a delicious blend. I recommend listening to this somewhere you can get up and dance because this track will make you want to move your hips and groove.
Next up is "Hurt You," by spirit entity IZZI and dance master, Salva. The muted guitar strumming of this track floats behind emotional lyrics, followed by a satisfying, deep bass that buzzes in your head. Then, "Future Eyes" comes in with some light piano, which quickly turns into a beat that will get your heart racing, before taking you on a melodic, future bass journey with DET and world-renowned producer, Sweater Beats.
Finally, we're closed out with "Run It," the musical creation of LV4 and bass music legend, Mr. Carmack. The distorted beat will bounce around in your brain and get your head bobbing. It's a beautiful contrast with the guitar riffs and piano melodies of the previous tracks. All in all, listening to Spirit Bomb 001 feels like running around a bass music playground. These artists (and their virtual characters) really didn't hold back. With experimental vibes, deep emotions, and satisfying bass, all under the veil of an innovative and groundbreaking concept — what is there not to love?
---
Spirit Bomb 001 – Tracklist:
DET, Huxley Anne, Tsuruda – We Heavy
IZZI, Salva – Hurt You
DET, Sweater Beats – Future Eyes
LV, Mr. Carmack – Run It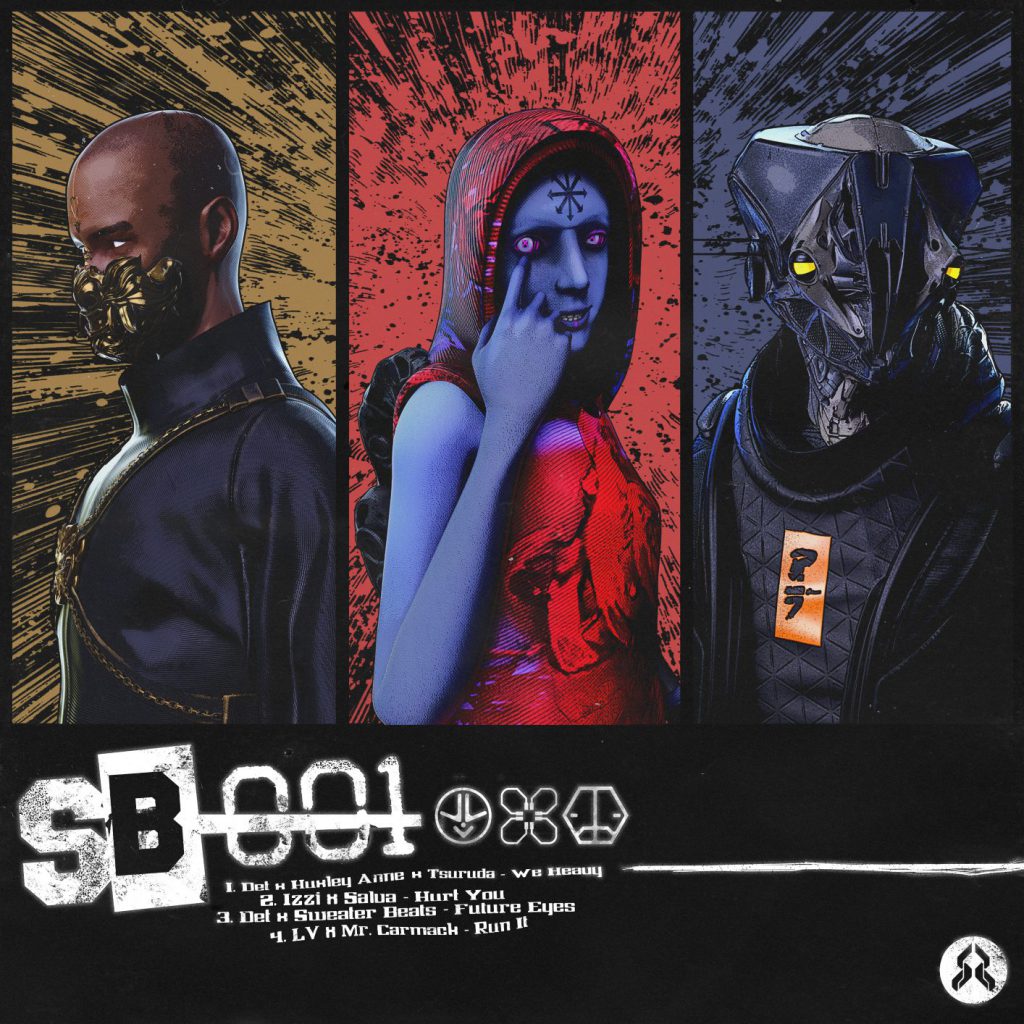 ---
Follow Spirit Bomb on Social Media:
Website | Facebook | Twitter | Instagram | SoundCloud | YouTube | Twitch | TikTok