Hurry and find your neck brace before pressing play with the latest volume of Night on Subsidia featuring Boss Mode, Blaqout, and more.
---
Excision is growing Subsidia to become the place to be for all up-and-coming bass artists, and they just dropped their tenth compilation in the past six months with the release of Night: Vol. 4. The latest in the series features 20 fresh tunes from some of the label's heaviest artists yet including the likes of RAZR, Blaqout, Boss Mode, Staysick, and SVVEATS to name a few.
The compilation places its songs in an order that increases with heaviness as you progress through your journey while listening. Fans who attended Bass Canyon in 2019, will be elated to finally have Excision, UBUR, and Armanni Reign's "Back To Back" available at their fingertips as it kicks off the compilation in style. But that's just a taste of what's in store as even more hard-hitting tracks arrive soon after.
Producers like LOUIEJAYXX and VRG spent some time together to "Brainstorm" some delicious sounds while FelMax and Blaize were clearly set on growing the region they reign over with "Domain Expansion." Adding to the mix is Moldae who shows listeners the face of "Interspace Evil," RAZR with his fantastic track "Eternity," and Perry Wayne who delivered a vibrant tune dubbed "Neon."
But while each artist brought some unique sounds to the compilation, there were three that truly stood tall among the rest. If you're a fan of darker rap, especially when there is some hard-hitting bass behind the lyrics, "Bad Break" is the track of the album for you. This collaboration sees Autokorekt, Soundwreck, and MISTA J join forces and blend bass elements in for a banger that doesn't miss a step. It's a track that will have you looking for any object to use as a makeshift rail.
"Death Transmission" by Blaqout on the album is fast pace, face scrunching, and gets your body moving. The chops in the song really get listeners going before the flavorful drop takes over their taste buds. While you're in the kitchen cooking up those fresh beats, the second drop hits you like nobody's business to decimate your speakers and consume your soul.
And for the headbangers who can't help but get up and rage, "Cyber Stomp" by Boss Mode is for you. Those who tune in won't be able to prevent themselves from making a swampy bass face during its three-minute runtime. And if you close your eyes you'll feel like you're at Jurrasic Park for a moment as the bass fills your body with powerful vibrations.
The bass is going to be in your face from the moment your press play, so be prepared to throw your elbows. Listen to the fourth volume of Night on Spotify or your favorite platform, and let us know which track is your favorite in the comments.
Stream Subsidia: Night Vol. 4 on Spotify:
---
Subsidia: Night Vol. 4 – Tracklist:
Excision, UBUR, Armanni Reign – Back to Back
LOUIEJAYXX, VRG – Brainstorm
SVVEATS – Cool Kickin
Jorge Toscano, Kaise – Bad Intentions
Shoku, Elusion – WTA
Moldae – Interspace Evil
FelMax, Blaize – Domain Expansion
FREAKY, Plsma – MURDER PT. II
Typhone – B2B
RAZR – Eternity
Dubscribe – Devastator
Perry Wayne – Neon
Save Yourself – Demons
Autokorek, Soundwreck, MISTA J – Bad Break
BERNZIKIAL – Frequency
Boss Mode – Cyber Stomp
FOCUSS – Dawgs
Blaqout – Death Transmission
Go Pnik – World Ender
Staysick – Eclipse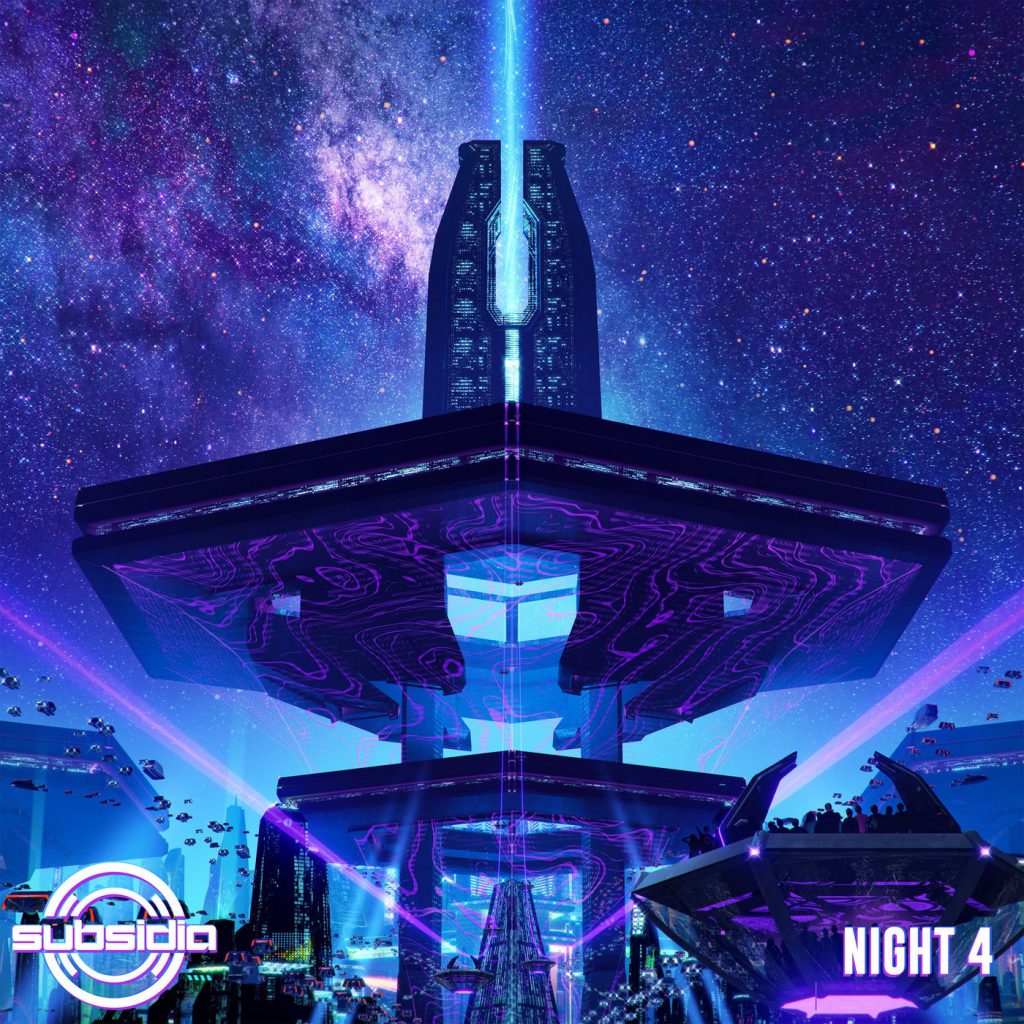 ---
Follow Subsidia Records on Social Media:
Website | Facebook | Twitter | Instagram | SoundCloud | YouTube