The Lockhart Family released a statement earlier today that included details from the LA Coroner's office in regards to i_o's cause of death.
---
Late last year, the entire dance music scene was rocked by the news that beloved electronic artist Garrett Lockhart, professionally known as Fawks and i_o, had tragically passed away. As fellow artists, members of the industry, and his family, friends, and fans expressed their grief over the loss, many wondered what happened to the rising star.
Today, the Lockhart Family posted to i_o's accounts on social media after receiving an update from the LA coroner's office in regards to his cause of death. "It has been determined that Garrett suffered from late stage Hashimoto's thyroiditis," the statement reads. "This is unusual in young males and if undiagnosed, can have severe, sometimes fatal consequences. These include fatigue, anxiety, depression, and cardiac arrhythmias."
After five months of testing the coroner came to the conclusion that Garrett had a sudden and fatal arrythmia, with no toxins found. They also stated that while Garrett did suffer from anxiety and depression, that he also did not take his own life. "It is our hope that Garrett's premature death can be used to create and normalize conversations surrounding mental health issues, realizing that there may be an underlying disease or conditions requiring medical attention," the Lockhart Family continued.
They close the statement by requesting privacy during this difficult time, but remind those who were friends of his or inspired by him to honor his memory by being a friend to others and to "take care of yourselves and each other." The full statement can be found below.
The team at EDM Identity expresses their condolences to Garrett Lockhart's family, friends, and faithful fans around the world. He is truly missed.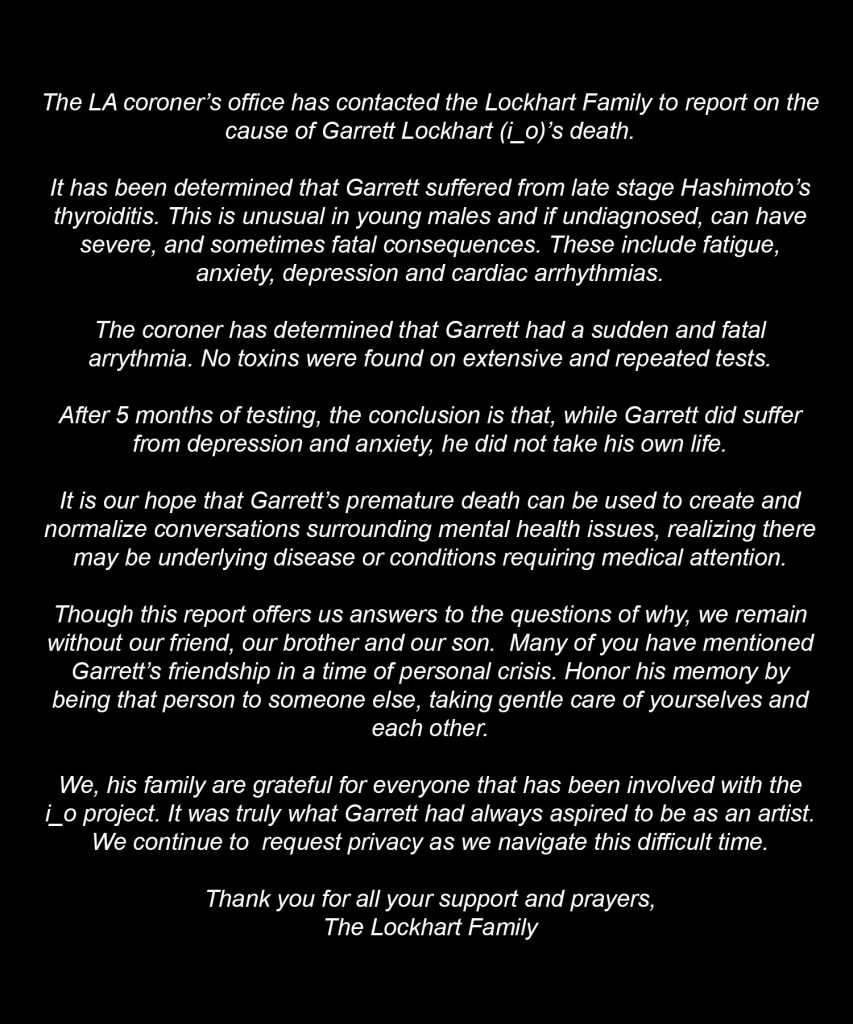 ---
Leave a message with your memories of i_o on his socials:
Facebook | Twitter | Instagram | SoundCloud