SG Lewis is ready to light up the dancefloor after announcing surprise tour dates in celebration of his debut album times.
---
SG Lewis is more than a producer. He's more than a singer. He's a musician with impeccable talent. Earlier this year, he released his highly anticipated debut album times, a dreamy collection of ten tracks that live on a loop. Not only did he create a beautiful work of art, but his music is the definition of soulful. Something that's rare these days. 
For the album, SG Lewis collaborated with a wide variety of talented artists, such as Nile Rodgers, Robyn, Channel Tres, Lastlings, Lucky Daye, and Frances. And every single song on times is the perfect representation of what he brings to the table. Now that COVID restrictions are slowly starting to lift, festival and tour announcements are hitting us left and right, and today SG Lewis entered the chat with good news. 
The London-based musician is blessing his fans in North America with four special shows to celebrate the era of times. Set to kick off on October 15 in Los Angeles at The Shrine Expo Hall, Lewis is making three additional stops in Oakland on November 12, Chicago on November 26, and Brooklyn on December 3. He's also set to perform at Outsidelands over Halloween Weekend in San Francisco for those who cannot make those dates.
With all the excitement and hype about going on tour, SG Lewis shared that "It feels super surreal to be announcing any form of shows, let alone headline shows for this year. The pandemic has separated me from a country that had become a home away from home to me, and I'm so excited to be reunited and play all this new music for you guys. The shows are gonna be insane. Let's party."
SG Lewis created and produced one of the best dance albums of 2021, and we're only in April, so don't miss out on a magical experience.
Tickets go on sale for all four shows on Friday, April 23, at 10AM local time and are expected to sell out. For access to the exclusive artist presale you can sign up now, and head over to his official website for more details and information.
---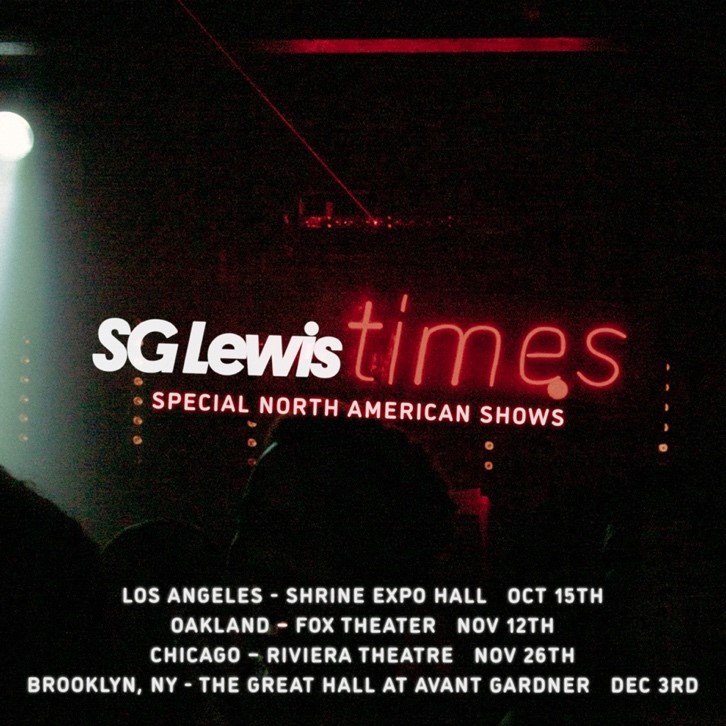 ---
SG Lewis North American Tour Dates:
October 15 – Los Angeles, Ca
November 12 – Oakland, Ca
November 26 – Chicago, IL
December 3 – Brooklyn, NY
---
Follow SG Lewis on Social Media:
Facebook | Twitter | Instagram | SoundCloud | YouTube