Outdoor dining and socially distanced events are slowly becoming the norm, and The Midway in San Fransisco is doing them right.
---
The Midway in San Francisco is a venue that seems to do a little bit of everything because on top of being home to an array of amazing music events it's also a home for art exhibits and delicious dining. During regular event season, they've hosted events like Toxic Summer as well as Lofreq and Wormhole shows. They even have an outdoor patio right next to a delicious restaurant, Madam Zola's Fortune, where guests can dance to their favorite music and indulge in tasty foods.
When the pandemic hit last year, The Midway decided to expand their outdoor area and start throwing socially distanced dining events. Although the shows had to stop when cases rose they recently returned and are better than ever, and I was fortunate to attend one of them to catch two artists I've come to love lately, Shlump and Milano.
The showcase was my first show in over a year and it almost felt like I was stepping into uncharted territory. But the moment I arrived at The Midway all those worries faded. This is one of my favorite venues in the Bay Area; not only is the venue itself really unique, but it is out by the water and far from residential areas. That means the music can be loud (just how I like it), especially for what we would be listening to, even if the events don't go super late due to restrictions. (This one was from 4pm-8pm.)
Upon arrival and while we got our IDs checked, security took everyone's temperatures to make sure we were okay to go in.
The way the tables are set up is four to six people at maximum to separate everyone at an ample distance, and there's a VIP section in the front half that is split off from GA by a rope. To keep people from leaving their tables as often as possible, each one had its own QR code and number to scan, and employees would bring drinks and food right to guests' tables. But there were bars outside of the dining area that guests could go to as well if they chose to do so.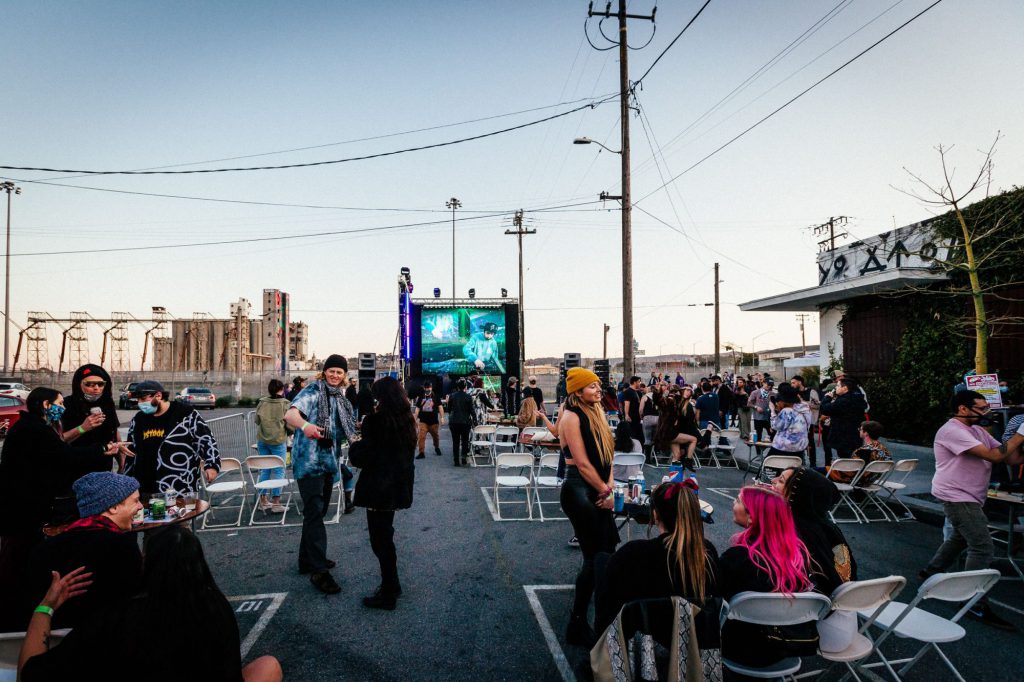 The rules with masks were that you could take them off when you were at your table – but if you left your area for any reason you were required to put it back on.
Everyone did such a great job of following those rules, and security did a wonderful and polite job of making sure people followed them as well. We also had to keep the aisles clear so employees could get around to deliver orders to the tables. Some guests did socialize with other tables, and from what I could tell they kept masks on when they were in areas that were not their own.
The Midway also had squares painted around the tables to help keep guests within their area and maintain the six feet between the other tables. I was super impressed with how everything was run; in my experience at shows, security isn't always the nicest, but everyone this weekend was so polite and seemed like they were just as happy to be there as all of the attendees were.
The way to stage was set up was really well thought out as it was shaped like an L, with the DJ played at an angle so everyone could really have a good view. They had sets of tables facing each side, and each section was filled with speakers so everyone could enjoy the sound. And there were also giant screens that went up to the top of each section of the stage, so everyone could see the artist playing if they weren't in VIP and in direct sight of the artist.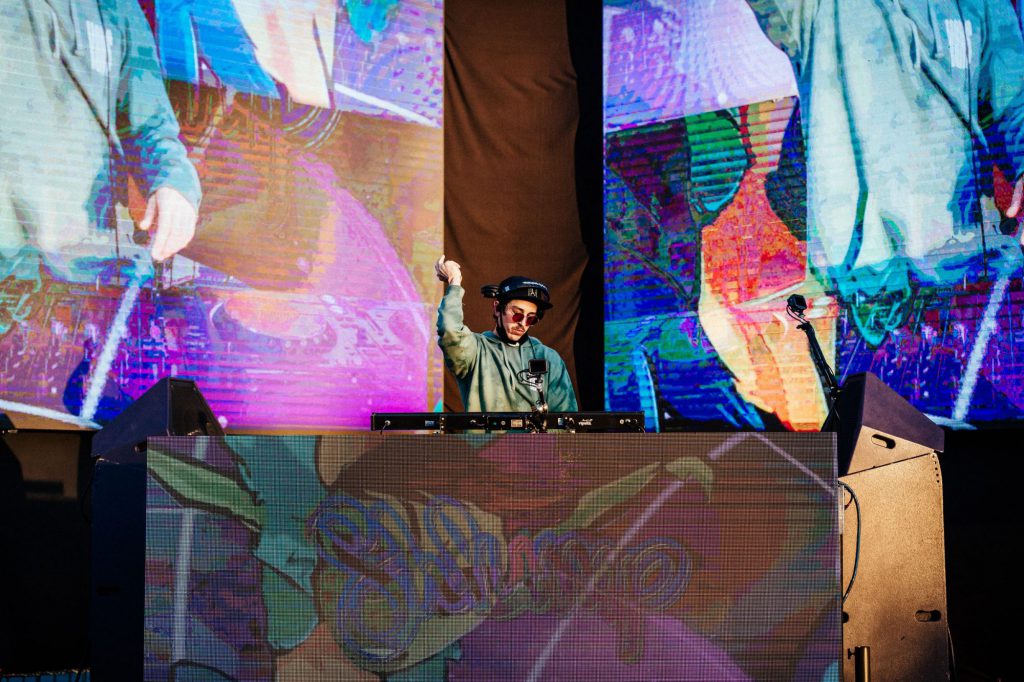 Now for the best part, the music.
The two openers killed it and got the crowd even more pumped up for the main acts. Milano played at 6pm and threw down one of my favorite sets I've seen from him thus far. If you aren't familiar with him or Lost Dogz, I highly recommend having them under your radar. Then, Milano dropped banger after banger and closed out with "Return Of The Mac." If you've ever caught any of them play at a festival before, it is likely you've heard them close things out with that track.
Shlump was up next and he took us all to outer space. On top of playing tons of his own tunes, he dropped a new collaboration he's got going with Space Wizard that is absolutely disgusting. He even extended his set just a tad, which was the perfect icing on the cake.
If you are in the Bay Area and looking for a properly done, socially distanced event, I highly recommend checking out The Midway.
There are some truly incredible artists coming to The Midway over the next few months, and I will certainly be going back soon to attend another outdoor dining event. Be sure to keep up to date with the latest happenings by heading to their website and see what dining events they have coming up soon!
---
Follow Shlump on Social Media:
Facebook | Twitter | Instagram | SoundCloud
Follow Milano on Social Media:
Facebook | Twitter | Instagram | SoundCloud