Refrakted is a magnificent collection of tunes from Mindtality that features an array of mind-bending genres to immerse yourself in.
---
Mindtality is a producer whose sound design is refreshing and brings something new to this corner of the underground. With tunes that span from up-tempo to weird and goopy, from his releases on Mean Mug Music and Massive Music Collective to remixes of tracks like Supertask and Saint Sinner's "Get To You," he's proven to be an excellent contender for success. Everything that he creates in the studio hits an array of emotions and his brand new LP, Refrakted, is sure to do just that.
Refrakted is filled to the brim with impressive tunes that go all the way back to 2019, highlighting different genres and sounds that Mindtality explored. While parts of the album lean more on the energetic sides of the spectrum, others are sure to have listeners melting. Mindtality also took inspiration while creating from live performances and crowd engagement which, in turn, gives Refrakted a very unique, personal feel.
Mindtality also shared a little bit about the story behind the artwork from the creative minds of Kyle Boich (@artbykoi) and Andrew Hunter (The Void Media). "The idea behind this artwork came from one of my live performances where Kyle was working on this exact piece during the show. After performing I came over and began falling in love with the progress of the painting," he said. "Through talking with Andrew, he came up with an amazing unique twist of the painting that fits the vibe of the album perfectly."
So kick back, relax, and let this album take you away to deep, imaginative places in your mind. Stream Mindtality's Refrakted on Spotify, grab a copy on Bandcamp, and read on for a more in-depth look at this creative collection of sounds.
Stream Mindtality – Refrakted on Spotify:
---
Mindtality starts things off with the more mellow side of his sound to ease listeners into the Refrakted realm.
"Macrocosm" and "Prairie Creek" are the first two tracks that kick off Refrakted and they are packed with beautiful and emotional soundscapes. "Macrocosm" is super mellow and layers in string-like compositions and a repetitive, relaxing drum beat. "Prairie Creek" starts off with the sound of children playing and living in pure bliss, slowly mixing in ethereal sounds that are like taking a deep breath and letting it out. The beats in both of these tunes had me bobbing my head and feeling waves of calm and happy emotions wash over me.
"Tropicality" is up next, and it made me feel like I was turning into a wiggly noodle. It has distorted, scrunchy tones and a quick beat that will have you wanting to get up and dance. I feel like this was one of the tracks that may have been inspired by crowd reactions, as well as the song "RoughHousin'." The moment the drop hit, my jaw slammed into my keyboard even though it had this slow, smooth beat; it was still packed with scratchy and wobbly bass.
My favorite track off Refrakted was "Pullover," a sweet bass-filled tune that will have anyone who listens to it going absolutely bonkers.
Warning: if you drive and listen to this, you might need to pull over and catch your breath. I would love to hear "Pullover" dropped on some Funktion 1's or Hennessey's because it would make everything, including my insides, rumble. Following up is another banger dubbed "I Dropped My Smoothie." If the name isn't enough to make you giggle, just wait till you hear the bass in this. I could imagine someone being in the crowd at a festival and dropping their smoothie when the bass hits. It squished my brain in the best possible way and made me feel like I was turning into a piece of playdough.
Things start to mellow out again with "Interlocked," a track that leans more on the chill side but is still packed with distorted bass. I love Mindtality's ability to make you feel so at ease, but also have goosebumps from how dirty the sounds are. Then, the final two tracks come in as he wraps up Refrakted with "The Thing About Her" and "Solstitium." Both of these songs gave me major downtempo vibes, the ones that are perfect for when you find yourself posted up in a hammock at a festival vibing out to the sound. There couldn't be a more fitting way to bring this album to a close.
---
Mindtality – Refrakted – Tracklist:
Macrocosm
Prairie Creek
Tropicality
RoughHousin'
Pullover
I Dropped My Smoothie
Interlocked
The Thing About Her
Solstitium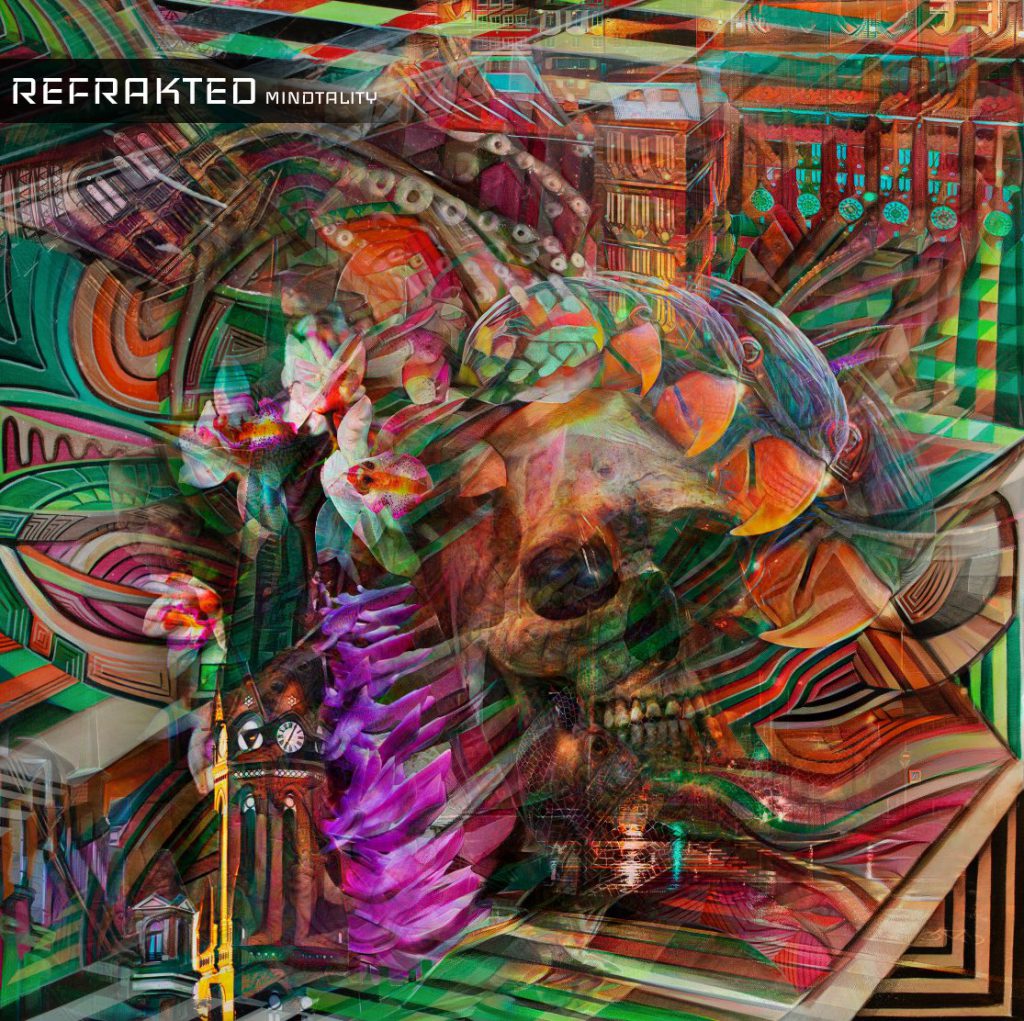 ---
Follow Mindtality on Social Media:
Facebook | Twitter | Instagram | SoundCloud