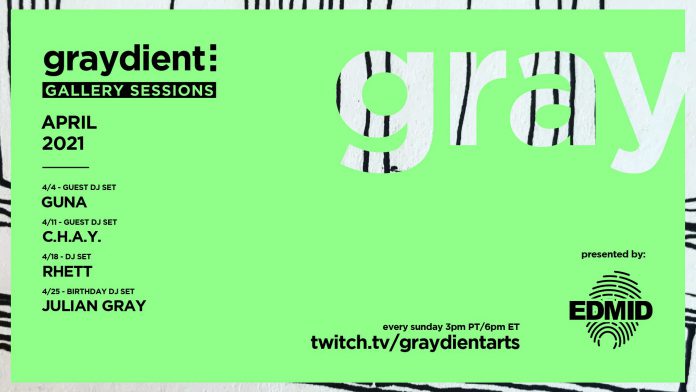 Guna, C.H.A.Y., Rhett, and Graydient Collective founder Julian Gray will be taking over the Gallery Sessions series to spin sets in April!
---
Artists in the dance music scene have continued to spin sensational tunes and play their hearts out on Twitch. One of the brightest spots on the platform over the past few months has been Graydient Collective and their Gallery Sessions series that showcases emerging talent in the scene. Now, they've set their sights on continuing those vibes in April with the latest run of artists and you simply won't want to miss out on these ones.
Related: Did you miss out on past editions of the Gallery Sessions series? Head over to Graydient Collective's YouTube channel to dive into the archived performances.
Kicking off the series in the month of April on Sunday, April 4 is Guna who previously took the stage back in December and played a stunning set. So this second helping is one that comes as a welcome surprise on Easter Sunday. Next up on the decks is C.H.A.Y., a familiar face for those who have been following labels like mau5trap and Country Club Disco as of late. He'll be spinning some quality tunes to perfection on April 11, so don't sleep on it.
Rhett is another standout artist gracing the Gallery Sessions series for a second round after appearing back in November. Having landed releases on Emercive Recordings and also on Graydient's own Colors, Vol. 2, be prepared to be swept away by some seriously immersive soundscapes on April 18. Then, to cap off the month of April, Julian Gray will be dominating the decks with a special birthday set on April 25, and quite frankly we couldn't think of a better way to celebrate. It's sure to be a treat for anyone who tunes in, so make sure you swing by and hang out in chat as he guides everyone on a journey with his unique progress-o style!
Make sure to follow Graydient Collective on Facebook and Twitch so you know the moment they go live, watch each episode below, and stay tuned for more from this fantastic group of artists in 2021!
Tune in to Graydient Collective's Gallery Sessions series on Twitch:
---
Graydient Sessions – April 2021 Schedule: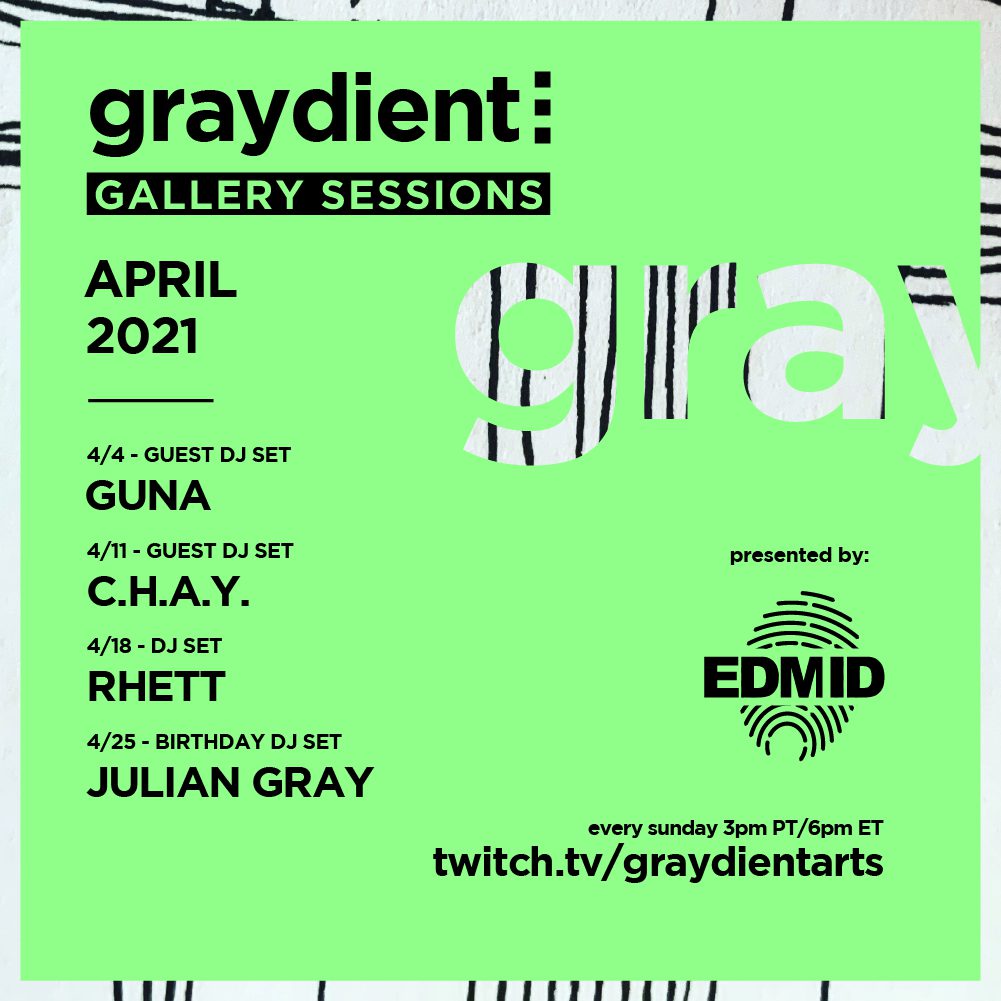 ---
Follow Graydient Collective on Social Media:
Website | Facebook | Twitter | Instagram | SoundCloud | YouTube | Twitch