Afternoon Umbrella Friends presents Umbrella Weekend Online featuring artists like Lee Reynolds, Mitch Dodge, Drew Dapps, and more!
---
The dance music scene in San Diego has continued to thrive over the past few years, even with the pandemic preventing live shows from taking place. From the incredible Desert Hearts' streams to the countless others who have taken over Twitch, it has been exciting to see each community adapt and showcase their music, style, and vibe through their online productions. Another one of the crews who has also thrown some stunning streams is the Afternoon Umbrella Friends, and now they have another exciting weekend planned.
From March 26 at 5pm PT to March 29 at 1am PT, Afternoon Umbrella Friends will be hosting a fresh edition of Umbrella Weekend Online. Featuring 50+ hours of non-stop music, the stream will also feature huge takeovers from Frequency Clash, The Clam Jam, Coalesce New Years, and Music is 4 Lovers. Of course, the lineup is absolutely stacked as well with some of the finest local artists spinning including Lee Reynolds, Mitch Dodge, Susio, Memo Rex, Drew Dapps, and Tiago, to name a few.
The production for Umbrella Weekend Online will also take another leap forward with a state-of-the-art virtual desert production and off-the-charts lighting and sound to add to the immersion. This will be Afternoon Umbrella's largest production yet and you won't want to miss out on catching it.
Check out the full lineup below, stay tuned for the set times by RSVPing to the event on Facebook, and follow Afternoon Umbrella Friends on Twitch to know the moment that the show goes live!
Tune in to the Umbrella Weekend Online on Twitch:
---
Umbrella Weekend Online Lineup: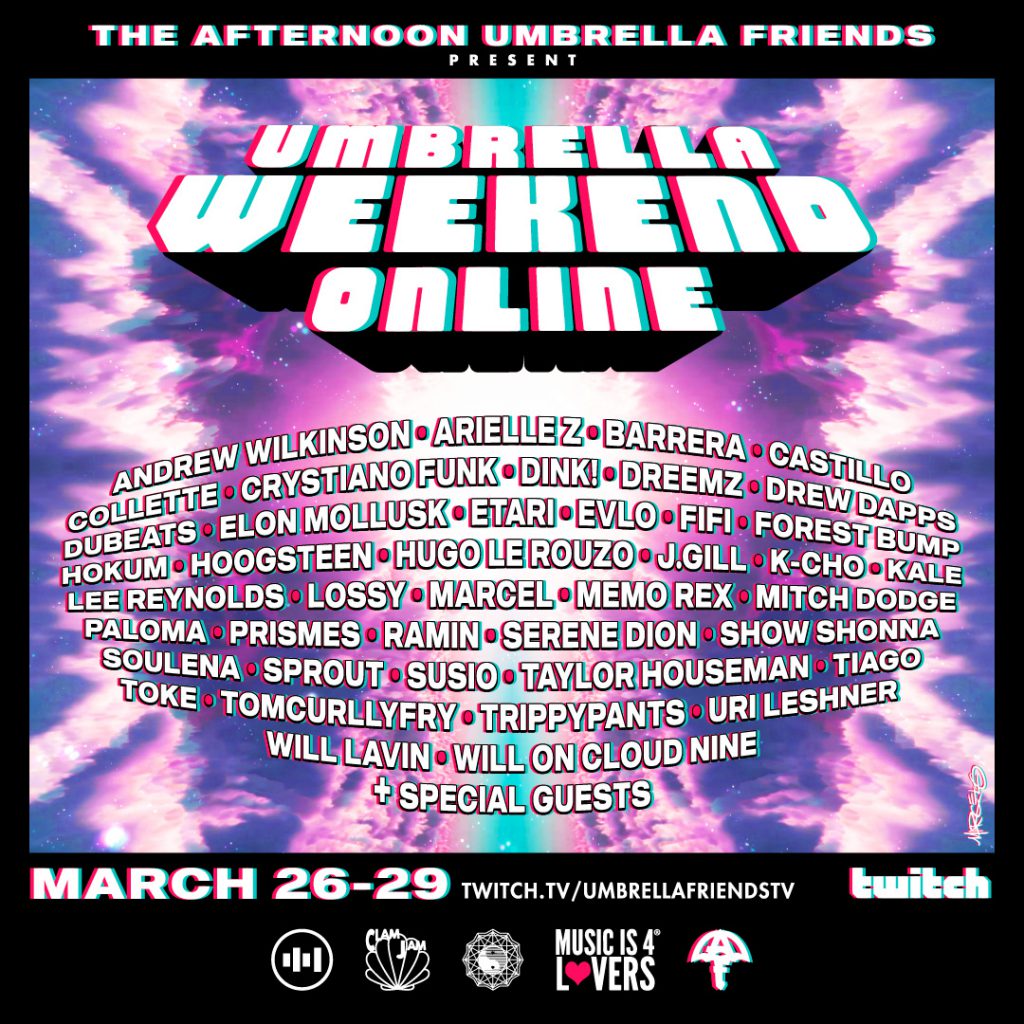 ---
Umbrella Weekend Online – Lineup By Artist:
Andrew Wilkinson
Arielle Z
Barrera
Castillo
Collette
Crystiano Funk
Dink!
Dreemz
Drew Dapps
Dubeats
Elon Mollusk
Etari
Evlo
Fifi
Forest Bump
Hokum
Hoogsteen
Hugo Le Rouzo
JGill
K-Cho
Kale
Lee Reynolds
Lossy
Marcel
Memo Rex
Mitch Dodge
Paloma
Primses
Ramin
Serene Dion
Show Shonna
Soulena
Sprout
Susio
Taylor Houseman
Tiago
Toke
TomCurllyFry
TrippyPants
Uri Leshner
Will Lavin
Will On Cloud Nine
+ more special guests!
---
Follow Afternoon Umbrella on Social Media:
Facebook | Instagram | SoundCloud | YouTube | Twitch