Wuki takes his fans on a wild ride filled to the brim with stunning sounds on his debut album WukiWorld, out now via HARD Recs.
---
Wuki is an artist that prefers to color outside the lines. He's influenced by Detroit's ghettotech and Chicago's footwork, which explains his explosive booty-shaking, genre-blending anthems. For many, this approach is risky and scary, but for Wuki it's invigorating and speaks to his boldness as a creator.
He isn't afraid of trying something new or collaborating with artists outside the norm. As a result, he received a Grammy nomination for his epic remix of "Mother's Daughter" by Miley Cyrus, and he's worked with Valentino Khan, Anna Lunoe, Tommie Sunshine, and countless others over the years as well.
Fast forward to today, and Wuki is celebrating the release of his debut album WukiWorld, out now via HARD Recs. WukiWorld is a collection of ten-tracks with features and collaborations from JUVENILE, Yung Baby Tate, Stoppa, Smokepurp, Diplo, and more. As a whole, this album is a magical journey into the mind of Wuki and an introduction to his legacy as an artist.
With that being said, show Wuki some massive love, and purchase or stream WukiWorld on your preferred platform. Be sure to read on further for my thoughts, and don't forget to share your opinions about the album down in the comments!
Stream Wuki – WukiWorld on Spotify:
---
The first half of WukiWorld is cohesive and full of bangers that will erupt any club, festival, or rave into dreamy mayhem.
The album opens with "Love 2.0" a track that dominates with this powerful trap force. It's unapologetic and disruptive in the best way, especially the first half. The second drop mixes in that booty bass that's full of high energy and triggers your body to move. That pace continues with "Chicken Wang" featuring Diplo and Snappy Jit. It's a fun, vibrant track that's meant to get people twerking and living their best carefree life. 
The momentum continues to build up with the New Orleans bounced inspired track "Bad Girl Drumma" with JUVENILE. Yes, that's right, the legend that blessed the world with "Back That Azz Up" and "Slow Motion." Overall, this track is definitely one of my favorites because you get a glimpse into Wuki's range as an artist. "Bad Girl Drumma" is a banger that I can't wait to hear in the flesh because of its dynamic blend of bounce, hip hop, and bass.
Then, there's a slight shift with "Hey Ladies" featuring Yung Baby Tate and Stoppa. This track is playful and decent overall, but it didn't resonate with me personally. Whereas "Birdz" with Smokepurpp features a delicious distorted drop with heavy bass and unexpected twists and turns. 
The rest of the album is unpredictable and slightly frantic.
Because Wuki is a genre-blending artist, it explains why certain songs feel out of place. For example, "I See You" with Stoppa and "I'm High" are more toned down in energy. Granted, "I'm High" is the perfect song to add to your smoke sesh playlist, both songs are subdued and would work perfectly during a set transition.
Meanwhile, "SHUTUP" with Scrilla King and Shaquille O'Neal, and "Family" featuring Softest Hard instantly hike the energy back up. In particular, "Family" reminded me of k?d with its harder beat that's heavy and in your face, but I dig it. This is another song that I would enjoy hearing live during a festival or rave.
WukiWorld closes with the most emotional and personal song off the album.
"Tell The World About Me" featuring Sebastian Reynoso is dedicated to Wuki's mother who passed away. You can instantly feel the emotion pour out in the production, as this is a bittersweet moment for him. I can only imagine the overwhelming feeling of this accomplishment without having your parent available to share this pivotal moment with you. As a listener and fan, I'm confident that she's looking down so proud of you, Wuki. Congratulations on WukiWorld, it's a brilliant work of art!
---
Wuki – WukiWorld – Tracklist:
Love 2.0
Chicken Wang (feat. Diplo, Snappy Jit)
Bad Girl Drumma (feat. JUVENILE)
Hey Ladies (feat. Yung Baby Tate, Stoppa)
Birdz (feat. Smokepurpp)
I See You (feat. Stoppa)
SHUTUP (feat. Shaquille O'Neal, Scrilla King)
I'm High
Family (feat. Softest Hard)
Tell The World About Me (feat. Sebastian Reynoso)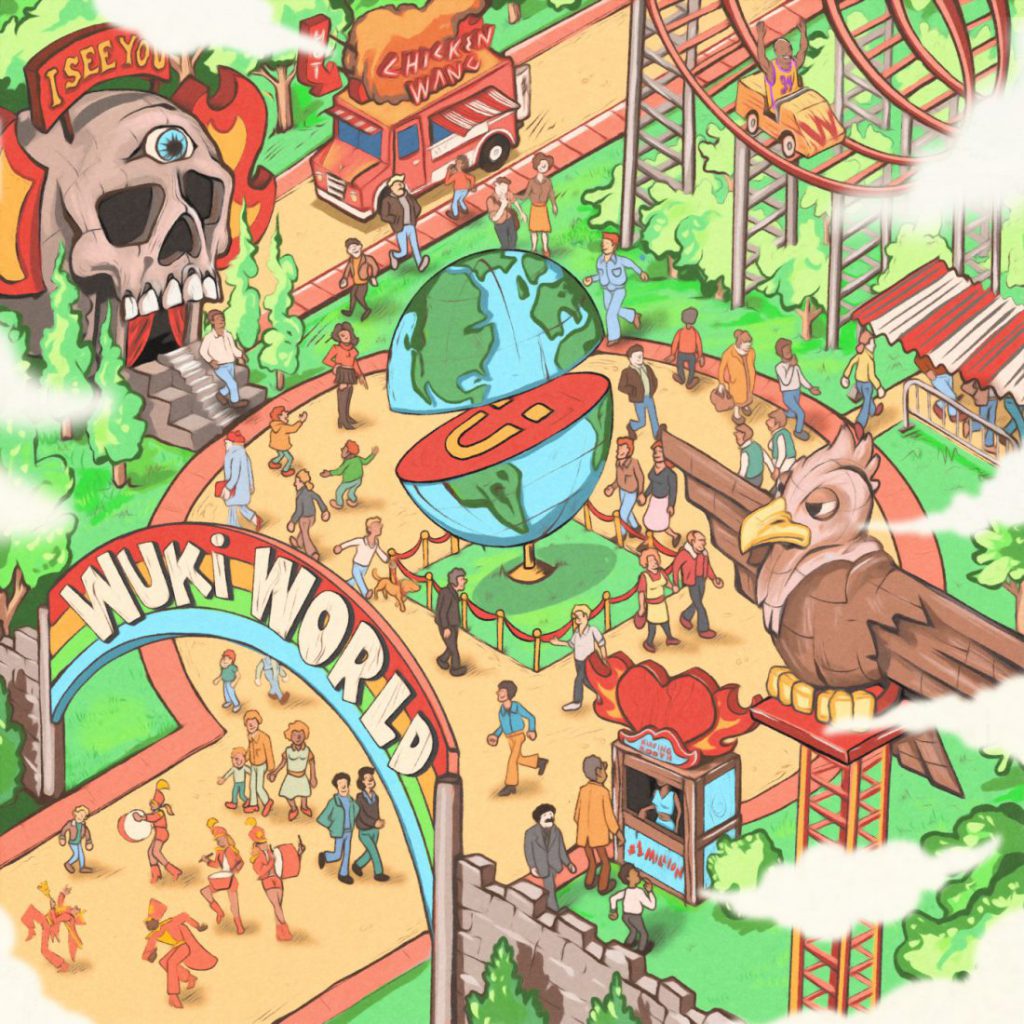 ---
Follow Wuki on Social Media:
Facebook | Twitter | Instagram | SoundCloud