After finding creativity in the depths of Berlin's dark dance music scene, Sydney Blu shows us her convictions and discusses her latest album.
---
Challenging the norm is never an easy journey. For the artist known to the world as Sydney Blu, that journey is riddled with magical moments, overcoming adversity, and plenty of soul-searching along the way. First exposed to the dance music scene at large thanks to massive releases on the early years of deadmau5's label mau5trap (see "Senses Of The Mind" and "Give It Up For Me"), she challenged expectations on day one.
From there, she traveled the world, founded her music label Blu Music in 2009, channeled her house identity in her debut album Relentless, and reinforced the global strength of female talent in the dance music scene. 2020 saw her depart Berlin during the COVID-19 pandemic to return home to Thunder Bay while finishing up her latest album Conviction. Released in 2021, Conviction celebrates the deeper house and techno sounds that influence Sydney's dance-floor-centered sounds.
Related: Want to dive deeper into Conviction? Read our full review of this fantastic album from Sydney Blu!
Hot off the release of her new album Conviction, Sydney Blu sat down with us to discuss everything from the creative energy and soul she poured into producing the album, to what she feels most accomplished of on her label. She even imparts some seasoned wisdom for those looking to break into the dance music market, so listen to the album below and read on for the conversation.
Stream Sydney Blu – Conviction on Spotify:
---
Thanks for sitting down with us as we explore the album and look back at your history, Sydney. Let's first discuss your evolution of sound. Having established yourself into the deeper techno scene over the past decade, what keeps you inspired to make electronic music as a whole?
I love electronic music. I don't need to try to be inspired, especially lately. Taking a break allowed me to focus on it even more because I was making music, staying home, curating my new Spotify playlist, and playing live streams! It was a great opportunity to reconnect with music even if I wasn't dancing to it at clubs or touring.
Your new album Conviction has been heavily influenced by Berlin. For those who may not be familiar, what do you feel it is about this city that makes it so important to the scene?
Berlin's nightlife is part of the city's culture. People move there from all over the world to experience the best electronic music and clubs in the world. It's not expensive to live, eat, or go out there so it's a perfect hub for an artist who wants to live and work among other artists. Also, the city is a leader in the top electronic sounds, they definitely thrive on their uniqueness and authenticity.
Channeling us back to the album, we read that you finished Conviction back in your hometown in Canada. What was it like being back in your childhood home?
I liked it because my family lives pretty far up North in Canada and we were pretty far away from the virus for most of 2020. It was quiet and this space and time allowed me to finish my album. I really believe the best music is made when you let yourself have time to think and be creative.
Related to being back home, we know that the pandemic played a role in getting you closer to family. What was the production process like for this album? Did the pandemic present any challenges for you along the way for this release? 
I had spent most of 2019 and 2020 making this album in Berlin and writing my tracks in a proper studio. I wrote eight of the songs from the album in Berlin and then, when the pandemic happened, I went to my little hometown Thunder Bay. I had to ship my studio gear from my Toronto storage unit and make a makeshift studio in my parent's house. I made it work so I could finish the album. Writing the album was a lifestyle change but the one thing that stayed consistent was the music.
Looking back over five years ago, you released your last album Relentless. What growth do you feel Conviction showcases over your last album? How do you feel they interrelate as works from your heart and artistry?
I think Relentless was good but I love Conviction a lot more because I was truly doing it from a place of authenticity, trying to be as unique as possible, and worrying less about what people were thinking. Moving to Berlin also allowed me to be influenced by more Deep House, Melodic House, and Minimal house, which is why my album is mostly those genres.
The sound evolution is a reflection of my development as an artist and a person. They are both consistent with their names, however, I am still pretty Relentless and I do my job with total Conviction.
You recently joined Dani Deahl, Gina Turner, Ill Esha and more over on Clubhouse to celebrate International Women's Day. Can you share how that discussion went? Is there anything specific you would like to see the industry pivot on to support more female stars to shine their brightest?
I thought it was an amazing conversation between so many talented, intelligent women! There were lots of discussions about how we wanted the industry to be better. One thing I am really pushing for is more diversity in record labels. There are not enough women being signed to the big dance labels and I think this should change. There are so many amazing women producers out there. Also, all of us expressed our concern about the way women are demonized online. Often people talk about the way a woman looks, dresses, even smells, say "she can't mix" or "make music." This is not okay and another way things should get better.
In a recent interview, you spoke on how Blu Music is evolving to focus on your own works. While the label may slow down the release schedule as you focus on your own sound, what are you most proud of accomplishing with the label to date?
We've had some solid releases over the years. Some of my favourite artists on the label in recent memories were Karston Sollars, another amazing Canadian producer, Alex Castenada from Chicago, and Espinol & Nova from New York. I am excited about the relaunch of the label though with this album because it's been on hiatus for two years. One of our biggest accomplishments has been our event The Blu Party. That really took a life of its own, turning into an event that hosted some of the biggest Underground DJs in the world like Kevin Saunderson, Stacy Pullen, Carlo Lio, Francesca Lombardo and so many more!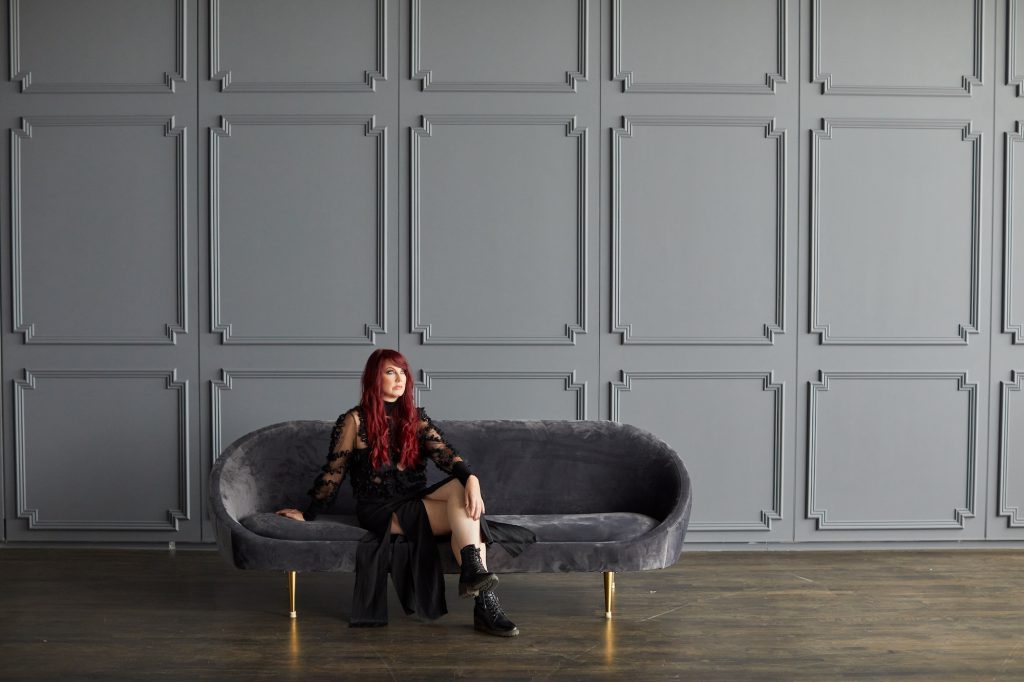 When you look forward to the rest of 2021, what are your goals beyond touring to support the album? Do you think you'll keep streaming to engage fans more directly?
Absolutely. I love streaming, it's super important to connect with fans across the world. I will also continue to release music this year on other labels. I also have an EP coming out with Dantiez Saunderson in May on Josh Butler's label so I'm pretty excited for the upcoming year.
When you look at your identity in the scene, what ingredients make up the cocktail that is Sydney Blu?
I have a relentless drive that never fades and I think you need that for longevity in the scene. You need a constant passion for the music which has also never faded. I definitely like to speak up more now as a woman who has been doing this for a minute. I think I can share a lot from my experiences so I like to share when I can and it's appropriate. Anything I can do to help people get into this, I didn't have any guidance when I started and it always helps when someone with experience can share theirs.
Finally, looking at the history of your career, what advice would you give a young new talent as they come up to the scene at large?
If you want to take it to an international level, make music! Lots of artists get into DJing without producing and producing is actually more important than DJing. It's how you can connect with the world, through your music. Also, connecting with fans online is so important. Mysterious artists don't really exist much anymore. It's important to always engage with fans so they can get to know you.
Thanks so much for sharing your time with us Sydney! Any parting words to your fans or everyone at large?
I'd love everyone to check out my new album Conviction! I worked on it for two years so I'm hoping people will connect to it.
---
Connect with Sydney Blu on Social Media:
Facebook | Twitter | Instagram | SoundCloud