After the release of his debut album Eucalyptograph, Australian artist Doppel swung by to talk about his production techniques and more!
---
Australia might be one of the most distant reaches of the electronic music scene, but it's a country that has fostered some of the beloved artists over the years. While artists like Flume and RÜFÜS DU SOL might enter the mind immediately when thinking about the island nation, the thriving community continues to churn out some seriously stunning artists as well and Doppel is one of them.
Since first breaking onto the scene with "Melt" back in 2017, Doppel has risen through the ranks with his rich, intricate sound design in tow. Firmly planted in the realm of house and techno but influenced by everything from jazz to rock, he's caught the ear of tastemakers and fellow artists like with support from the likes of Atish, Sebastian Leger, Tim Engelhardt, and more. Meanwhile, Doppel has also become a frequent face at live shows and festivals across Australia including Rainbow Serpent, Subsonic, and Esoteric to name a few.
Even in the face of the fires and the pandemic that ravaged Australia last year, Doppel has continued his ascent to the top. While he might have been unable to play live shows and tour quite as he had in the past, it didn't stop this Canberra-based producer from diving into the studio and crafting up something special. The result? Eucalyptograph, Doppel's 11-track debut artist album that was crafted during his experience in quarantine.
Each tune on this album is better than the last as Doppel reaches into his connection with nature to create lush, vibrant soundscapes to explore. Best listened to from start to finish, it features a contrast of organic and man-made elements that is captivating. There are moments where you'll find yourself lost in emotions and others in which you'll be dancing like no one's watching, but it ends with a sense of satisfaction and desire to dive back in for another round.
Looking to gain some added insight into this album on Open Records, we jumped at the opportunity to dive into the mind of Doppel. Listen to Eucalyptograph on Spotify or your preferred platform, and read on for the full conversation.
Stream Doppel – Eucalyptograph on Spotify:
---
Hi Andy, thanks so much for taking the time to chat with us today, and congratulations on the release of your debut album Eucalyptograph, it's truly remarkable. So let's start off there – what's the story behind this release? 
Thank you for having me! I guess fundamentally it comes from when I was growing up and I would sit down, put my headphones on, close my eyes and listen to an entire album from start to finish. I don't do it as often these days and music has changed, but I wanted to create a longer, cohesive piece of music that told a story. 2020 really provided the perfect opportunity to sit down and tackle that kind of project.
Were all the tracks produced with this album in mind, and were there any creative (or technical) hurdles you faced while creating it due to the pandemic?
I had originally intended for it to be a much more collaborative affair mostly involving local artists, which is obviously so possible via the internet, but restrictions and distance made that difficult to do in the way that I wanted to. Just before COVID hit I had also budgeted to buy my first new pair of speakers in about 10 years and when the pandemic came crashing in everywhere sold out of speakers instantly. I managed to get my hands on a pair of amazing speakers second-hand, but things could have been very different.
Although the album lands in the realm of progressive house and melodic house and techno, there are natural elements that shine brightly throughout its tracks. Can you share a bit about this contrast between the two worlds? What inspired this approach?
I have always loved that kind of duality. Light and dark, organic and mechanical, hard and soft. I think that it's important to dive into either side of anything but to maintain a connection to the opposite side at all times. One of the core concepts of the album is humanity's connection and symbiosis with the natural world and how man-made creations are now irrevocably intertwined with the earth and even our own bodies. 
Even just simply from a textural and creative perspective, for example, I think it's important for something soft and beautiful to have edges sometimes and vice versa.
Over the years you've received loads of support from artists like Eelke Kleijn, Sasha, Atish, and countless others. As a producer rising through the ranks of the scene, what impact does that have on your mind? Is it energizing?
Absolutely energising. It's something I don't take for granted. Having an artist who you have looked up to since the beginning play or appreciate your music is really special. I think it's important to create your own path and not to be too beholden to things that people have done before, but I would be lying if I said that that didn't provide a great deal of encouragement and validation in a world where it can be hard to motivate yourself or objectively see your own progress.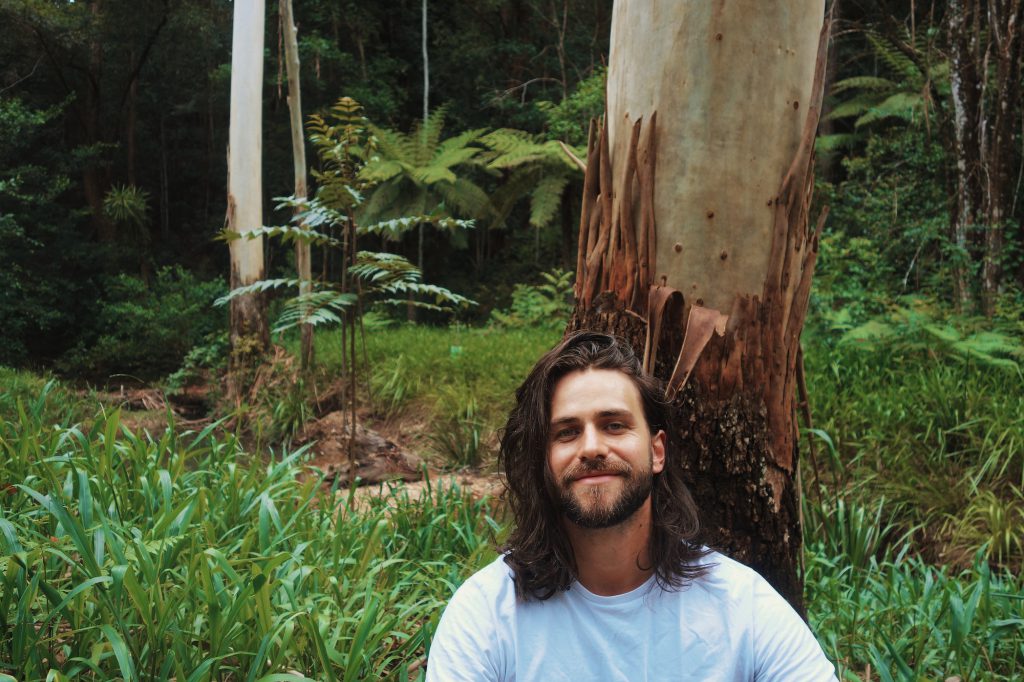 Switching gears a bit, can you share a bit about what your experience has been like Down Under during the pandemic on a personal and professional level?
Honestly – things have been relatively comfortable down here. We are isolated already, the population is sparse and our community was relatively undivided on the response to the situation. We have had a few scattered lockdowns and restrictions on gatherings etc have only recently been easing, but we have been very very lucky. 
I was about a week away from flying out to Mexico to embark on my first international tour as COVID shut the world down which is obviously disappointing, but it's one of those things that is out of my control and I was fortunate to be successful in my application for a small grant to write the album from artsACT & the ACT Government. That essentially kept me afloat despite my touring being cancelled so I am so happy to have been safe and sound here in Canberra all the same.
Many of us in the scene here in the US looked longingly at the live events that have begun to re-emerge in Australia and New Zealand. What did it feel like being able to take the stage for the first time after the lockdown?
It was incredible. Very strange going from a very isolated place to all of a sudden being at a festival. There was a lot of pent up energy, people had demons from the lockdowns that needed to be expelled, but it felt great. I have seen that events are starting to pop up in other places and I really hope that what is happening down here and in NZ can serve as hope or a blueprint for events occurring safely in other parts of the world.
Building off that, do you feel the pandemic affected the local scene differently compared to other places like the UK, US, Germany, etc?
I can't really speak for anywhere else but one effect it has definitely had on the scene down here is a focus on and appreciation for our local talent. There are so many incredible artists, crews and events down here, and while we appreciate international artists touring here because we aren't spoiled for choice due to the distance, the support for the locals has blossomed and things are really thriving. It's amazing.
With greener pastures for the world on the horizon, what are some of the goals you hope to achieve in 2021?
I would love to write and release more music and see more of my own backyard. I am eagerly awaiting the possibility of touring internationally one day, but for now there is so much that I haven't seen and done in my own beautiful country and so many amazing things happening here, my focus is on not taking those things for granted.
Finally, let's close out the conversation with a fun question. Since your influences run deeper than electronic music, who are three non-electronic artists you find yourself listening to often?
Right now it's gotta be Leon Bridges, Jordan Rakei, and revisiting a fair bit of Pink Floyd
---
Follow Doppel on Social Media:
Facebook | Twitter | Instagram | SoundCloud