Brownies & Lemonade and Mad Decent have joined forces to bring the Juiced Online Showcase to life with a stacked lineup!
---
After delivering a number of sensational livestream experiences in 2020, Brownies & Lemonade are setting their sights on continuing that run in the new year. Already delivering an Open Aux night for their fervent fanbase, they've now teamed up with behemoth brand Mad Decent for their latest adventure in the digital realm, Juiced.
Set to take place on Friday, February 26 at 5pm PT, the Juiced Online Showcase brings some of the hottest names in the dance music scene together for an evening that's sure to get anyone grooving to the beat. Hosted by Akira Akira, who will also be playing a Daft Punk Tribute Set, this livestream will feature sets from heavy hitters like Henry Fong and ETC!ETC! who have been throwing down some heaters as of late.
Additionally, Juiced shines a light on some of the scene's rising stars with artists including Bailo, Ace Aura, Xie, and Gladez on the bill. And further proving that both Brownies & Lemonade and Mad Decent have their fingers on the pulse of the future is the inclusion of other standouts on the bill such as Elaquent, Heimanu, Líue, Sebjin, Swizzymack, and Yitaku. If you're looking for the next wave of the dance music scene, this will be the place to be on Friday.
Make sure to follow Brownies & Lemonade on Twitch to know the moment the show goes live, stay tuned for the set times, and let us know who you're most excited to catch in the comments!
Tune in to the Juiced Online Showcase on Twitch:
---
Juiced Online Showcase Lineup: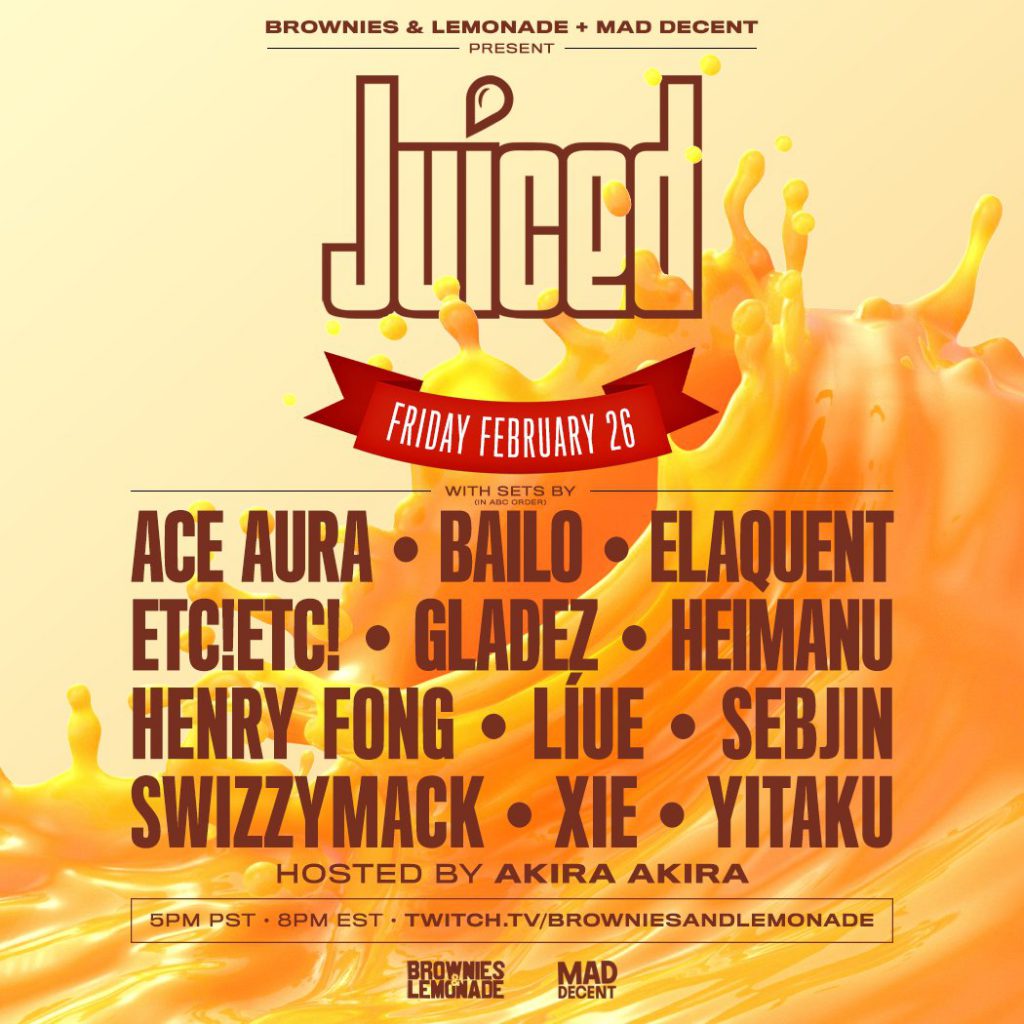 Juiced Online Showcase Lineup By Artist:
Ace Aura
Bailo
Elaquent
ETC!ETC!
Gladez
Heimanu
Henry Fong
Líue
Sebjin
Swizzymack
Xie
Yitaku
Akira Akira (Host + Daft Punk Tribute Set)
---
Follow Brownies & Lemonade on Social Media:
Website | Facebook | Twitter | Instagram | SoundCloud | YouTube | Twitch
Follow Mad Decent on Social Media:
Website | Facebook | Twitter | Instagram | SoundCloud | YouTube