On the heels of his debut track as Wave Point, "Words," Bryan Jones swung by to go in-depth and discuss his new solo project.
---
Detroit-based artist Bryan Jones is no stranger to the dance music scene. With three previous projects under his belt and over two decades of production experience that spans from High Caliber in the early 2000s to his work as part of Golf Clap, he's sure to have struck a chord with house lovers. Now, after departing the duo that was his home for years in 2020, he's taken on a new solo project as Wave Point.
Wave Point is set to be one to impress both music-lovers and industry heads alike, and Jones' first release under the new moniker further illustrates why he has solidified himself as a house music staple. "Words" sees him layer sharp kicks, smooth synths, and a fitting vocal to create a deep, yet uplifting cut that is sure to have listeners lost in their feels. The track, which dropped last Friday, sets an exciting stage for what to expect from Wave Point in the future.
Following the release of his debut track as Wave Point, we had the chance to sit down with Bryan to pick his brain about the when, why, and how behind his new project. Stream "Words" on Spotify or download a copy for free, and read on for the chat with Bryan about this new milestone in his career.
Listen to Wave Point – "Words" on Spotify:
---
Hi Bryan, thanks for chatting with us today. Let's start off by digging into your new project, Wave Point. Where did the idea originate from and what led to your decision to pursue a solo career?
Hey Katie, it's good to talk with you. Hugh and I had been doing Golf Clap and Country Club Disco together for years. We were roommates and were touring pretty much non-stop the entire time. The closing of venues put a stop to that and we had a bit of time to figure out what we wanted to do moving forward. Over the years we started drifting apart on our music tastes. I was no longer living there and all our gigs got canceled so it seemed like the perfect time to start the new project I had been thinking about. There are no hard feelings, we just agreed it was time for a change and to remain friends.
I'm sure it's daunting to start a solo project. Can you share what the process has been like to start down this new path from scratch?
It definitely is. It felt like a huge undertaking but slowly after getting a few things done here and there, it started to feel like I was getting somewhere. I read (listened to) a few marketing books and re-schooled myself on production and what it takes to start up a new project now. I'm going to be releasing every few weeks for a while to get things going. I've been putting a lot of content in the Wave Point Community on Facebook as well. It's really exciting for the music to start rolling out.
How did you navigate the ups and downs of last year on a creative front? Was there anything in specific that helped keep you centered during the pandemic? 
Between the pandemic and starting this new project, it felt like all the momentum just came to a screeching halt. It's hard to stay motivated without encouragement or seeing any kind of return on your work for long periods of time. Having a few people that I can talk to regularly about music has been really key. As an introvert, it's easy for me to slip into a phase where I don't talk to anybody for a while, and that doesn't help with my creativity. I've also been listening to books while I walk and reading other kinds of motivational content.
The Wave Point Community on Facebook has been my main source of communication with the outside world. I try to come up with ways to interact with the group members to keep it interesting and keep me sane. Lastly, I have been retraining myself on music production and other useful skills with YouTube, Twitch, etc. When I don't feel like making music or being creative, I try to absorb some information that will make it easier the next time I feel like doing it.
Tell me a little bit about the production process behind your debut Wave Point track "Words."
I'm going to be putting together a track breakdown video of this on Twitch sometime soon, then later uploading it to YouTube. It was my plan for this to be the first single, so naturally, I spent too much time on it trying to get everything just right. Eventually just had to get out of that mindset and make decisions and get it finished. You want everything to be perfect when you start, but nothing is ever perfect and I have to remind myself that.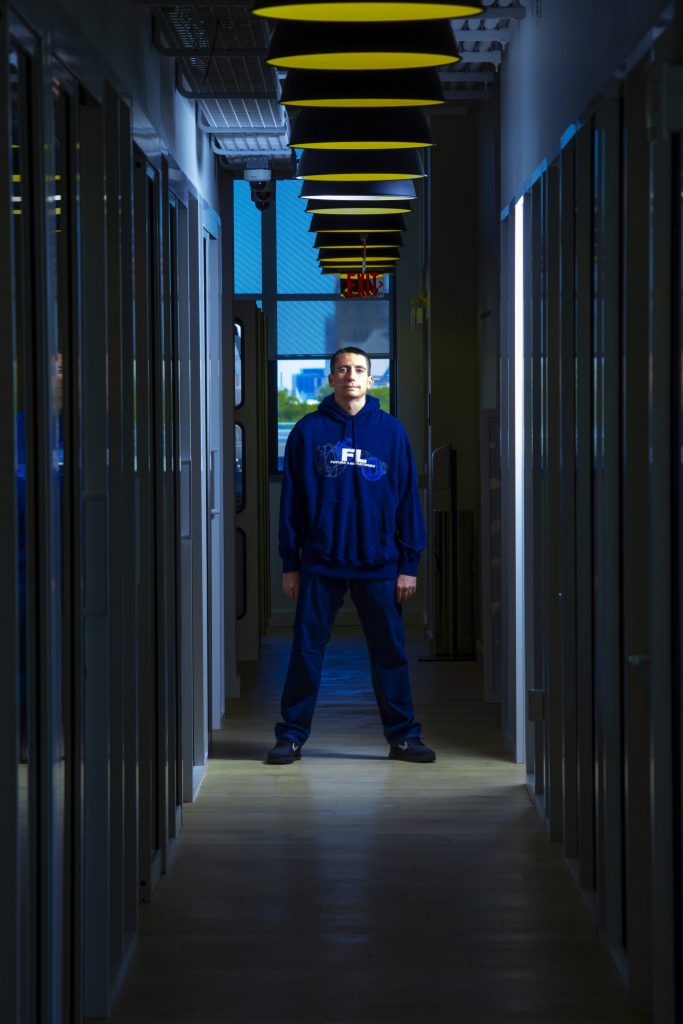 You're very active on your Wave Point Community group on Facebook, where you've had a lot of fan and industry support on your new project. Tell me about what this community means to you.
This is a place where I post music and production-related stuff along with what I'm doing with Wave Point. I made it to be a source for people to find info and meet people. I get to connect with people that listen to house music and keep an ear to the ground for what's going on in the industry. There's a place on Fridays for everyone to post their releases, as well as feedback posts for people's music they are working on. I also sometimes get discounts for certain products to members of the community. I also do contests and other things in there from time to time.
After almost a year of shut-downs due to the pandemic, those who work in the scene are consistently trying to figure out what the future for the dance community looks like. What is your take on this?
I think some artists might be traveling with a camera setup and broadcasting their sets on Twitch now that those pages have a bunch of followers. Labels and collectives with a lot of followers on Twitch will be the first ones to get cobranded parties and festival stages. Quite a few artists won't still be touring when things open up because they switched careers, gave up, or just never were able to get relevant again. Many venues have had to shut their doors and the whole infrastructure will have changed by the time things are opened up. I would expect a lot of new artists touring for the first year after things open up.
What advice would you give other producers who are changing course or launching a new brand?
Find a way to bring value to others. Making great music is a necessity, but it's the bare minimum bar of entry in the music scene now. You need to find a way to make people care about what you're doing and be invested in you doing well. The more personal connections you can make the better. Also, things like interviews and videos can make people feel like they know you. I would also suggest going through all the music you're playing as a DJ and that you like on Spotify and reaching out to those people to introduce yourself and show them your music. Go out of your way for people who support your music and get people to really want you to win.
What's in store for Wave Point in the rest of 2021? Should we be expecting more releases in the coming months?
Yes, I'll be releasing quite often for awhile. Have a couple remixes and collabs as well. Nothing I can really mention yet, but follow on Spotify and you'll get notifications every few weeks with new Wave Point tunes.
Anything else you'd like readers to know that I didn't touch on?
You can text me any time at 313-397-0073 with questions or comments. Text me your address if you want free Wave Point stickers. I'll also be doing some production videos on my Twitch channel in the near future. Working on some merch for the Wave Point website as well.
---
Follow Wave Point on Social Media:
Facebook | Twitter | Instagram | SoundCloud | Spotify | Wave Point Community