Jolie Anastasia is looking to teach the world about shuffling while growing a community along the way with Shuffle Wisdom.
---
Whether you've seen it in music videos, in compilations from raves gone-by on YouTube, or in-person at events, it's almost impossible to ignore the impact that shuffling has made on the dance music community. It's something that has helped define rave culture for decades, but in the same way that the explosion of EDM in the 2010s altered the path of the music we listened to, it did so with shuffling too. Jolie Anastasia, the founder of Shuffle Wisdom, is hoping to correct that course and help educate the masses for years to come.
Originally from Hawaii but now residing in sunny San Diego, Jolie's first encounter with electronic music happened right at the beginning of EDM's boom. Hearing Flux Pavilion on Pandora at the gelato shop she was working at back in 2011, she initially scoffed at dance music due to the lack of "real instruments" being used. But flash forward to 2012 and things began to change. Attending I Love This City that year after a friend gifted her a ticket, she was able to see Skrillex for the first time, although true love was found when she caught Wolfgang Gartner before him.
Having never heard the sound of electro house previously, Jolie quickly found a groove within that style and dove headfirst into the scene. "Once I was able to find electro, which eventually led me to trance, it was just like whoa… there's this more melodic sound that I really gravitated to. Ever since that weekend in 2012 I've attended countless festivals around the world."
Although her love for dance music was fostered around the beginning of the past decade, Jolie's love for shuffling came before that. "It's a funny story," she said. "I found shuffling when I was still living in Hawaii. I came across a Melbourne Shuffle compilation that I think was put together back in 2008." 
Falling for the moves she saw in these videos, Jolie studied them constantly. And even though the hardstyle sound permeated the compilation and other shuffling videos, it took time to realize that all electronic music was connected. "I just didn't connect the dots until I saw shuffling at a rave. But from there I wanted to keep learning, but the dance itself was still pretty underground at that point."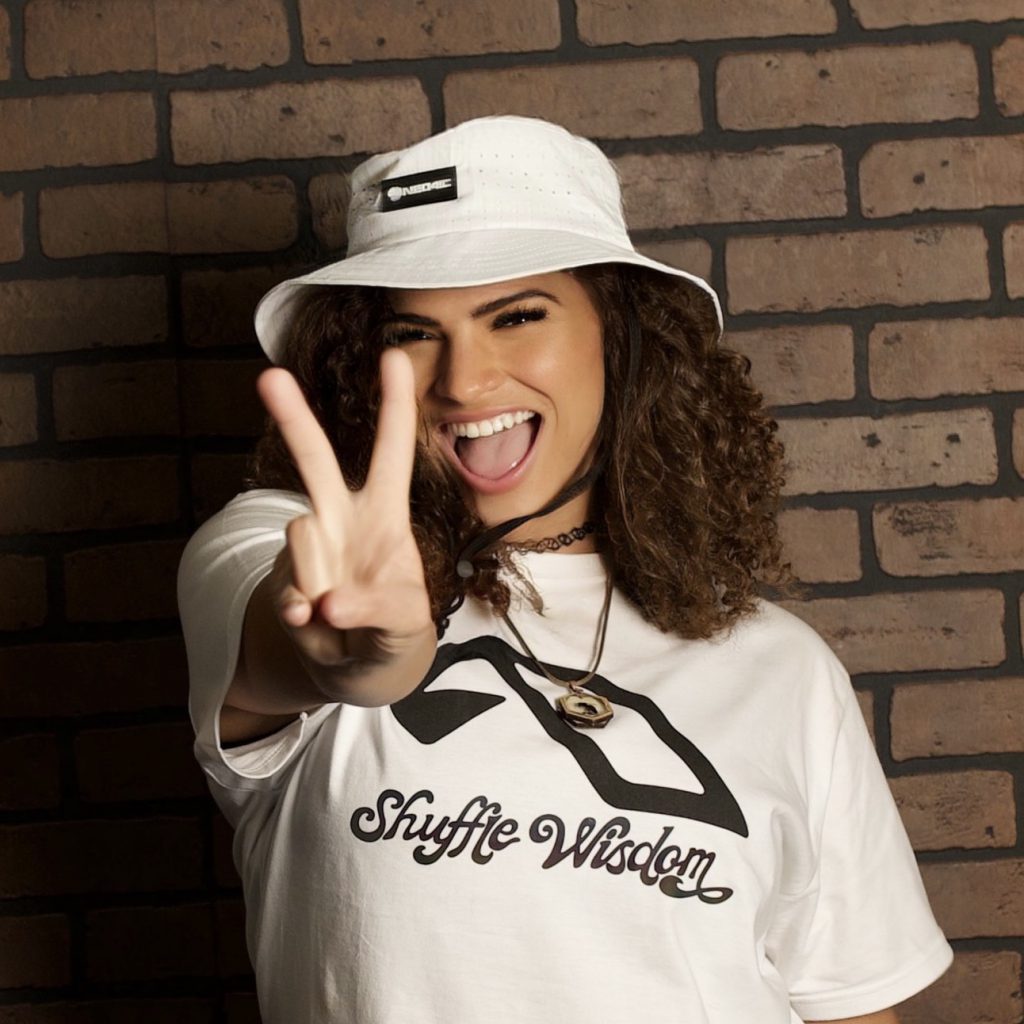 Back then, there wasn't a true network for shufflers to connect and teach each other, even though crews did exist. It wasn't until the boom of social media paired with the explosion of EDM that things began to pick up the pace with influencers and others sharing themselves shuffling. "Anything, in my opinion, that brings any exposure to our music and our scene in this dance, I love it," Jolie said.
After years of teaching others and deepening her love for shuffling, 2019 saw Jolie featured in a viral video for Tiesto after EDC Las Vegas and join other shufflers in Kaskade's music video for "More" with Felix Cartal. But that exposure sparked something inside her as well, the drive to teach others and create a home for shuffling. The result? Shuffle Wisdom – a one-stop-shop for those looking to learn how to shuffle and dive into the history of the dance itself.
Launched in late 2020, the website for Shuffle Wisdom currently features a handful of Masterclasses with more coming weekly for those looking to get their groove on. They also host weekly meetups, workshops, and an interactive map that can help aspiring shufflers find others.
The Shuffle Wisdom community was founded with their #BridgeTheGap initiative in mind. "For multiple reasons, shuffling hasn't been taken very seriously or seen in the professional dance realm as its own real true art form," she said when asked about the meaning behind the initiative. "There hasn't really been an appropriate curriculum for teaching shuffling, or the history that's hasn't been written out yet. That's something that we're working on avidly."
To help further dive into the history of shuffling that will be featured on Shuffle Wisdom, Jolie looked to others who have been dancing away for decades. "A lot of OGs in this community are coming together to help us write this, especially because of the times. Older generations didn't have cell phones that could record them shuffling and things weren't documented. So now we have to kind of go back and give it the respect it deserves."
Of course, the pandemic did throw a wrench into the plans that Jolie and the Shuffle Wisdom crew had for meetups and workshops, but they've weathered the storm with safety in mind. Over the past few months, Shuffle Wisdom hosted two showcases that complied with COVID-safe practices including multiple tests and a compliance officer on-site.
After the first one took place, Shuffle Wisdom caught the attention of behemoth brand Anjunabeats for their Anjunamoves series. "They asked me to do an intro class on their Twitch channel," Jolie stated. "I was really excited to be able to bring shuffling to their platform and so grateful for them to share that space with me."
But the idea for the classes was just the beginning, as the secondary showcase came into the fray with Anjunabeats agreeing to move forward with support. And after a few bumps in the road due to COVID, the five-hour showcase is set to take place on Sunday, February 21 at 11 AM PT on Twitch.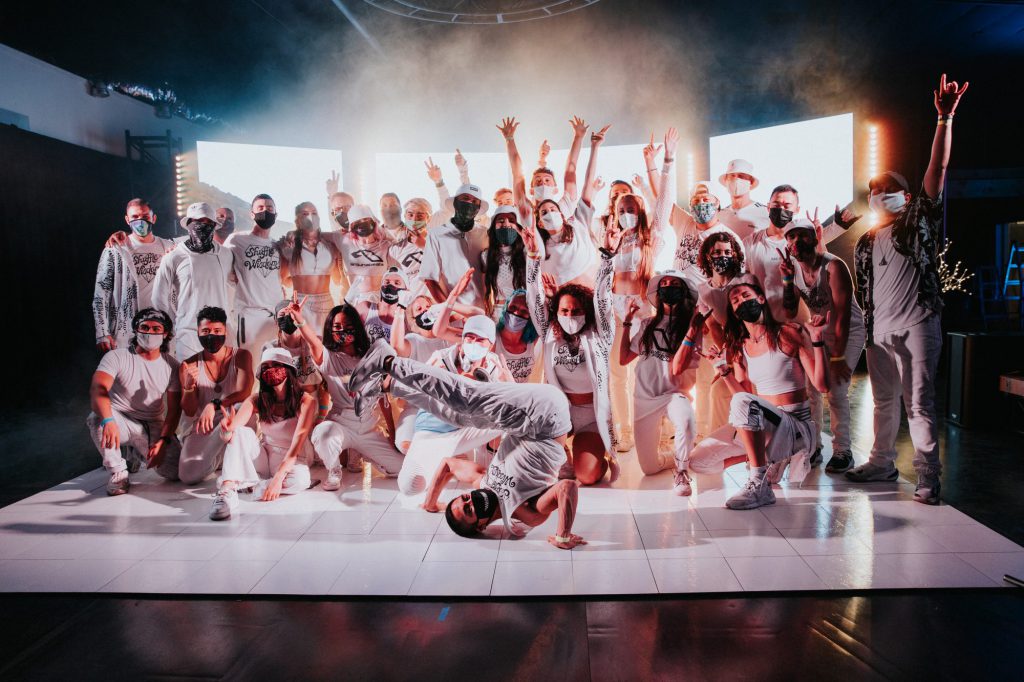 The Shuffle Wisdom showcase will feature beats from Kristina Sky, Bakari, Emotional Noise, and Dru West throughout its run with dozens of dancers busting a move. Shot on multiple cameras, including VR for those who want to truly immersive themselves in the action, it's sure to be a dream for any dance lover with dozens of shufflers going hitting the floor.
As for the future of Shuffle Wisdom, Jolie has plans to continue to expand the number of courses offered and reach more corners of the globe. She urges others to get in a groove by attending a local meetup because it simply "isn't the same" as dancing alone. Of course, if you plan to attend a local meetup, please make sure that you wear a mask and socially distance yourself from others.
Post-COVID, she hopes to host Shuffle Wisdom showcases beyond Southern California. Already growing connections in cities like Austin and countries like Brazil, her dream is to have one take place in Melbourne, Australia – the home of the shuffling style that sparked her love in the first place.
Head over to the Shuffle Wisdom website for more details on their Masterclasses and meetups, and follow them on social media for more inspiration. Use code "EDMIDENTITY" for a discount on your courses!
---
Follow Shuffle Wisdom on Social Media: