With the announcement of "TRY HARDs" HARD Events brings dance music and gaming culture together for viewers on Twitch.
---
As the music industry continues to find creative ways to pivot and adapt during the pandemic, one of the hottest trends has been bringing together e-sports and electronic music. Seeking to intertwine these two adjacent worlds in an unprecedented manner, HARD Events has announced the launch of their latest series to grace Insomniac TV on Twitch, TRY HARDs. This new series will be available to stream for a 6-week long season with four episodes per week.
From Monday through Wednesday, there will be a unique episode to catch followed by a recap episode each Friday. The episodes will feature two prominent DJs and two professional gamers, who will face off in the ultimate battle royale and prove their worthiness on the virtual field.
The type of gameplay is determined by the themed day of the week – Mondays are for lighter games like Super Smash Bros. and Rocket League, Tuesdays are for shooters like Call of Duty and Fortnite, and Wednesdays are for sports such as FIFA and NBA 2K. In addition, each episode is hosted by famous gaming personality Brittani Johnson of E3 and G4TV; the recap episodes will include Johnson's commentary as well as BTS footage, bloopers, gossip, and gaming news.
The first week already has a star-studded roster featuring dance music dons like Chris Lorenzo, Cheat Codes, Wax Motif, Born Dirty, and Danl (of Gladiator). Gaming fans will also be delighted to see celebrity gamers such as Renée Reynosa, Di3sel, kenjiGX, and JTheReaper.
Adding in star power and deep reach that HARD Events can bring to the table, this might be one of the more successful attempts at combining DJs and professional gamers in a digestible format. Other music curators have also already promoted one-off face-off events between DJs and gamers, like Armada Music and Team Liquid's Showstopper, but the nature of being one-off it becomes hard to actually translate that into engagement momentum.
The consistency for TRY HARDs stands a good chance of generating a culture unto its own. Perhaps the future for EDM culture will be peace, love, unity, respect, and #GG. We can't wait to see what the first episode of TRY HARDs has in store, so make sure to follow InsomniacTV on Twitch and check out the schedule below.
TRY HARDs Stream Schedule: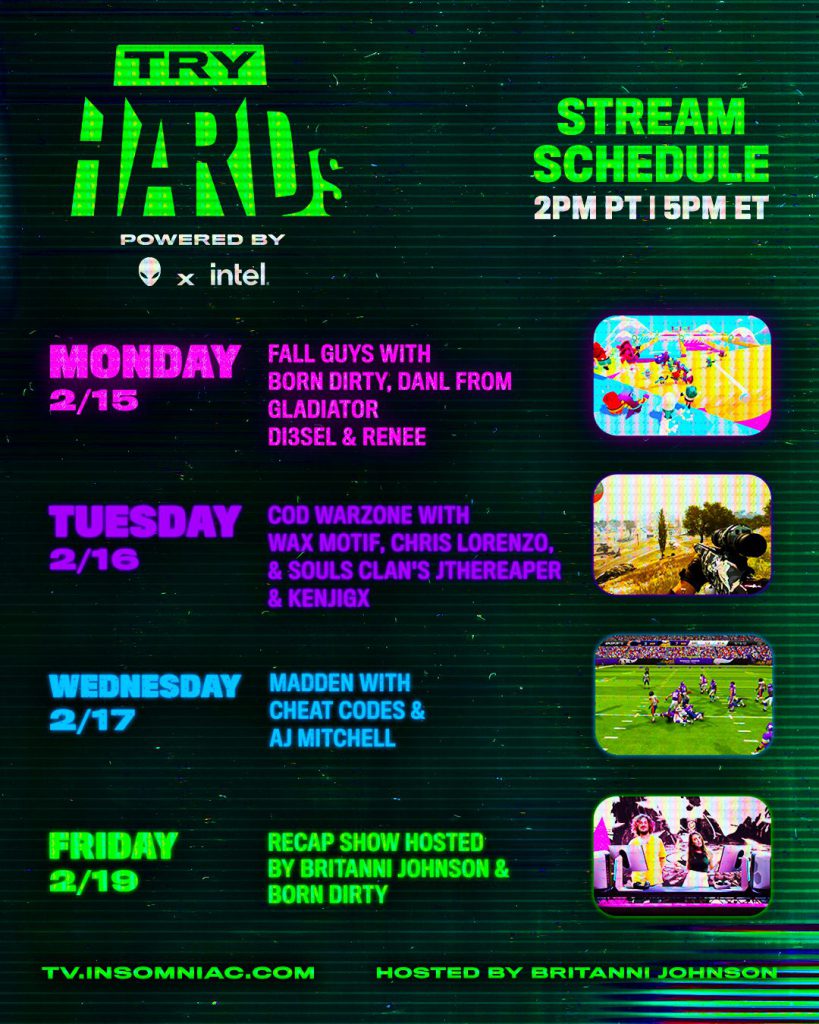 ---
Follow HARD Events on Social Media: