The set by Cheat Codes at Moonrise Festival was definitely something you have to see for yourself. Very few single artists do completely live vocals let alone organizing 3 different talents to sing live in the same set. Coming from different places all over the country and coming together for a single project that turns into a working group the Cheat Codes really may have found the cheat code for life. We had the opportunity to take a phone interview with them and I was impressed with not only how down to earth they were but also how much fun they seem to have with each other. It's always a great thing when you can work with your best friends and for them it definitely helps their process along. Here's what they had to say:
---
Tell me about your names and something cool about your hometown?
Trevor: My name is Trevor Dahl and I'm from Portland Oregon. I don't know what I should say specifically about Portland, but it's fucking awesome. I love it. I don't know if they still do but they had the most strip clubs and breweries per capita in America.
All: Nice!
Matt: My name is Matthew Russell over here. I'm from St. Louis, Missouri and I love that St. Louis has toasted ravioli and that's pretty dope so…
Kevin: I'm Kevy Ford and I'm from Los Angeles and I love it because it's where stars are made!
How did you guys all meet?
Trevor: Me and Matt have been roommates off and on for 4 or 5 years. We met through mutual friends. We never really did music together seriously those 4 or 5 years, but then Matt and Kevy started doing Cheat Codes and I started doing a different project. Then when they started doing that, we kind of just joined forces and kept going from there after we made our first song together.
Where did the name Cheat Codes come from?
Trevor: We came up with that because Kevy's brother was actually in a big rock band back in the early 2000's called Clear Static and Kevy was 9 years old or something and they were doing stadium tours with Duran Duran and all this stuff. And Kevy said, "man, how you doing this, this is crazy" and his brother very cockily was like, "it's easy man, I found the cheat code, you just have to do it." So that's where Kevy got that concept from. Matt heard that story from Kevy and when we started the group Matt was like, "we should be Cheat Codes." To me the name resonates because it all has to do with just doing what's easy and mainly going after exactly what you want, similar to law of attraction and everything like that. All of us just had a similar mindset when it comes to that stuff.
What were some of your earlier influences?
Trevor: We come from a rock background so we actually listened to a lot of punk rock bands. Like Fallout Boy, Blink 182 and stuff like that. We actually started doing dance music by accident. We kind of just started making music and we didn't know that much dance music at the time. We really liked Calvin Harris and Zedd. We really wanted to start with a song basis and then build tracks around that.
Matt: We like everything. Like Trevor is a big fan of the Beatles, and all kinds of stuff, The Shins. I think we like all kinds of different genres.
Kevin: We all love Drake, you know.
What are some of your pre-show rituals?
Kevin: Well right now we just got to the hotel. I don't know if we really have any pre-show ritutals.
Matt: Sometimes we stretch. Sometimes we like to stretch.
Kevin: That's true. Get loose.
Matt: Maybe go over the set, add a couple of songs last minute. Or see if there are any cool remixes we are listening to at the time and think this would be fun to play tonight. Stuff like that. That's about it.
Kevin: Not too much of a pre-show ritual, just relax and go do our thing.
Do you do live vocals and every show or does it depend?
Matt: Yes, we pretty much do it at every show. We just have certain songs that individually that we have performed on. We have a song Hold On that we did with Moguai and Kevy and Trevor, actually we all three sang on our very first Vision that Boehm did a remix of that we perform. Then Trevor sings on a lot of our other songs like Turn Me On and Sex.
Trevor: Yeah we definitely like diving into the dance floor. We want to do something that sets us apart so we pretty much sing every show because we want that to be a part of when people come and see us, we want them to experience that.
How do you navigate a trio up on stage or in the studio?
Kevin: I think that as far as the studio stuff goes, it allows us to get a lot of stuff done. I think we all have our strengths and things that we do, or spend most of our time doing. Certain people are better at certain things, but we all definitely are able to get a lot of stuff done when we're all doing studio stuff and  you know delegating, kind of dispersing the work load so that we can all focus on different things.
Matt: When there's a song we're working on and we all three really love it then it kind of gives us an idea that it must be really good.
Kevin: Yeah definitely. As far as singing on the songs, we kind of just go with whatever feels good for the song. Whatever voice makes most sense for that top line.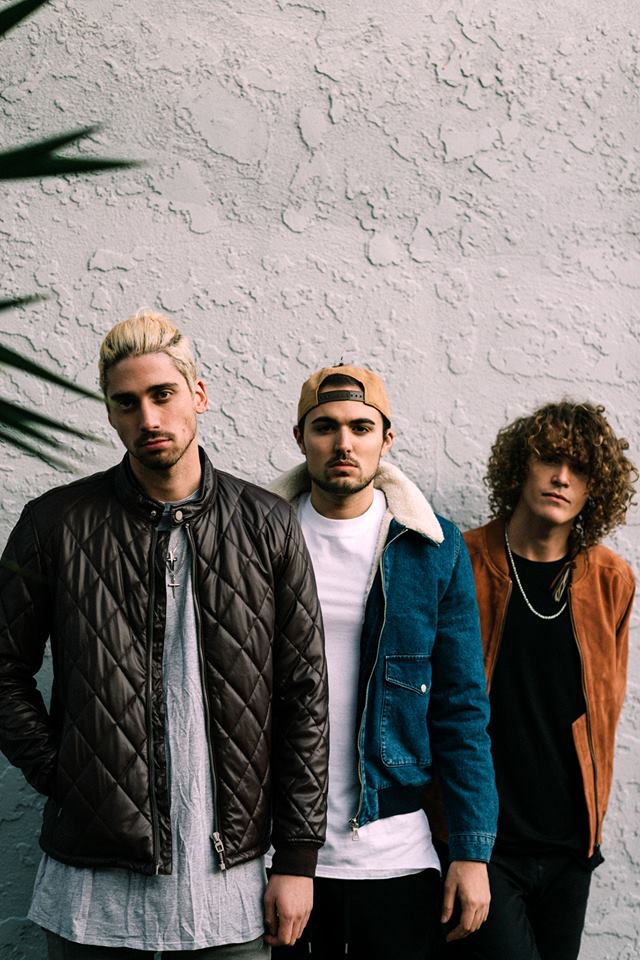 You're currently on tour. What has been your favorite thing about the tour so far?
Kevin: Oh man, good question.
Trevor: Moonrise was really awesome!
Kevin: Moonrise was a good time. We love Moonrise, super dope.
Trevor: One of my favorite shows was when we played on Kevy's birthday in Orlando and it was a blast.
Are there any festivals you would like to play?
Trevor: Coachella and Lollapalooza and EDC Vegas
Matt: I wanna play EDC Japan
Trevor: Ultra Europe
Who would you like to do a collaboration with?
Trevor: Well we want to do all sorts of different collaborations. We want to collaborate with other bigger DJs and also collaborate with bigger singers and rappers and whatever. For me I would love to collaborate with Calvin Harris or Drake or I don't know. Those people would be awesome, but as far as people who aren't as huge as that… What do you guys think?
Kevin: Drake
Trevor: Is Matt even here any more?
Matt: Can you hear me? I accidentally hit the mute button. I was yelling at you guys. I'm here, I'm here guys! I really like this girl named Camila from Fifth Harmony. I think she has a really good voice.
Trevor: Oh yeah, and she's cute!
Matt: Also Selena Gomez would be really sick. That would be dope. And I really like, we're homies with this guy named Scott from Pentatonix and he's a really good singer, so I'd love to collaborate with him. He's a good guy.
What do you want your fans to take away from your music?
Trevor: Well I think that every song is different. Honestly, we love the writing, not just the DJing and producing. We write the songs in different head spaces. Some songs are meant to be more serious, some songs are meant to be more fun. We definitely want our music to make people to feel good for sure, that's definitely the most important thing for us as far as songs that are catchy and feel good and original content. As far as playing, the most important thing for us is to have fun and just do whatever you want to do.
Kevin: I think the way we put our set together is very ADD. We kind of get bored easily and we want to switch it up a lot. So we want to have a little bit of everything. When someone comes to see us perform a little bit of a bunch of different EDM but also great top lines, like really great songs. We get bored easily. If we just played instrumentals the whole time I don't know I think we would get bored. Same if we played just one genre of dance music
Matt: Melodies are really important to us. A lot of people that we see perform, it's cool, but there's a lot of heavy stuff, not too much melody, there's a lot of just bass, which is cool, we put a little bit of that into our set too, but I think that good melodies and things that make you feel good and make you feel a certain way are just as important and throwing down the bass.
Who are some artists that you think are underrated or that we should watch?
Trevor: Yes, this guy named Cade. He just put out a couple songs on Spinnin. He makes music like next level shit. He's a really good a talented young kid, he's gonna be huge so that's cool. This girl named Billie Eilish. She's like 14 years old. She's a singer. He's insane, you should look her up on Spotify. Those are mine.
Kevin: That sounds good
What's your favorite dessert?
Trevor: I've always loved a good strawberry shortcake.
Matt: I really like blackberries, like plain blackberries…I really have a secret love for FL-AN. Have you ever had FL-AN before?
Trevor: It's FLAN, who are you?
Matt: I'm just kidding.
Trevor: What about you Kevy?
Kevin: It's all about the milkshake man. You know me, I've got to watch my calorie intake.
Matt: Yeah, Kevy, ever since I've known him he's been watching his calorie intake.
Trevor: A milkshake with no fat please, non-fat milkshake
Anything else you'd like to share or let your fans know?
Matt: Well we did just drop another music video yesterday for our song Sex. So we have two music videos for it now. It's cool, it's a cool concept. We are performing on the video and then everybody that's filming us gets turned on and ends up making out with each other. So you guys should go check it out.
Trevor: We're finishing 4 new singles right now. All that we're super stoked about. They're gonna be the best music we've ever released. We can't wait to drop them and I think we're going to be dropping them pretty consistently one after another. Which is what we like to do. So we're gonna make sure to get these next 4 or 5 done and drop them pretty quickly. It's gonna be awesome.
Matt: Then we did another video with Quintino with a song called Can't Fight It. and it's gonna be insane and we're killing werewolves in it and jazzercizing. It's gonna be really funny and it's gonna be on Spinnin's Youtube page in a couple weeks. And one other thing is we do a new video every Friday on our Youtube, and there are day to day videos that we film ourselves. It's us performing and on the road, so you can catch us every Friday on Youtube and if you want to see behind the scenes and see what we're up to and see our personalities and what we're all about.
Trevor: A lot of final words
---
Follow Cheat Codes on Social Media:
Website | Facebook | Twitter | Instagram | SoundCloud | YouTube