Armada Music and Team Liquid will connect the dots between music and gaming with Showstopper, a Valorant Showmatch. 
---
Dance music powerhouse Armada Music and renowned e-sports collective Team Liquid, both Amsterdam-based, have teamed up to bring fans the ultimate Pro-Am video game showmatch, Showstopper. This Friday, July 17 starting from 11 am PDT/2 pm EDT, a hand-selected roster of Armada artists and Team Liquid players will face off on the battlefield, flexing their skills playing VALORANT, the newest 5v5 tactical First Person Shooter from Riot Games.
The matches will be broadcast live on both Armada Music's and Team Liquid's Twitch channels and in total, the tournament will host seven Armada Music players and eleven Team Liquid players. Gameplay will include giants hailing from both sides. From Armada Music, we have beloved artists like Andrew Rayel, Mark Sixma, and Zack Martino. From Team Liquid, we will be graced with the presence of renowned gamers like jeemzz, Stewie2k, and Nurok.
Artists and professional gamers will be divided into two equal teams, evening the playing field for a better audience experience and also showing that producers and gamers have more in common than we might think. After all, when closely considered, the workflow of a producer – sitting down for long hours at a computer, relying on keyboard shortcuts to create efficiencies, using the internet to generate a strong brand following – is not so different from that of an e-sports player!
VALORANT's large selection of avatar characters, and their unique abilities, are a perfect dramatic setting for these teams to flaunt their skills.
While VALORANT shares many characteristics common to other games in the First Person Shooter genre, like Call of Duty or Counter-Strike, it also goes beyond the norm. By offering a selection of eleven unique characters, each with their own special ability and detailed backstory, Riot Games has added a strategic twist to VALORANT's gameplay. Consequently, each player's choice of character and how they use that character will allow the players to exhibit their personalities.
Will you be tuning in to catch all the Showstopper action on Friday? Let us know who you'll be rooting for in the comments below!
---
Liquid x Armada Music Present Showstopper – Lineup: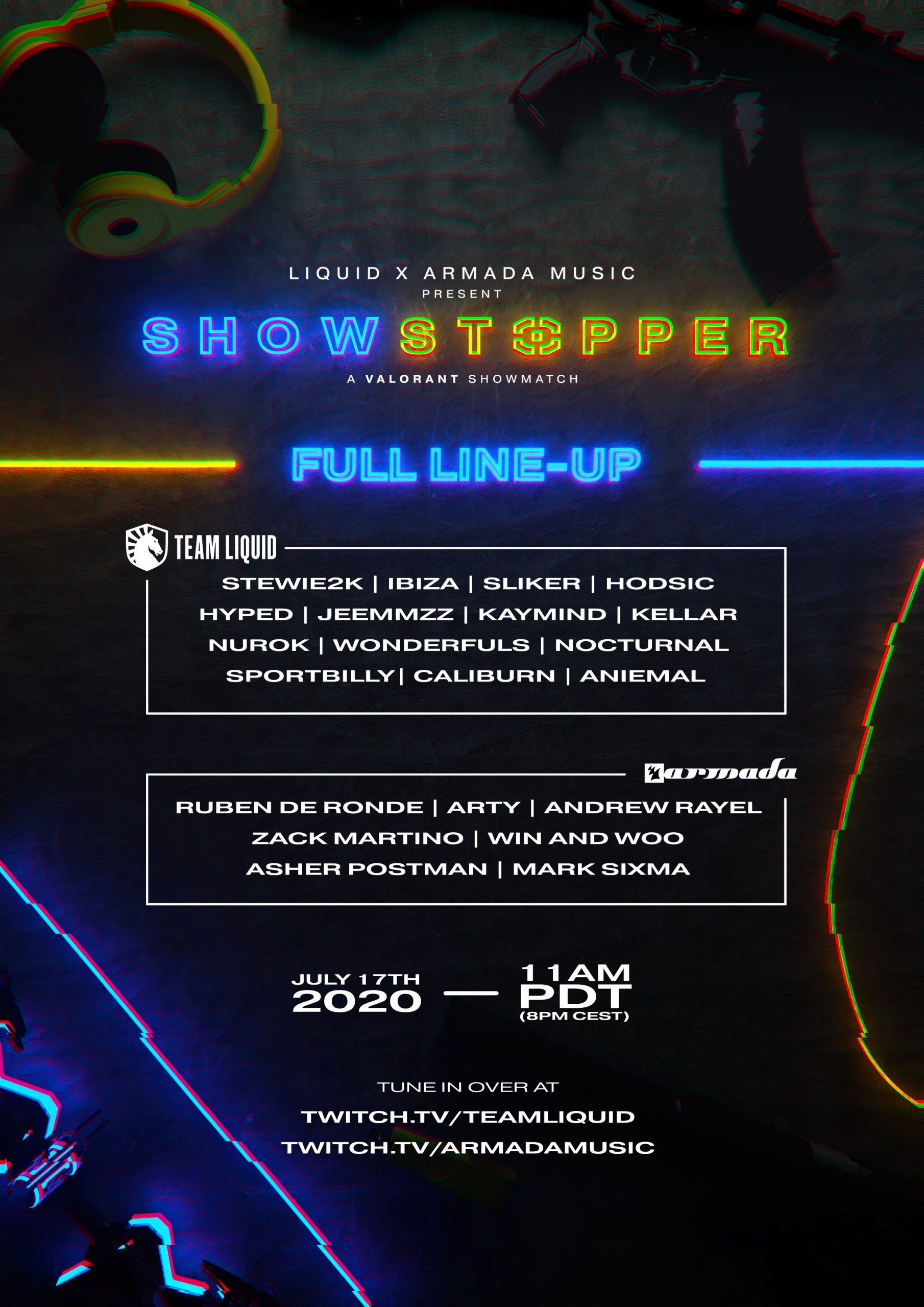 ---
Roster of Armada Music Players:
Andrew Rayel
ARTY
Asher Postman
Mark Sixma
Ruben de Ronde
Win and Woo
Zack Martino
Roster of Team Liquid Players:
Aniemal
Caliburn
Hodsic
Hyped
Ibiza
jeemz
Kaymind
Nurok
Ohnocturnal
Sliker
Sportbilly
Stewie2k
Wonderfuls
---
Follow Armada Music on Social Media:
Website | Facebook | Twitter | Instagram | SoundCloud
Follow Team Liquid on Social Media: