San Holo drops his new single "find your way" with Bipolar Sunshine off his forthcoming album bb u ok? that's set for release on May 21.
---
Everything for San Holo is personal. He's in tune with his emotions and isn't afraid to be vulnerable in the music he creates. When the pandemic started, life as we know it changed, and he kept his fans afloat with the release of his stay vibrant project that featured a new song every week for seven weeks. Tracks included "don't forget to breathe today," "in case i never see you again," featuring Analogue Dear, and "in the end i just want you to be happy."
As a result, San Holo built an even stronger community and continued to encourage fans to share their vibrance status on Twitter with percentages. Then, to close out the year he released the emotion-filled track "bb u ok?" which would later transcend into the title of his sophomore album. Talk about a full-circle moment!
Now, San Holo is ready to start the next chapter of his career. Today, the vibrant king shared some good news with his fans as his second album bb u ok? is set to release on May 21 via bitbird and Counter Records. But that's not all, in addition to the album announcement, he released the second single off the album "find your way" featuring Bipolar Sunshine.
It feels as if San Holo is determined to make our smiles a little brighter today, as the new tune is soothing and gentle. The angelic vocals of Bipolar Sunshine pair together beautifully with San Holo's production. The guitar and melody keep the energy at a mellow pace and the lyrics offer empathy, support, and hope during these very troubling times.
When asked about the forthcoming album, San Holo shared "I wrote "bb u ok? during a new chapter of my life after that relationship ended. I was learning how to deal with what happens 'after love'." He goes on to explain that he "flew to LA and just started writing and writing, trying to express everything I had been feeling for the last few months. The change in scenery definitely helped, going back to LA (like I did for album1) brought back some good memories of that previous chapter."
For those hardcore San Holo fans, head over to the official bitbird website to pre-order the vinyl and CD for bb u ok? and pre-save the album on your favorite platform before its release on May 21. "find your way" with Bipolar Sunshine is available to listen to now on Spotify and other streaming services, so check it out!
Stream San Holo – find your way feat. Bipolar Sunshine on Spotify:
---
San Holo – bb u ok? – Tracklist:
i am thinking of you
IT HURTS! 
new one (feat. Bipolar Sunshine) 
bb u ok? 
black and white 
i just wanna fucking cry (feat. The Nicholas) 
heal (↑%) 
lonely in LA 
the great clown Pagliacci
i get lonely around people, too 
thoughts and chemicals (feat. American Football) 
MY FAULT 
make this moment last 
find your way (feat. Bipolar Sunshine) 
do you see me? 
FEELS RIGHT 
ewing street 
wheels up (feat. Rivers Cuomo of Weezer) 
you've changed, i've changed (feat. Chet Porter) 
one more day (feat. Mija & Mr. Carmack)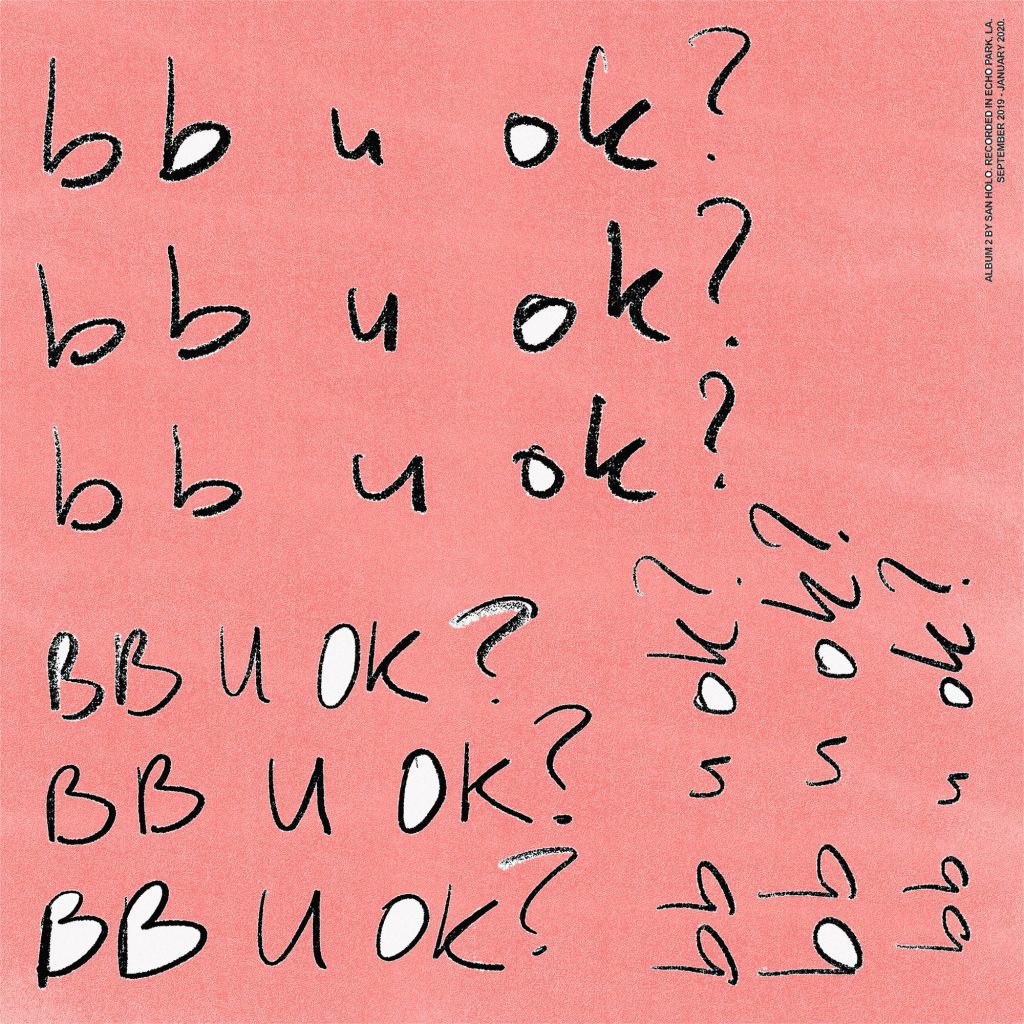 ---
Follow San Holo on Social Media:
Website | Facebook | Twitter | Instagram | SoundCloud | YouTube | Twitch