San Holo is keeping our spirit high with stay vibrant, a weekly collection of music to warm our hearts during these strange times.
---
Over the past month, San Holo has been releasing music on a weekly basis to spread positive vibes and remain connected with fans during COVID-19. Earlier this week, he released the fifth track "in case i never see you again" featuring Analogue Dear off stay vibrant via bitbird. 
San Holo is talented beyond words. The music he creates is unique and soulful, and you can tell he creates from the heart. Prepare for your ears to be serenaded with the track "in case i never see you again." It's the perfect chillout track with a beautiful melody. It's effortless yet captivating. You can listen to it while you work or if you just need a moment to feel at ease. 
With that being said, it's time to find your happy place and listen to stay vibrant. You deserve a treat anyways. If you want more, you're in luck. San Holo hasn't missed posting a track thus far so we're expecting a new gem on Monday, May 4. Listen to the playlist of tracks below and read on for some thoughts on the previously released tunes.
Stream San Holo – stay vibrant on Spotify:
---
The song 'idk anything (demo)' is raw and honest. The lyrics are simple yet impactful. It speaks to the reality that we're all dealing with right now. No one knows anything and that's ok. We're all floating in limbo, but we're in this together. It's definitely refreshing to hear music that speaks so honestly about a strange period in our lives. 
There isn't a single song that sounds the same on stay vibrant. The mellowness of 'don't forget to breathe today' makes you feel grounded and calm. There's an easiness to the track and the melody is simply beautiful. The guitar in '(only if i could) hold you' is captivating and it's impressive that San Holo is creating all these beautiful songs so quickly. 
The best thing about stay vibrant is that San Holo is simply creating music to cheer us up and it's working. He's just creating and putting it out there for the world to hear. We have a feeling that other artists will follow in his footsteps. Let us know what you think about the current collection of stay vibrant in the comments!
---
San Holo – stay vibrant – Tracklist:
(if only i could) hold you – 4:20
don't forget to breathe today – 4:07
in the end i just want you to be happy – 5:32
idk anything (demo) – 3:12

in case i never see you again" feat. Analogue Dear – 6:28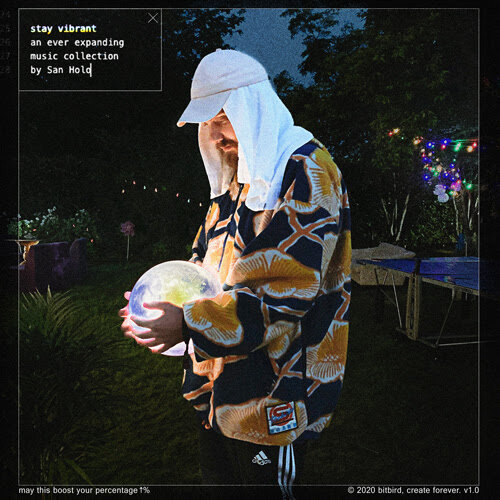 ---
Connect with San Holo on Social Media:
Website | Facebook | Twitter | Instagram | SoundCloud | YouTube