Giuseppe Ottaviani, Julian Gray, Christopher Lawrence, Monstergetdown, and more have been announced to play the Virtual DJ Stages launch party!
---
The digital realm has been a massive focus for members of the dance music community as mega festivals and world-wide tours continue to be put on pause due to the pandemic. Renowned brands have flocked to platforms like Twitch and YouTube to keep everyone grooving to the beats, and now Killed With Kindness is looking to make their mark with their latest project, Virtual DJ Stages.
Killed With Kindness has been killing it with their customized backdrops that suit the style of any DJ that has graced their channel. Now other artists will have the chance to utilize their creations with the official launch of Virtual DJ Stages, a new platform with affordable XR Stages that make it easy for anyone to level up their livestream.
There would be no better way to celebrate the launch of this new platform than by hosting an online music festival, and that's exactly what they'll be doing on January 29-31. They teamed up with Nightlife 360 to bring the Virtual DJ Stages Online Music Festival to life with legends and rising stars in the scene alike from the realms of trance, house, techno. And to top it off, they'll be raising funds for NIVA's Save Our Stages Relief Fund as well.
Artists who stick out immediately on the lineup include trance maestros including Giuseppe Ottaviani, Christopher Lawrence, David Forbes, and Trance Jesus himself. But that's just the tip of the iceberg as other artists including Julian Gray, 28mm, Monstergetdown, BlindSpider, and El Monk will be throwing down some progressive and house beats as well. You also won't want to miss out on sets from MDMG, NIX, The Hotel Lobby, Abco, Miyuki, and Manuel Bayer who will be spinning some fantastic tunes during the stream to keep everyone grooving.
Check out the full lineup below, stay tuned for the set times, and make sure to RSVP on Facebook and follow Killed With Kindness on Twitch to know the moment the stream goes live.
---
Virtual DJ Stages Online Music Festival – Lineup: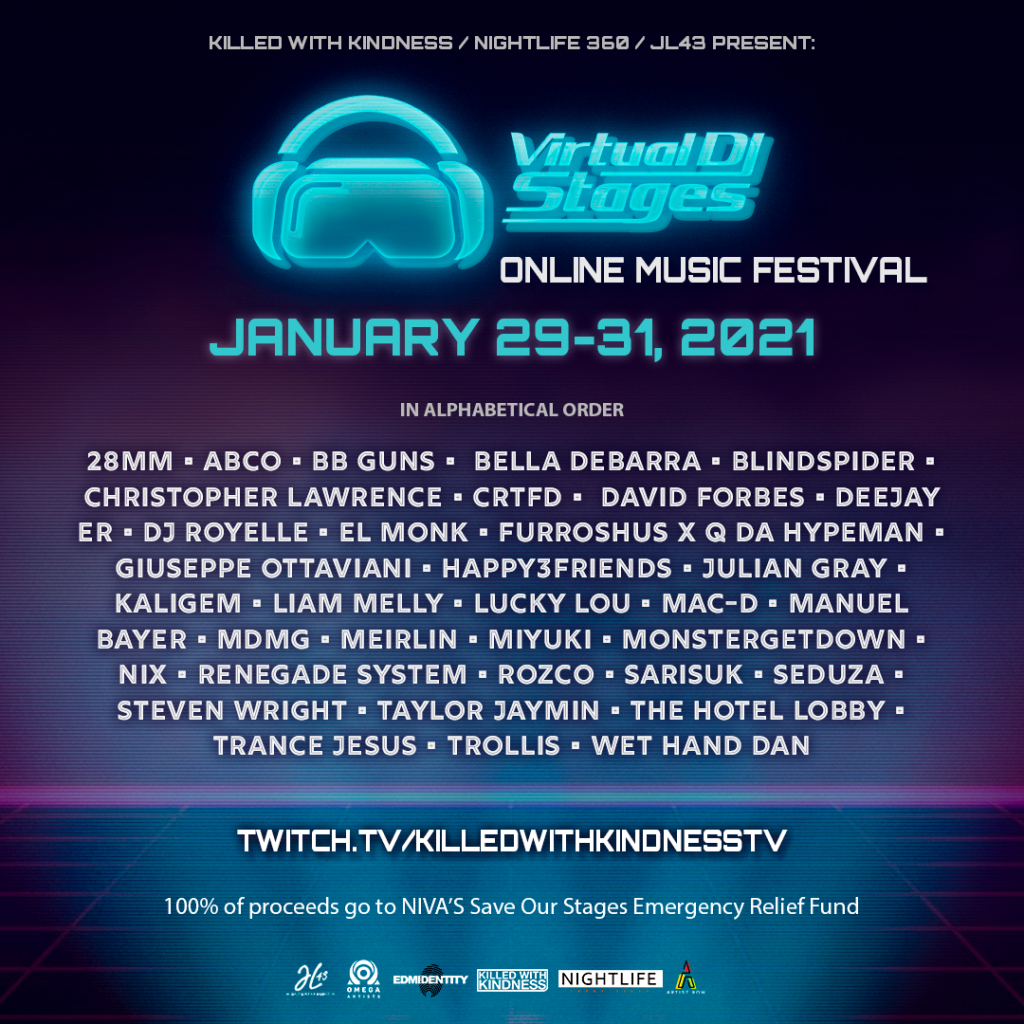 ---
Virtual DJ Stages Online Music Festival – Lineup By Artist:
28mm
ABCO
BB Guns
Bella Debarra
BlindSpider
Christopher Lawrence
CRTFD
David Forbees
Deejay ER
DJ Royelle
El Monk
Furroshus x Q Da Hypeman
Giuseppe Ottaviani
Happy3Friends
Julian Gray
Kaligem
Liam Melly
Lucky Lou
Mac-D
Manuel Bayer
MDMG
Meirlin
Miyuki
Monstergetdown
NIX
Renegade System
Rozco
Sarisuk
Seduza
Steven Wright
Taylor Jaymin
The Hotel Lobby
Trance Jesus
Trollis
Wet Hand Dan
---
Follow Killed With Kindness on Social Media:
Facebook | Twitter | Instagram | SoundCloud | YouTube | Twitch