Many in the dance music scene seemingly decided to leave peace, love, unity, and respect (PLUR) behind in the wake of the pandemic. Is this how we want to move forward as a community?
---
Everyone in the live event and entertainment industry has been hurting since shows began to get canceled back in March due to the ongoing pandemic. Promoters and artists have lost a tremendous amount of revenue alike, and there are countless people out of work throughout the industry. The government here in the US has failed its citizens as well, with inconsistent messaging and little to no financial relief for those who need it the most.
Initially, this led to a number of creative ideas that began with the boom of live streaming. Hungry ravers from all over the world flocked to streaming platforms to catch their favorite artists and get a taste of what they were missing. While some of those continue to surface to this day, as the weeks passed, the drive-in raves and pod concepts emerged, providing a theoretically safer way for many to get their fix of live music.
Soon after, questionable shows began to appear, even as fall festivals were canceled by the day. The varied guidelines across the country led to the re-opening of nightclubs and promoters pressing on with shows that were still considered legal, even if they were not being held with the best judgment. This has led to an onslaught of events happening throughout the pandemic from promoters as big as Insomniac and Disco Donnie Presents to smaller ones all over the country and those that exist in the underground as well.
The pushback against events during the pandemic is typically met with the promoter or artists stating that they're "abiding by state and local guidelines." And to be fair, unsafe shows are also a two-way street. Those who can't help but party are just as much of the problem since nightclubs wouldn't be packed if people didn't buy tickets and continue to attend. But the point of the argument over throwing shows during the pandemic isn't one centered around that. It's an ethical one, and that's where it gets murky.
The ethics of rave culture are rooted in renegade behavior. For years, raving took place in warehouses that were broken into and other spaces commandeered for the night. Even more so after laws like the RAVE Act were passed and the scene was pushed to the fringe of society. So for many who hold that era in their minds to this day, the party is still paramount. They always pushed the boundaries of safety protocols in the past, so it makes sense that they aren't as risk-averse as others.
In 2020 though, things are different. The scene has matured well beyond its roots, there's a bonafide pandemic taking place, and the ethics of rave culture and desire to party unsafely comes off as selfish. 
Each show that happens as COVID-19 continues to plague the world is dangerous to some degree. Underground promoters continually throw caution to the wind as they head out to the desert in Southern California, throw warehouse shows in New York, or look to less regulated places like Tulum in Mexico. For regulated shows, even if "masks are required," "venues are at half capacity," and "temperatures will be checked at the door," is that worth putting the health and safety of ravers at risk?
This question is amplified even greater when it comes to promoters like Insomniac. Their roots are firmly placed in the earliest days of the rave scene, but since then they have become a global behemoth. In the past decade alone they've continually shown they have put health and safety at the forefront of their mind ahead of their largest festivals, but for some of their recent shows, they've seemingly forgotten.
I've attended countless events and festivals hosted by Insomniac over the years. Beyond the music and the jaw-dropping production, one of the most important things that kept me attending was the community that honored the mantra of PLUR – Peace, Love, Unity, and Respect. 
From their messaging to the ravers in attendance, it was everywhere. It flooded my senses and made me fall so deeply in love with the scene. "Come in peace or not at all" was a slogan Insomniac once used in their efforts to make sure that PLUR was at the forefront. While that might have shifted over the years to "All Are Welcome Here" the message still rang true. The whole point was that we were together with a common love of dance music. 
Furthering that point, when walking out of EDC Las Vegas to the shuttles you're met with a sign saying "Love And Care For Each Other." It's something that leaves a lasting impression as the final message from Pasquale Rotella and the Insomniac team each day. A kind reminder of something everyone in the world should be doing their best at.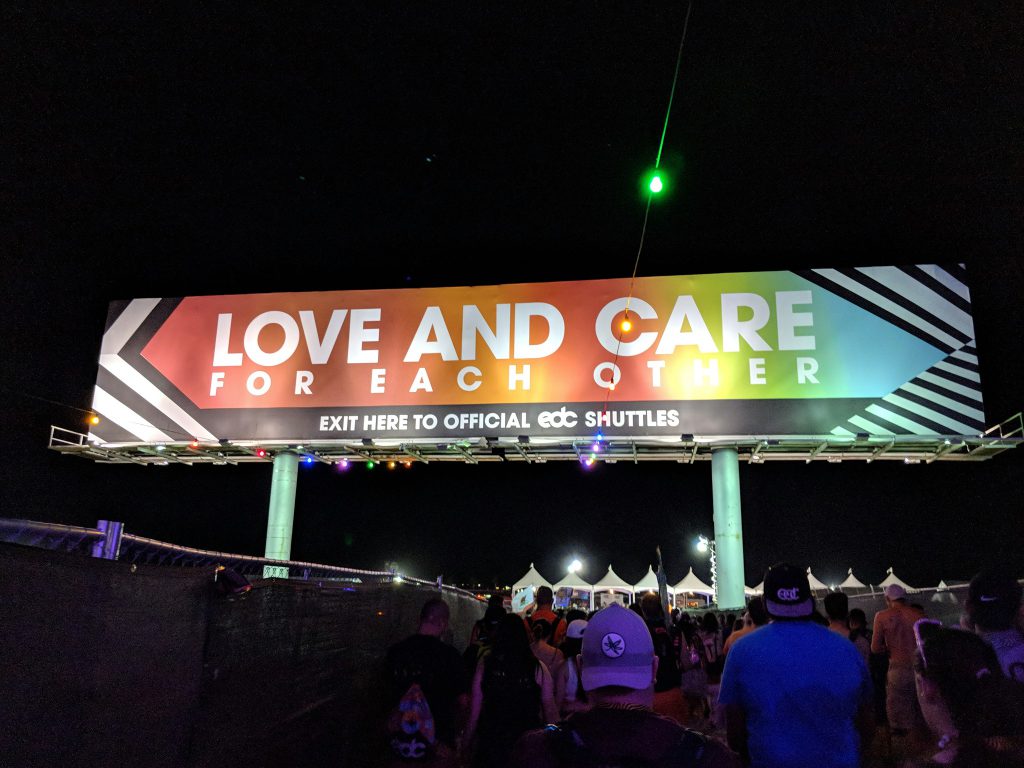 In the earliest months of the pandemic, I saw Insomniac throwing everything they could at keeping people safe at home as uncertainty for the future loomed over everyone's heads.
The Virtual Rave-A-Thons have been an absolute treat as well, even though those have come with their own criticism along the way. The initial response gave me hope because an industry leader was getting behind a message they so prominently pushed, caring about one another. In the latter half of this year, though, that message seems to have gotten a bit muddied.
I understand the need to announce festivals for 2021 and I love the concept behind the Electric Mile. I can even get behind the Park N Raves, having attended two to get my fix of live music. In fact, I chose the ones hosted by Insomniac specifically because of their commitment to safety.
Are those Park N Raves perfectly safe? No, nor is most anything happening during the pandemic. But I was impressed by how much infrastructure they brought and the team they built to make sure it was as safe as possible. Instances of unsafe behavior came down to the attendee's own actions, and for what it's worth, they haven't seen many problems surface.
Since the Park N Raves began back in October, though, things have gotten progressively worse in Southern California. Lockdowns and curfews were put back in place, but these shows flew under the radar by altering their end times. This week, Stay-At-Home orders in SoCal have been extended as cases continue to soar. Hospitals are reporting 0% capacity for ICU beds. Yet, Insomniac is pressing on with their run of shows in San Bernardino County even though the ones in San Diego were shuttered before they could even launch. Does this continuation of shows have the safety of the community in mind?
While that answer remains questionable, there is something I truly can't wrap my head around – having in-person shows, especially those that are indoors.
When Insomniac announced BOO! Orlando back in October, it caught me off-guard. While everyone else was doing hotel, pod, and drive-in concepts, this was a full-on, in-person event. Initially, I figured that it might go alright, but the photos that surfaced post-event proved that few were wearing masks or following guidelines. It was disappointing to see. That's not just on Insomniac, but those in the scene who attended the event as well.
Currently, Florida is also in a position in which it is extremely unsafe to throw shows. As a state, their rate of cases per 100k people is higher, as is their rate of deaths due to COVID-19, when compared to California. Yet, they still seemingly continue to party and press on with ineffective rules that lack enforcement each weekend as the number of cases grows.
So when another show surfaced, this time Bassrush NYE at Vanguard, it really hurt. Insomniac, a company that prided itself on PLUR and caring about others, has chosen to move forward with another in-person show during the pandemic. At its current peak, none-the-less. My immediate reaction when seeing the flyer was "What are you doing!?" and quite frankly, I'm still just as baffled.
Is one club show going to save Insomniac from biting the dust? I doubt it. So what do shows like these actually accomplish? What's the point? There's no way that this is a do or die situation for them in which they'll recoup losses from having no festivals this year on one show in a packed nightclub. Instead, an industry leader, who has already gobbled up much of the scene stretching from coast-to-coast, is setting the tone for others to continue to be unsafe.
While many continue to act with good intentions, some promoters, artists, and members of the scene today have seemingly embraced a different mindset over the course of this very uncertain year. One that's in stark contrast to the ideals that they claim to support. Is this the future of the scene we want? Where's the mantra of PLUR when it actually matters the most? With the final day of this godforsaken year upon us, I still have no idea.