Marsh, Oliver Smith, Grum, Tinlicker, Qrion, Gabriel & Dresden, and more will be taking the virtual stage for the Anjuna 24-Hour Charity Rave-A-Thon!
---
The holidays are here and Anjunabeats and Anjunadeep are looking to bring some cheer to their thriving fanbase around the world. After a run of #AnjunaUnlocked shows over the summer, they announced the latest virtual event to grace the channel and give back to those in need as well, the Anjuna 24-Hour Charity Rave-A-Thon. Taking place on December 19, it's a can't-miss show for any Anjuna Family member around the globe.
Kicking off with a set from Asch Pintura at 12pm GMT (4am PT), Anjuna HQ will keep everyone dancing in their rave caves with performances from some of the finest rising stars on the label including CRi, Simon Doty, and Jon Gurd. The evening hours in London will see label mainstays including Sunny Lax, Grum, and Oliver Smith take over the decks before Gabriel & Dresden arrive at the midnight hour (4pm PT) for a set you won't want to miss.
There are also a number of fantastic artists who will grace the second half of the rave-a-thon as standouts such as Luttrell, Eli & Fur, Fatum, Qrion, and Jaytech will be spinning some serene sounds. And what better way to close out the final hour of the show than with a blissful set from Tinlicker? We can't think of anyone else who fits perfectly in that slot after their massive rise over the past few years.
Related: Looking to get a dose of Anjuna vibes before the livestream? Check out our We're All In This Together playlist!
With the holiday spirit in mind, Anjuna HQ has selected Crisis as the beneficiary for the livestream marathon. Funds raised during the stream will be donated to the UK-based non-profit organization and their efforts to combat homelessness, something that's especially important as the temperatures dip during the winter months.
Are you as excited to celebrate the holidays and give back to a good cause as we are? Check out the set times and make sure to follow Anjunabeats on Twitch to know the moment the show goes live!
Watch the Anjuna 24-Hour Charity Rave-A-Thon on Twitch:
---
Anjuna 24-Hour Charity Rave-A-Thon Set Times: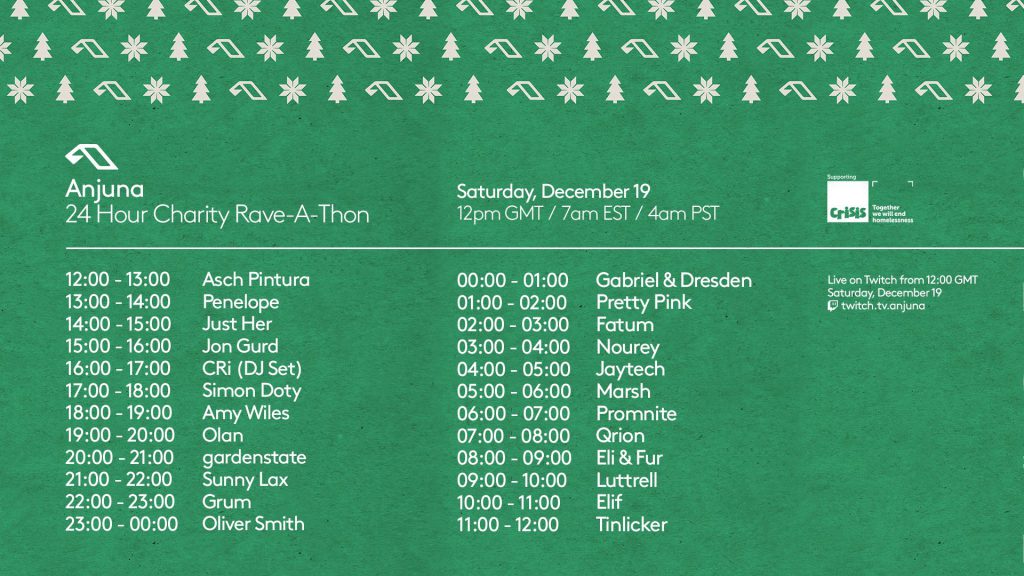 ---
Follow Anjunabeats on Social Media:
Website | Facebook | Twitter | Instagram | SoundCloud | YouTube