Nova Lotus is cooking up something special in 2021 with Nova Vita Live, their virtual event featuring Pax Impera, SHSTR, Lizzy Jane, and more.
---
Although this year hasn't quite gone according to anyone's plans, there has still been some fantastic things that have surfaced throughout the wild ride that has been 2020. Artists have produced some amazing tunes, livestreams have surfaced to keep the cravings of fans satiated, and labels have truly begun to come into their own. Now, the Nova Lotus crew is looking to keep those vibes rolling into 2021 with the announcement of Nova Vita Live, a virtual event that will help usher in a new era of the scene.
Set to take place on Saturday, January 9 at 1pm PT, Nova Vita Live is bringing the sounds from across the electronic music spectrum directly to your rave cave, something that will be much-needed to shake off the winter chill. After teasing the livestream last week, Nova Lotus gave their growing fanbase a gift ahead of the holidays with the release of the lineup for the show, and trust us, it's one you won't want to miss.
Some of the artists who will be taking the stage during the showcase stood out immediately, like Lektrique, Pax Impera, SHSTR, and Lizzy Jane, who have all thrown down some serious heaters this year. But the lineup doesn't stop there as rising stars like Kiba, Quackson, and Redrum will also be joining in on the fun, along with others who have released beats on Nova Lotus including CODEUNIT, OK. KEVIN, Fera, and Kerys. A number of the artists featured will also be found on their forthcoming Nova Vita II compilation that's due out the day before the show, so keep your ears tuned for that release!
We're proud to be partnered with Nova Lotus for this virtual event and help further their mission of supporting fresh artists in the scene. And in even more amazing news, they've teamed up with harm reduction and educational organization Good Night Out Vancouver to help promote a safe, inclusive environment in the dance music community as well.
Make sure to RSVP to the event to stay in the know ahead of the show, follow Nova Lotus Music on Twitch for notifications on when Nova Vita Live kicks off, and let us know where you'll be tuning in from in the comments!
Nova Lotus Presents: Nova Vita Live – Lineup: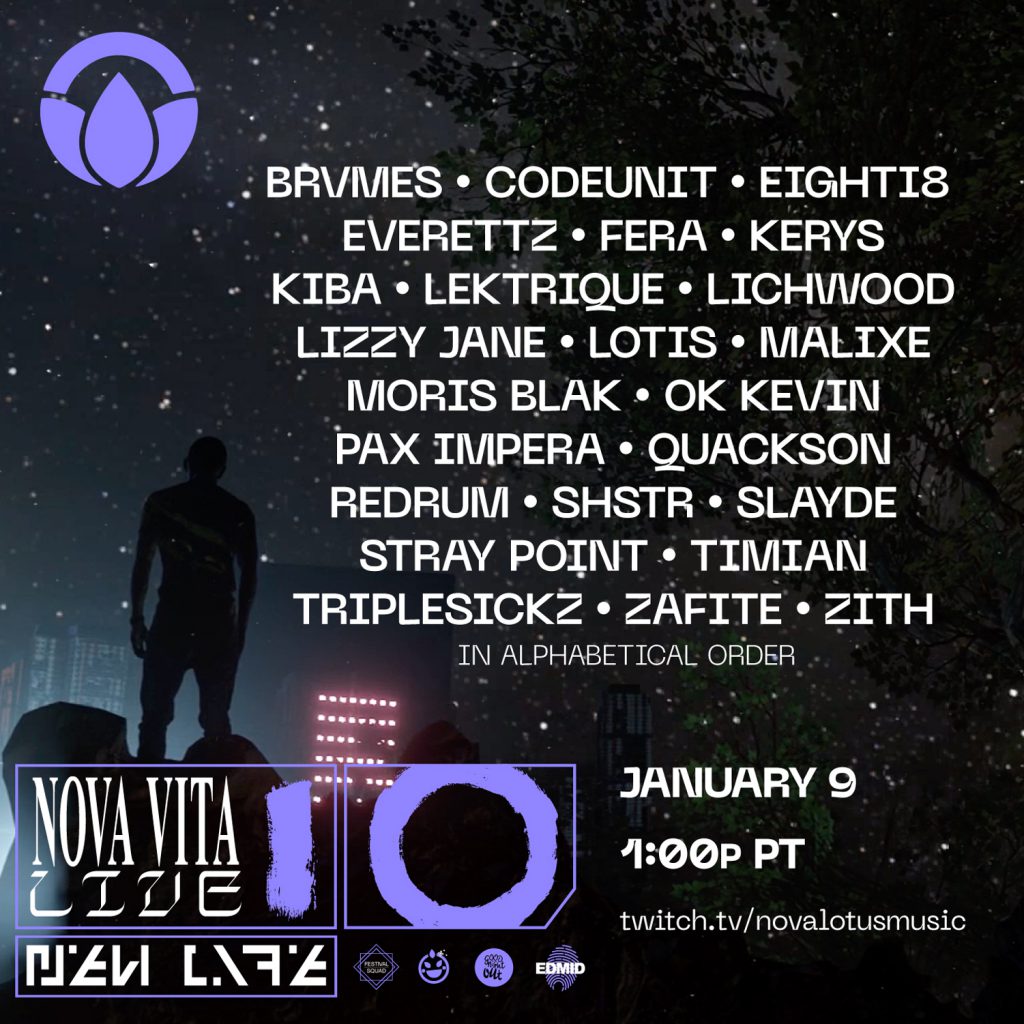 ---
Nova Lotus Presents: Nova Vita Live – Lineup By Artist:
BRVMES
CODEUNIT
EIGHTI8
Everettz
Fera
Kerys
Kiba
Lektrique
Lichwood
Lizzy Jane
Lotis
Malixe
Moris Blak
OK. Kevin
Pax Impera
Quackson
Redrum
SHSTR
Slayde
Stray Point
Timian
Triplesickz
Zafite
Zith
---
Connect with Nova Lotus on Social Media:
Facebook | Twitter | Instagram | SoundCloud | YouTube | Twitch