Nightenjin gives their faithful following a fix of tunes that will satiate cravings for heaters this winter as they roll down pit road with Pit Crew V2.
---
One of the labels that have been at the forefront of highlighting the dance music scene's freshest faces and rising stars is Nightenjin. Even in the face of the pandemic, they've hosted some fantastic artists on their growing imprint and offering of livestream events throughout the year as events were put on hold. Now, they're helping close out the final weeks of the year in style with the release of Nightenjin Pit Crew V2.
Featuring five tracks in total, Nightenjin Pit Crew V2 continues their mission with beats coming from artists including Achilles, ADAME, PVRTY HVRD, Pretence, and matphilly. Each one of these producers have churned out some amazing tunes this year while also taking the virtual stage to perform, and this compilation acts as a proper bow to the success that the label has seen in 2020.
Achilles kicks off the compilation in style with "Rydrz," a dynamic track that will have anyone who loves the sound of the underground gravitating to it in a matter of seconds as its gritty bass and energetic beat dominate speakers. ADAME arrives next with the bass-infused tune "She Started Prayin" which features a touch of hip-hop and plenty of drops for listeners to lose their minds to. Then, PVRTY HVRD will make you drop your "Thang Low" with a bass house heater that takes the energy to the next level. You'll want to get your dancing shoes on for this one.
The penultimate track on Nightenjin Pit Crew V2 comes from Pretence and "Blood Bath" is one hell of a fitting name for the tune. Don't let the intro fool you because within seconds it throws listeners into a whirlwind with synth stabs and a bassline that's absolutely ferocious. Closing out the release is matphilly with "this track is thiccer than pokimane," a bass behemoth as he decimates speakers by blending blissed-out sounds with heavy drops to give anyone who presses play the ride of their life as they dive into the rest of 2020.
Check out the sounds on Nightenjin Pit Crew V2 on Spotify or your preferred platform, and let us know which track you fell in love with the most in the comments!
Stream Nightenjin Pit Crew V2 on Spotify:
---
Nightenjin Pit Crew V2 – Tracklist:
Achilles – Rydrz
ADAME – She Started Prayin
PVRTY HVRD – Thang Low
Pretence – Blood Bath
matphilly – this song is thiccer than pokimane dawg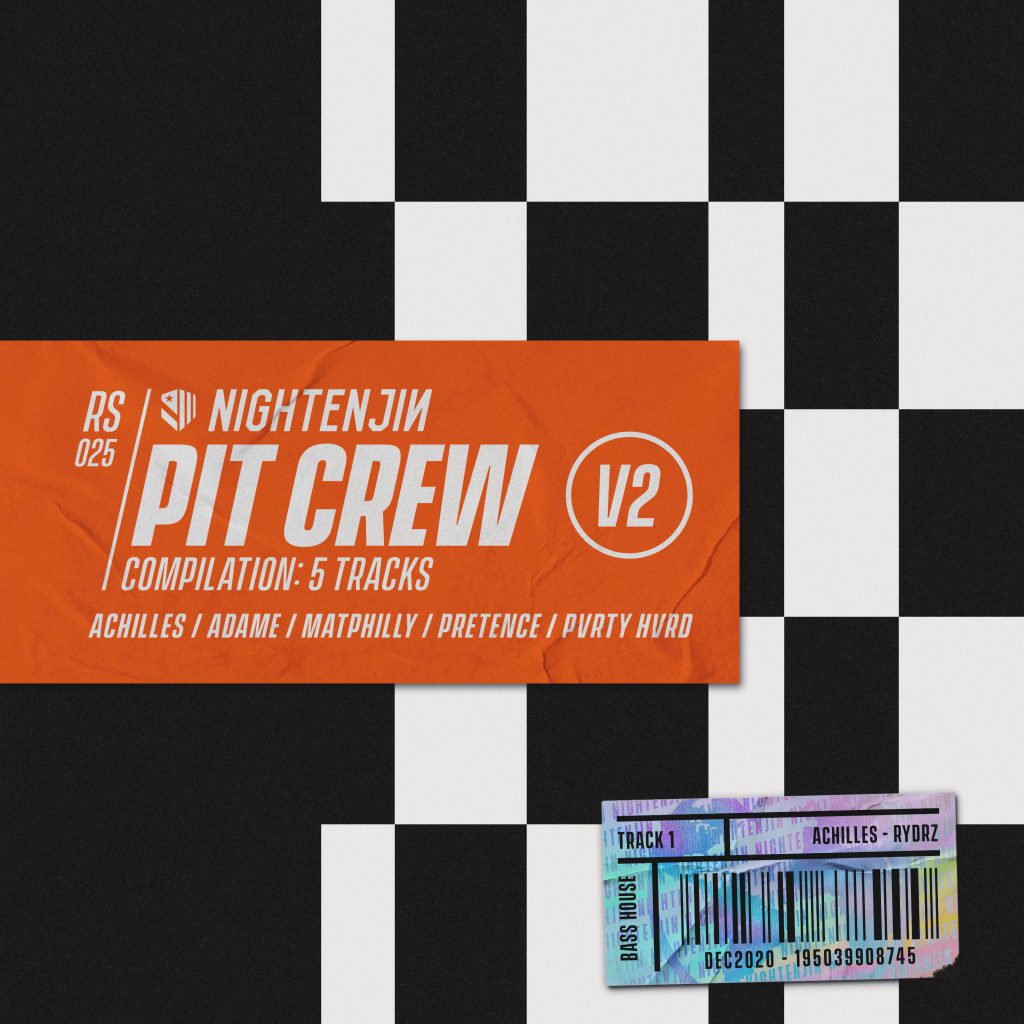 ---
Follow Nightenjin on Social Media:
Website | Facebook | Twitter | Instagram | SoundCloud | Twitch