Brazilian powerhouse duo Cat Dealers swung by to chat about their recent releases, adjusting to livestreams during the pandemic, and more!
---
Brothers Lugui and Pedrão Cardoso, also known as Cat Dealers, have risen through the ranks of the electronic music world with their diverse and energetic house tunes. The Brazilian duo has become renowned for their performances at some of the world's largest festivals including Tomorrowland and Mysteryland while also taking the stage in their home country to play massive events like New Year's Eve at Copacabana Rio, which drew over a million attendees.
In a year that has been undeniably challenging, Cat Dealers have found a way to continue on their climb through the ranks of the scene. They've showcased their prowess in the studio with 2020 releases like "Save Me Now" with Guz Zanotto and Moore, along with a remix of Loud Luxury's "Cold Feet," while they've also taken the virtual stage during the EDC Orlando Virtual Rave-A-Thon and Tomorrowland Around the World.
There seems to be no slowing down this incredible duo and they're surely one of the most anticipated groups to see when music festivals return. Looking to gain some extra insight on Cat Dealers, we couldn't pass up the chance to chat with them and dive deeper into their recent productions and projects. Stream "Save Me Now" on Spotify or your favorite platform and read on for the conversation!
Listen to Cat Dealers & Guz Zanotto feat. Moore – Save Me Now on SoundCloud:
---
Hi Cat Dealers, thank you for taking the time to sit down and chat with us today. This year has been shaken up on many levels. What have your experiences been like during this time and how have you stayed creative with everything going on?
All these unexpected changes haven't been easy, as we believe it isn't for anybody. Everyone had to adapt their lives to this new reality. We had to put all of our plans on hold and we had to stay what seemed like forever without playing to a crowd, so it was really hard. But we tried to use all this time inside to focus on our productions; we'd stay all day in our studio working on our music and studying. That was the bright side of the quarantine for us: since we're always on the road, we now had a lot of time to produce a bunch of new tracks which we're super happy with.
Producing as brothers, what would you say are each other's strengths within the Cat Dealers project and how do you complement each other in the production process?
We always take each other's opinions into consideration and think it's very important as a duo to listen to the person who you're working with. We believe that both of us bring insights into the production process. There are some days that one is more inspired than the other, or there are some tracks that one of us gets more involved in, but we are always working as a team, looking for a final result that pleases both of us.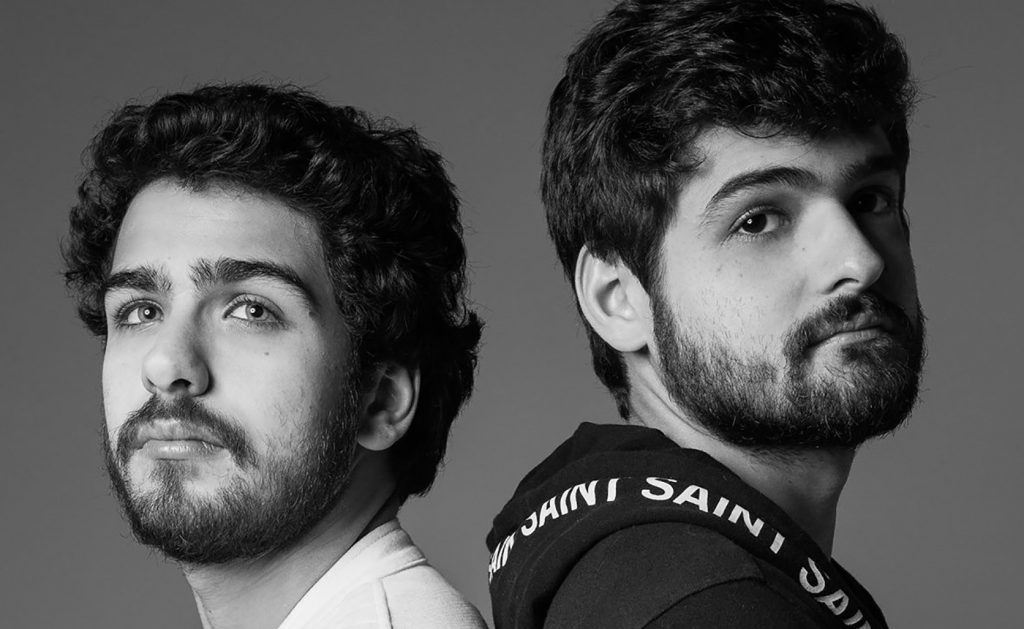 Your most recent release "Save Me Now" with Guz Zanotto and Moore has more of a pop feel to it in the lyrics while retaining its energy with those Cat Dealers' synths. How did you go about producing this track?
We first got the vocals and immediately loved it; we knew we had to produce the track. But after a while, we weren't happy with the direction it was taking. So we decided to change everything we had till then and start all over with a more progressive line that we really liked. We were super pleased with it, and since the first time we played at one of our live streams, we have been receiving lots of messages from our fans asking for this track, so we're really happy about it.
Over the years you two have put your spin on a number of tracks, including a recent remix of Loud Luxury's "Cold Feet". What draws you to a track and makes you want to remix it? Is your approach to the remix different from an original tune?
We consider ourselves super lucky because we're often invited to do some remixes on tracks that we really like. Sometimes we get a bit lost, not knowing exactly how to mix the original song with our sound. We always like it to have our identity, that people listen to it and recognize us in it. About it being different from an original tune, it is in the sense that we are working on somebody else's work (and usually somebody that we really admire), so there's a little more pressure haha. But we're a bit perfectionists; we always like to deliver something that we're proud of, so we face both remixes and originals as equally important.
One of your latest performances was at Porsche Presents in Brazil. You ended the set with a few IDs; were you able to get a feel for how the tracks were received even though it was a micro crowd at an event for cars?
Yes, we did! And not only by the people there, but as the show was also broadcasted online and is still available on Youtube, we've been receiving some feedback about them. Of course, it's not the same as playing live for a crowd who's there to see you, but it works and is always great seeing how your tracks are performing.
You also played the virtual edition of Tomorrowland back in the summer and Insomniac's EDC Orlando Virtual Rave-A-Thon last month. How has it been adapting to virtual performances?
Both events were insane! The technology used to make the experience as cool as possible was unbelievable. For Tomorrowland Around The World, we actually recorded with a green screen and we had no idea of how it would turn out to be. We were shocked when we first saw it! We sure miss seeing everyone right in front of us, playing live to an audience who's really there, but considering the reality of facts and for safety reasons, it's amazing what these events have been up to and we're really impressed.
Back in 2018 you played on New Year's Eve at Copacabana in Rio to a crowd of a million people. Since we're all craving being in a massive crowd right now, can you share what that experience was like?
That was our biggest crowd to date. Copacabana Beach is the most famous point for New Year's Eve in Brazil and always attracts this insanely huge crowd. Every year, some artists are invited to play for all those people, and luckily in 2018 we were one of them. It was out of this world; there were people beyond what the eyes could see, and it was really an experience that we'll never forget.
In an interview with DJ Mag last year, you said that the N64 was your favorite thing growing up. What were some of your favorite games and do you still play video games today?
We are still super addicted to video games haha! Back then, for sure our favorite was Mario (all of them). Nowadays we love Playstation for playing FIFA, NBA, and other sports games. For action games like Fortnite and Call of Duty, we have a gamer laptop that we take to every tour so we can play while traveling haha.
Finally, as the year comes to a close, what are some of your goals for 2021 that you hope to achieve?
Our focus next year will be to continue our international tours, which had to be interrupted due to the COVID-19 situation. This year we were going to play for the first time on the mainstage at Tomorrowland, and we'd also have our North American and European tours, so we're really looking forward to getting back on the road. Besides that, we recently signed with Armada Music since we have some new tracks to release that we've been working on during the quarantine (you can also expect some news on that). We just hope everything comes back to normal so everyone can resume all their plans and lives.
---
Follow Cat Dealers on Social Media:
Facebook | Twitter | Instagram | SoundCloud | YouTube