Even though it won't quite be like previous years, GRiZ has announced that the joy-inducing 12 Days of GRiZMAS will take place on Twitch!
---
When the holiday season approaches, GRiZ is an artist who we always look to for some cheer. That's because every year he brings joy to the dance music community in Detroit with 12 Days of GRiZMAS, an electrifying event series designed to celebrate the holidays and give back. Unfortunately, due to the pandemic, GRiZ had to do things a little differently. Much like with Camp Kulabunga, he took it upon himself to bring the experience to the virtual world, and has invited everyone to join in on the fun for the GRiZMAS festivities!
Last year, GRiZ kicked off the season in a charitable-fashion with a donation-based workshop that collected financial contributions for families in need and to support music education, art programs, coding classes, and more. This year, he looks to continue his stride with non-profit Seven Mile to continue his efforts to create youth access and opportunity for creative education.
Set to take place on December 12-23, the 12 Days of GRiZMAS extravaganza will begin with Killer Crafts & Cocktails that will give viewers the chance to make holiday-crafted drinks inspired by some of Detroit's finest tastemakers. Following with glorious performances on night two, fans will be enchanted by a classical journey with GRiZ & Friends as they light up the stage with nothing but jazz and elegance. Not only that but following the performance, viewers will be treated to a digital auction offering GRiZ's saxophone and plenty more in store.
Aside from magical performances, 12 Days of GRiZMAS is essential for entertainment with family baking nights, fun-spirited holiday games, and physical activities like yoga to keep the mind and body in good spirits just in time for Santa to sleigh the way. Throughout the virtual countdown surprise sets from GRiZ and his crew are expected to turn eight hours of live sets into a global disco-party for millions to join. Make sure to stay tuned for performances from talented artists such as Destructo, Codes, AC Slater, J. Worra, and other notable ones as well, you won't want to miss them!
Genuinely thinking about others during this time of year is a part of GRiZ's dedication to his fans and the community that make us love him even more. He never fails to keep the light of good spirits in prosperity, and with a lovely list of (almost) two weeks of virtual fun, there is no way the community can't keep busy during these uncertain times. 
Be sure to stay on Santa's good list by tuning into 12 days of GRiZMAS beginning December 12 on Twitch. Check out the schedule below, and if you want to be a part of a helping cause and donate, RSVP over on his website!
---
12 Days of GRiZMAS 2020 – Event Schedule:
12/12 – Killer Crafts & Cocktails
12/13 – Holiday Jazz Stream with GRiZ & Friends
12/14 – Digital Charity Auction
12/15 – Bake Cookies with Mama GRiZ
12/16 – Global Mic Night
12/17 – Serve Our Community Day
12/18 – Team Trivia Day
12/19 – Snow Day
12/20 – Community Yoga Day
12/21 – Kulabunga Activity Day
12/22 – Family Board Game Night
12/23 – GRiZMAS Digital Charity Festival
---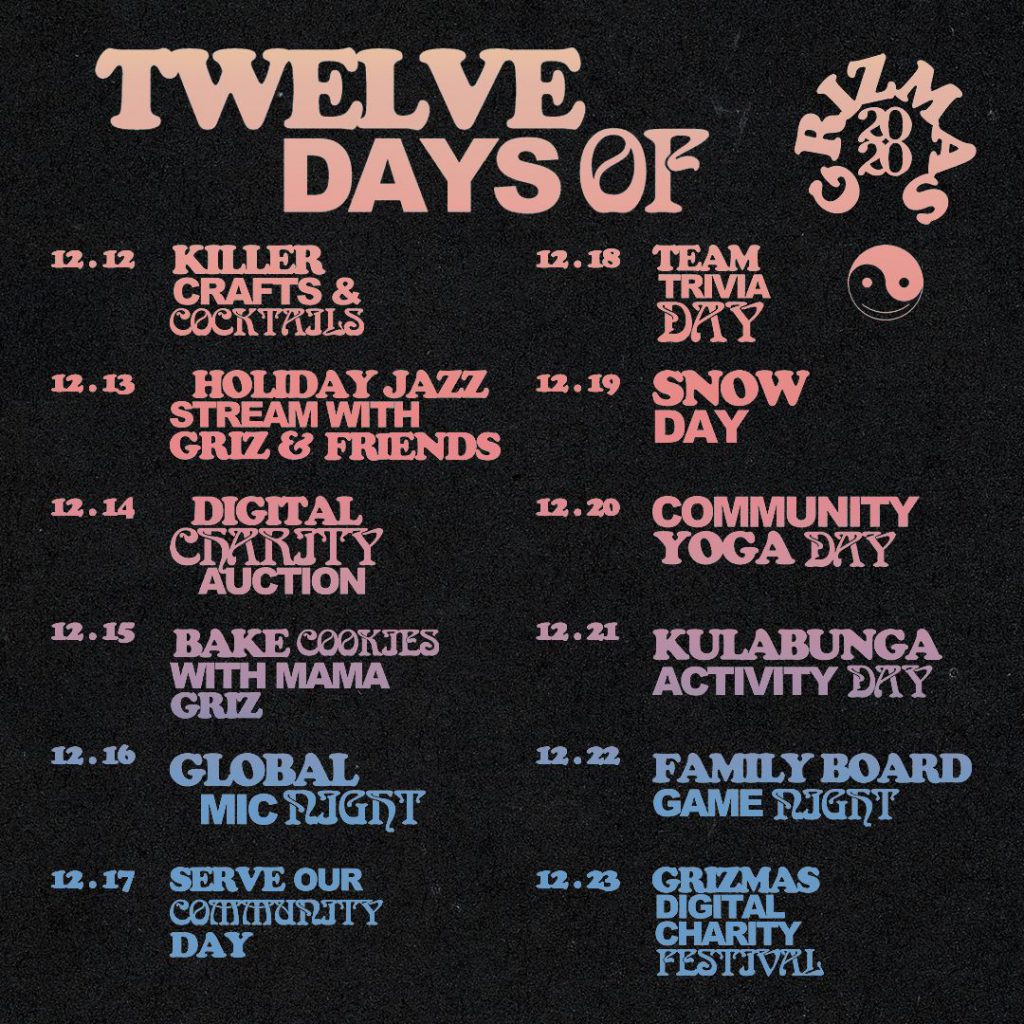 ---
Follow GRiZ on Social Media:
Website | Facebook | Twitter | Instagram | SoundCloud | YouTube