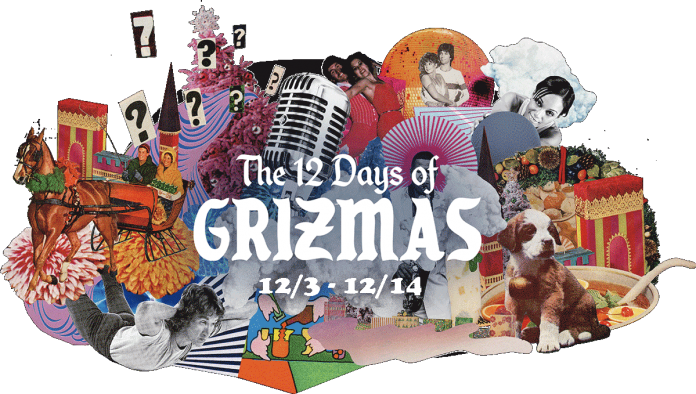 GRiZ returns to Detroit for 12 days of GRiZMAS that will bring holiday-themed concerts, activities, and community service, all in the name of giving.  
---
For the sixth year in a row GRiZ is getting in the holiday spirit the best way he knows how, by giving back fans across his hometown during the 12 Days of GRiZMAS. Taking place this December 3 – 14, events will include a roller-disco party, open-mic night, dodgeball tournament, and will be capped off with two sold-out shows at Detroit's famed Masonic Temple.
GRiZ is accepting donations from fans all over the nation and you can do your part to help Detroit's youth discover and enlist in new music programs on his website.
The holiday festivities kick off December 3 with The GRiZMAS Workshop grand opening that is situated at 1301 Broadway and will serve as a donation center, as well as offer up some seriously special holiday merch. Brand new for 2019 is the Holiday Jazz with GRiZ & Friends on December 10, where you never know who may pop in for a jam sesh. Not to be left out, December 11 will feature a bangin' roller disco: prom edition party.
Purely in the name of giving, GRiZ has once again cooked up a wondrous list of charitable events benefiting his favorite nonprofit. All proceeds raised during the 12 Days of GRiZMAS will be directly benefitting Seven Mile. A Detroit based nonprofit raising awareness and funding for music, arts, and coding programs for Detroit's inner-city youth. A direct reflection of GRiZ's "show love, spread love" ideology, he has raised over $100,000 for Seven Mile solely over the last two years.
Unfortunately, tickets to both the 10′-17′ set on December 13 and the Imaginarium set on 12/24 at The Masonic Temple sold out almost instantly however a select handful of Ticketmaster Verified Resale tickets are available on AXS! 
---
12 Days of GRiZMAS 2019: Event Schedule
12/3 – The GRiZMAS Workshop Grand Opening
12/4 – Killer Crafts & Cocktails
12/5 – Serve Our Community Day with Repair The World Detroit
12/6 – Mystery Party
12/7 – GRiZMAS Dodgeball Tournament
12/8 – Yoga
12/9 – Local Mic Night
12/10 – Holiday Jazz with GRiZ & Friends
12/11 – Roller Disco: Prom Edition
12/12 – Night Before GRiZMAS
12/13 – GRiZMAS Night 1 10′-17′ Set – Masonic Temple Theatre (sold-out)

12/14 – GRiZMAS Night 2 Ride Waves Set Featuring 'The Imaginarium' – Masonic Temple Theatre (sold-out)
---
12 Days of GRiZMAS 2019 – Essential Info:
Date: December 3 – 14, 2019
Ages: ALL – (Masonic Temple Shows 16+)
Tickets: PURCHASE HERE
Facebook Event Page: RSVP HERE
---
Follow GRiZ on Social Media:
Website | Facebook | Twitter | Instagram | SoundCloud | YouTube