NotLö has teamed up with AfterShock and rising artists in the scene for a charity livestream event to help raise money for Urban Peak Colorado.
---
There's no better time to give back than during the season of giving, and NotLö is doing just that by teaming up with AfterShock for the NotLö & Friends stream to benefit Urban Peak. Set to take place on Friday, December 12 this stream won't just be for a good cause, it will also feature a lineup stacked with artists who are rising through the ranks of the scene. Joining NotLö for the night will be artists including Dalek One and DRTYHBTZ going b2b and solo sets from ColtCuts, Sky Suite, LittyKitter, Shatter, and Dredlok.
All donations made during the stream will be sent to Urban Peak, a non-profit based in Colorado that provides a variety of serves for youth ages 15-24 that experience or are close to experiencing homelessness. Founded in 1988, they support the community with an overnight shelter, street outreach programs, education, and employment, as well as supportive housing. Urban Peak is doing an amazing thing trying to help out youth in Colorado, and this cause is especially important now during the colder months of the year for those who don't have a roof over their heads.
It's a beautiful thing that all of these artists are coming together for such a great cause and we appreciate everything they are doing for their local community during this uncertain year. While everyone might not be in the position to donate, amplifying the stream is just as important so make sure to tell your friends because these sets will be out of this world.
NotLö N Friends will be streaming on December 12 from 6pm-1am ET on Aftershock's Twitch Channel. Stay tuned for the VJs and set times that will be announced closer to the date of the show, we can't wait to see you all in the chat!
---
Tune in to the NotLö N Friends live stream on Twitch: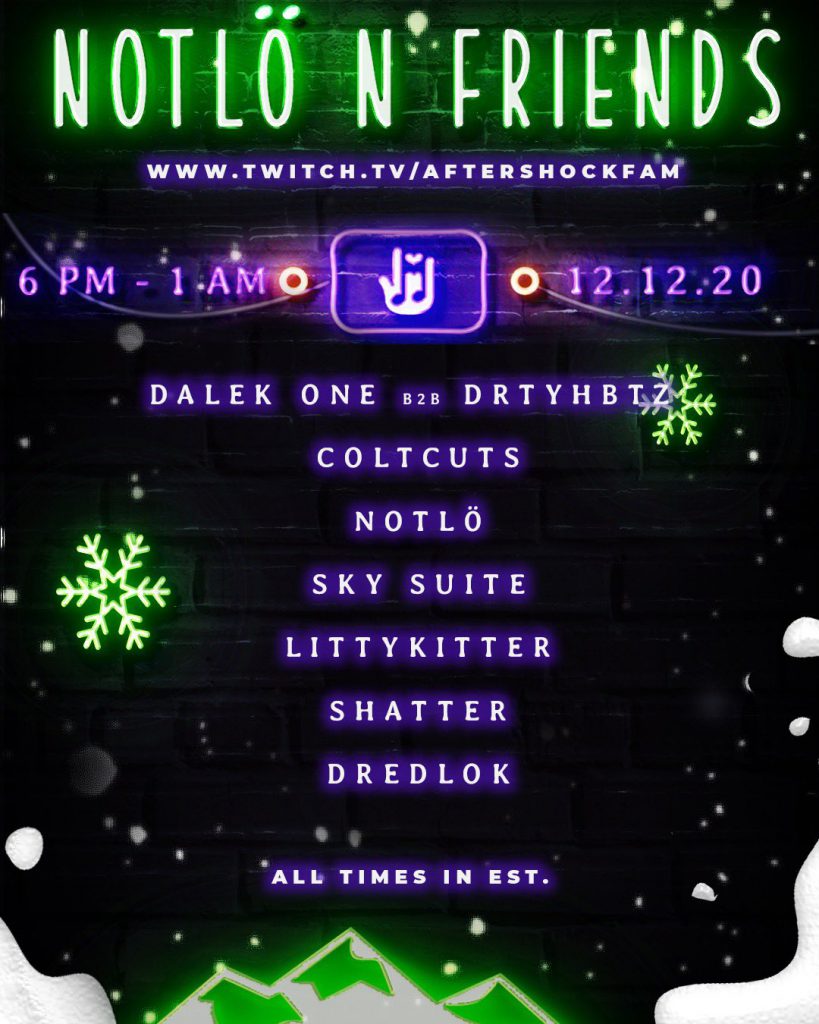 ---
Follow NotLö on Social Media:
Facebook | Twitter | Instagram | SoundCloud | Spotify