Vybrant Vibes stopped by to chat about how she's gracefully rolled with the punches in 2020 and her part in the upcoming PrideFest livestream.
---
Passion, dedication, and perseverance are only some of the many key ingredients that go into making a name for yourself in the Electronic Dance Music industry. Rosemarie, best known as Vybrant Vibes, is the perfect example that you can make your dreams a reality with hard work, determination, and relentless heart and soul poured into your craft.

Vybrant Vibes began down her path in the music scene in 2016 and by 2017 she was already booking several live shows and events. Her grimy, face-melting bass, uniquely paired with ethereal vocals, give her a unique and strong presence as a powerhouse electronic musician that stands out. In just a few short years, she has grown as a talented producer, DJ, and vocalist, and clearly has no plans on slowing down anytime soon. In fact, her newest track, "Afterparty," is a jam that features popular EDM vocalist Elle Vee and was one of many more to come in 2020. 

We had the opportunity to catch up with Vybrant Vibes to discuss her upcoming debut EP, the second annual PrideFest, and overall, how to keep staying positive and motivated even when things are tough. So listen to "Afterparty" below and read on for the full conversation!
Stream Vybrant Vibes, Elle Vee – Afterparty on Spotify:
---
Hello Rosemarie! Thank you so much for taking the time to interview with us. I'm very excited to learn more about you and your music. First and foremost, how are you? 2020 has definitely been a crazy year for most, especially those in the music industry. 
Vybrant Vibes: Before I get started, I'd like to thank you for having me on EDM Identity. I think it's been a very interesting year and one that nobody could have expected. I'm making the best out of it and keeping my spirits high. Even though the music industry is going through a rough patch, music still has a huge impact on people and culture. I have a lot of music lined up for this year and I can't wait to show y'all.
We can't wait to hear it! How did the quarantine affect you, your workflow, and your productivity? Was it nice to have some free time to make music, or did you feel a bit of pressure to create and turn out tracks? Maybe a bit of both?
Before quarantine, I was juggling music, work, school, and often had my schedule booked months in advance. It's been a transition going from DJing every week to the music scene becoming a ghost town. In addition to music, I also worked in the events industry for companies such as Bacardi and Hennessey.
Since quarantine, I haven't worked any events, but that's just given me more time to work on music. In fact, I think the quarantine has given all of us a chance to reflect and think about what really matters. For me, I've been thinking about how much I've been wanting to take my music full-time. What better time than now? I have more time to produce and work on music than I've ever had. I encourage everyone to try and find the positive within any situation, even if the situation seems tough.
Speaking of positive, we are very excited to see your name on the lineup for the second annual PrideFest! The lineup is stacked with performers of various genres from around the world. How does it feel to be a part of such a meaningful event?
I am so grateful to be a part of a lineup that supports such a positive movement. I am excited to perform alongside all these amazing artists and to be spreading the love of equality.
Pridefest 2020 celebrates the LGBTQ+ community and its representation in music. Can you tell us more about what the community and Pride Month mean to you personally?
Pride Month is about being yourself, celebrating diversity, and gender equality. Music would be nothing without expression of self! Pride Month reinforces my belief that we need to continue to support positive change with an active voice instead of sitting back and doing nothing.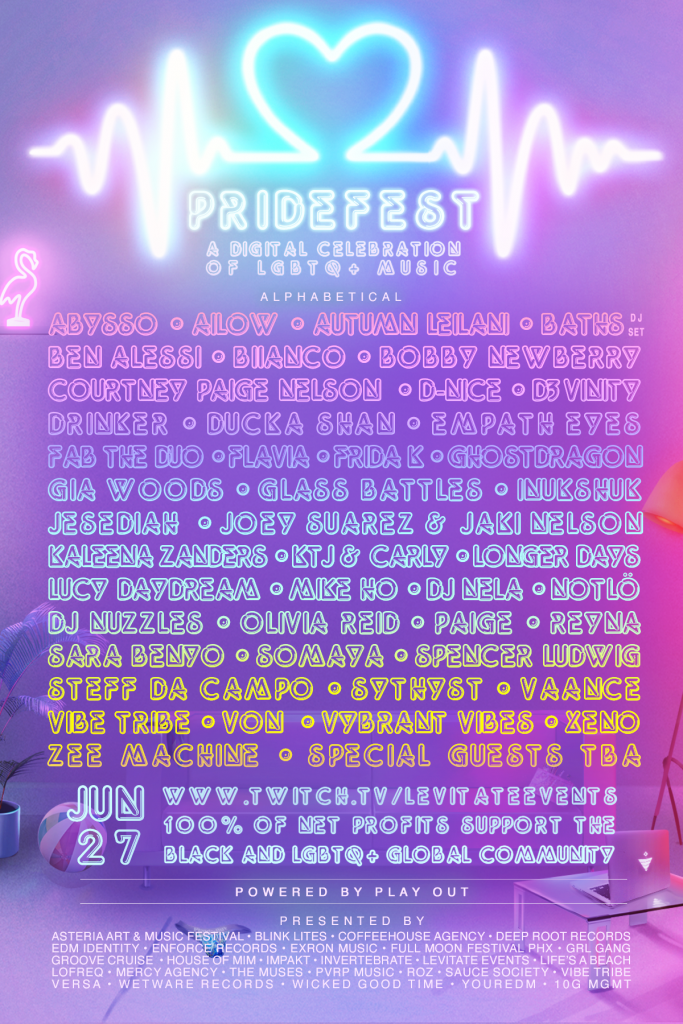 This year PrideFest, like many events in 2020, is going virtual. How have you been tackling and navigating this whole new territory in music? Would you say your strategy for preparing for a live stream differs in comparison to prepping for live shows?
Going virtual has changed the game. It has brought us closer to artists and opened up a personal vibe to DJ sets. I have seen artists play in their bedrooms, surrounded by family, and completely in their elements. This new territory has given me the opportunity to connect with my audience even more and show them who I am / where I am from.
Some aspects of live stream are completely new and I'm still getting used to it.  There is no crowd to gauge reaction or feed energy off of. That drop that you were expecting to make the crowd go wild does not feel the same. This causes me to analyze my sets much differently and even choose different types of songs that would fit a live set better. Overall, I miss playing live, but I do enjoy the new challenges of going virtual
Let's dig into your history a bit. When did you first decide that you wanted to become an artist in the dance music scene? Are there any specific artists that you've been inspired by?
From the moment I heard Flux Pavilion's "I Can't Stop", I knew EDM was it for me. As I went to more EDM events, I became enamored by the energetic bass sound. This is the sound that inspired me to go create and start my musical journey. One of the most inspirational figures to me is Alison Wonderland. I love all her songs, her stage presence, and her style is just so fun! Seriously. But, what I love most about Alison is that she continues to make her style of music and is respected as an EDM artist, based off of her musical success, not just the fact that she's a female DJ on the mainstage. She's proven that you can hang with boys and make headbanging bass music that hits just as hard, while not wearing pants lol.
You've definitely made some crazy headway from then until now. I see you've played a lot of live shows and music festivals. What's been your favorite event(s) that you've played so far?
It's so hard to narrow it down! There have been so many memorable shows. One night that sticks out was when I played with Joyryde & Travis Barker at 1015 Folsom (Yes, a Travis Barker DJ Set!) for Outside Lands Official Afterparty. I remember meeting so many talented DJs and we were having such a great time. When I went on, I threw down a dirty bass set that had everyone going crazy. The energy level was insane and I could tell the room had a special kind of vibe.
After my set, I really wanted to stick around for the other DJs, but I had another DJ set booked at Temple SF. I Ubered over to play my bass house set and rocked it. Everyone was jumping around! Afterward, I decided to head back to 1015, just for fun. I ended up hanging out, listening to good music, and having a great time.
Your first release of 2020, titled "Afterparty" which was a collaboration with EDM vocalist Elle Vee, just dropped. What was the production process like behind the track? I would love to hear more about how it all came together. 
The song first came together in a session with my co-producer Matt Firenzé and I. We stumbled upon this wavy beach synth that can be heard right when the vocals come in. It reminded me of the beach – side note, I love beaches – and we rolled with it. We kept playing around with different Future Bass sounds, bouncing ideas back and forth until we had that moment where we both heard the lead synth and thought "That's it! That's the sound!".
From there, I knew this was the perfect song to have Elle Vee on the chorus. The memorable moment for "Afterparty" was when I first heard Elle Vee's vocals on "Afterparty." As soon as I heard her voice on this song, I knew it was something special. The lyrics, the style, and the way she sang just fit so magically. Lastly, my other co-producer Westray Tackett worked his magic on the third drop, and then I knew that this song had to be my lead single.
I also wanted to congratulate you on your debut EP, which is set to drop in 2020. How exciting! What can we expect from the EP? Will you be featuring your own vocals as you have in your past tracks, such as "Space Buns" and "I Can't"?
This year I am releasing my first full EP, titled Lost Cause. The EP will showcase different styles of Future Bass with a blend of my signature dirty bass sound, which I can't wait to show y'all! I guess I can give you a small taste of what's to come. The EP titled track "Lost Cause" features myself on vocals as well as New York Electro-Pop singer, Lyda. The song delivers a strong message about how nobody can stop you from being you and that you should go out there and just go for it! Add in some Future Bass chords and it's totally epic. Another song titled "IRL" is a Future Bass track with a dirty bass twist. And by "dirty bass twist," I mean it's DIRTY. So you better watch out!
Finally, what advice would you want to give to those who are reading this, and want to start making music of their own? Anything else you want to share with the readers out there?
I believe anyone can become a musician. I do not come from a musical background. When I first started out, I did not know how to beat match, sing on pitch, or even how to begin getting myself booked for gigs. My advice would be to jump in and put in the time to learn and develop your artistry. I bought an XDJRX and practiced every day until it started to make sense (by the way I was TERRIBLE at first). You really have to have a passion for what you do and don't give up!
I didn't let anyone stop me from doing what I really wanted to do. It's been a lot of hard work and practice, but I truly believe that if you really want it, you can go for it! Now that I have gotten this far, I want to go further in music so that I can continue to be an inspiration to others such as myself when I first started. Lastly, I'd like to thank you EDM Identity for having me on your interview.
---