After the release of her latest single "We The People," Lady Faith sat down to reflect on 2020 and chat about the future that lies ahead for hard dance.
---
If we take a look at the growing community that is the hard dance scene in America, it's only right that we take a look at the groundwork that Lady Faith has helped create. As a true pioneer in the hard dance realm, she's proven a multitude of times over the years that she is a force to be reckoned with and has clearly set her sights on global domination.
Lady Faith has solidified that she is a hardstyle legend in her own right, creating her own sound, spreading the word of hardstyle in America, and recruiting warriors for the scene. The self-proclaimed "Queen Bitch of the Universe" has kept our attention over the years by fueling us with tracks filled to the brim with hard kicks and ethereal melodies in her impressive discography. Additionally, she's taken the stage all over the world to deliver fantastic sets from nightclubs in the US all the way to the pinnacle of hard dance festivals, Defqon.1.
Although 2020 has been quite a ride, it hasn't kept Lady Faith from continuing to press on with her mission. She's recently taken the virtual stage for livestream events while also dominating the decks at the EDM Drive-In series in Texas as well. Now, after the release of her latest single "We The People," we had the chance to catch up with her for a sincere chat about the recent election, gender inequality in music, and plenty more.
Watch Lady Faith – We The People (Official Videoclip) on YouTube:
---
Hello Lady Faith. Thanks for taking the time to chat with us today. Let's start off by talking about your latest single "We The People." What's the backstory to this tune? Can you tell us about the production process?
As an artist, I feel that it is my duty to speak about my thoughts and my reality through my music. That is what sets me apart. The music I create has meaning to me and helps to tell a story about my life. Sometimes this is discouraged in society, but I have never followed the standard path and I am willing to speak out when I believe strongly in the cause. I tried to find a balance by creating a song that told a story combined with music that was both dramatic and emotional. This was a big project for me and a difficult production, but ultimately, I am very pleased with the end result.
"We The People" has a clear political message in support of the voiceless. What does the 2020 US election and voting, in general, mean to you as a minority in America?
Sometimes you just have to take a stand for what you believe in and "We The People" was written to highlight a specific problem that affects us all – injustice. We see this in our daily lives. Profiling exists all around us, be it racial, economic, or gender-based. The EDM community in America was founded on the concept of PLUR and acceptance of all people. I want my fans all over the world to know that what is going on here in America is about change.
People want dignity and as President Obama eloquently said, "we need to give voice to the voiceless." We all must strive to set a better example for our young fans who look up to the artists and the industry to be a shining example of acceptance for all people, love from America. We are all part of the great EDM family and none of us are truly alone. As an Iranian American female in a male-dominated world, I have pushed for equality because we set the example for the next generations, and it's never been so important that the fans get behind minorities and females and make sure they have opportunities to succeed.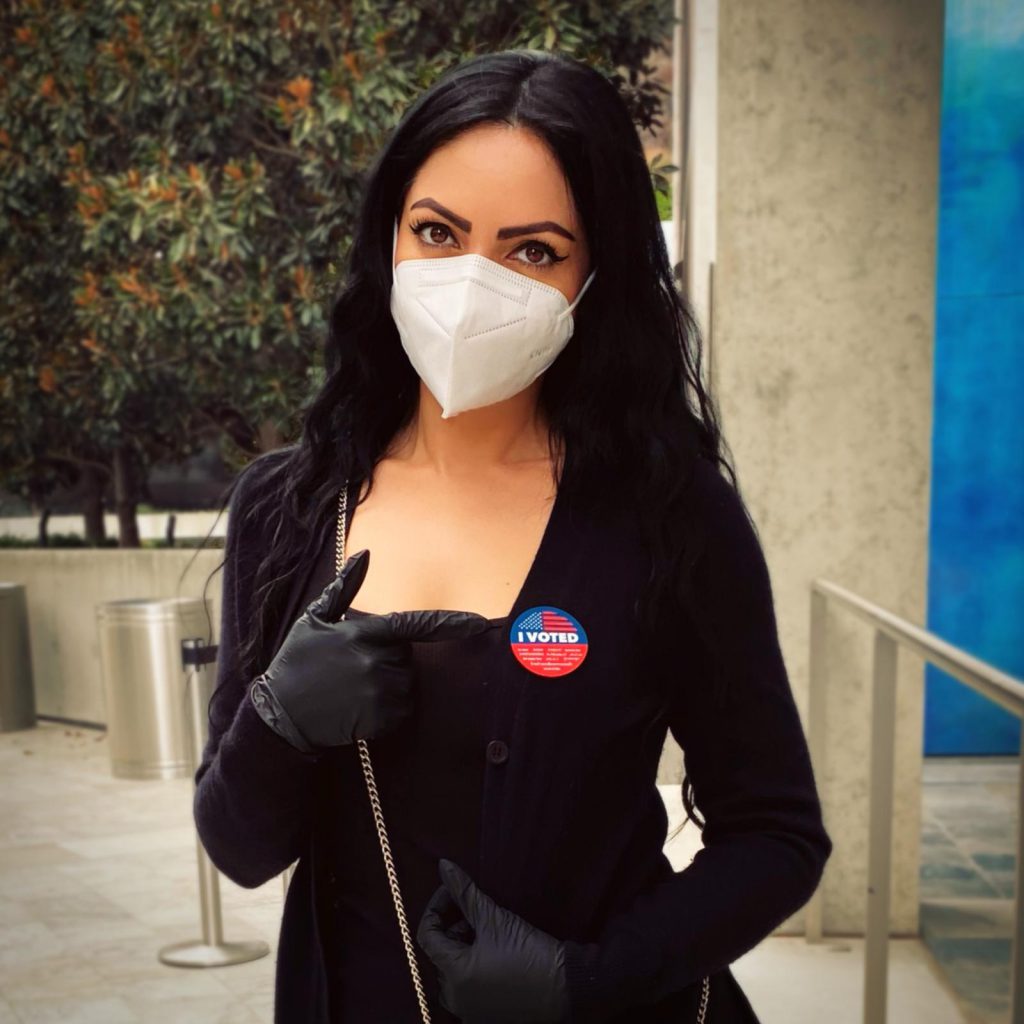 Many American producers are taking hard dance and combining it with genres like dubstep, trap, and drum and bass to create a hybrid genre unique to the scene here, but it's controversial to dedicated fans that want their fix of hard kicks. What are your thoughts on the mixing of hardstyle with other genres?
There is a growing trend from American Hardstyle acts to incorporate other genres into their music as a natural consequence of the limited American Hardstyle fanbase and opportunities. As DJs, we live to perform and if demand outweighs supply, we will adapt to ensure we have every chance to succeed. Ultimately Hardstyle is a purist genre, dominated by European acts who do not quickly appreciate changes to the masterwork they have created and that can put pressure on non-traditional Hardstyle acts. Still, American Hardstyle is American and as a country, we have always supported those that break traditional boundaries.
For many years the wider EDM audience has not had the opportunity to witness Hardstyle in major festivals, but now that top acts from other genres are starting to see the power of this sound, they are embracing it as are their fans. When I used to go to festivals (before the pandemic), I was frequently hearing Hardstyle beats being thrown into the mix. Still, Hardstyle is a very complex art and eventually, many of those wider EDM fans will get an opportunity to hear a dedicated Hardstyle producer. For many of them, it will be a life-changing moment.
You have an impressive discography with mostly solo productions. However, if you could collaborate with one person from the European hardstyle scene and one from the American hardstyle scene, who would it be and why?
If collaborations come along, and the timing is right, then I am always open to it. So far, there have not been many opportunities, but I keep working towards that goal. I do not see many collaborations with female acts in the Hardstyle scene so I might have to look outside of the scene, but times are changing, and I am hopeful.
2020 has been a wild ride and we've seen you perform at the virtual edition of Wasteland, we've seen you host it, and more recently, you finally got back on the decks at a Drive-In show. What's been your best memory this year, despite the circumstances?
This has been a tough year for us all and unfortunately, I have lived in what appears to be the epicenter for the virus. I had a full schedule for 2020 and have had to watch it evaporate before my eyes. DJing is my life and my passion and to be deprived of this (and my fans) for so long has been very challenging. I just try to focus on my music and keep improving my skills to be ready for when the darkness lifts and we all get to see the sun again. I really don't have a best memory for 2020. It is a year I would like to forget. If I had to choose one, it would be EDC Mexico in February. That was an epic party.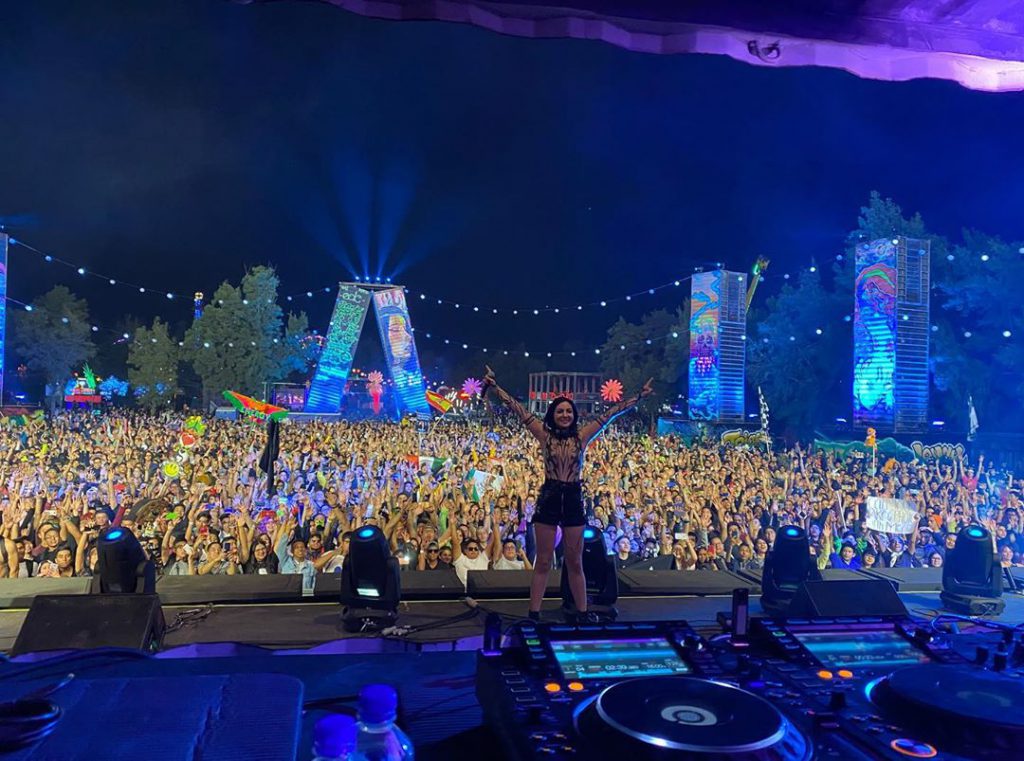 Two years ago, you played the first-ever, all-woman b2b with DJ Stephanie at the wasteLAND stage at EDC Las Vegas and mentioned in our interview that "women still need the bigger platforms so that their music can be heard by a greater audience." Do you feel there have been advancements since that chat?
Things are happening. I see more and more females on the Top 100 list and more females in front of the biggest crowds. Nevertheless, the wheels of change turn slowly and while certain festivals are hearing the calls, many are continuing to ignore them. We continue to push for more females on the biggest stages, but unless the call comes from the paying public, nothing will really change. Fortunately, more and more fans of EDM are demanding change and insisting that festivals reflect their own personal values. It is a work in progress but I am optimistic that things will change.
Considering the many new fans you've brought in and all the producers you've inspired, where do you believe hard dance is headed in America? Pandemic-aside, are you satisfied with the current state of the scene?
I love our hardstyle scene but it can be difficult to expand a scene when so many festivals don't have a single hardstyle performer and when they do have hardstyle, it is always given its own dedicated stage. As a result, it can be complicated to introduce this wonderful sound to so many young fans that have not yet chosen their preferred genre. We keep growing as a community, and eventually, we will break through, but it starts with the fans making their voices heard. Hardstyle belongs too.
For those who are looking to make their break in the hard dance scene in America, what are three tips you would give up and coming producers?
It's not easy but you can do this. I am an example of a person that nobody thought would have a serious career when I first started. Like so many things in this life, you have to work really hard at your craft, harder than your competition. If you are willing to learn and you have a passion for what you do, you will find success. I hope I am an inspiration to future artists, especially females. If you never quit whatever the obstacle, and stay true to yourself, you can achieve anything.
To close off the interview, many people around the world are struggling to find hope amid the madness that's occurred this year. If you could send them a message, what would it be?
Now is the time for our global community to understand that we are a family, united by our common love for electronic music. We are here for each other. We support each other through the good times and the tough times, always as a family. Eventually, this time will pass and when it does, I hope to be in the celebrations that will follow. Be safe and be strong and remember that you are not alone.
Thanks for talking to us, Lady Faith. We hope to see you back on the decks (safely) very soon!
---
Follow Lady Faith on Social Media:
Facebook | Twitter | Instagram | SoundCloud | YouTube | Spotify