Day Of The deadmau5 in Atlanta was a success while it lasted, offering up a safe space for music fans to bust a move!
---
The Drive-In Rave: a concept that has taken over for this year's festival scene, born from the need to keep the party alive during the pandemic! My interest shot through the roof from their very inception, but when Collectiv Presents/Beware Presents announced a Day Of The deadmau5 show in Atlanta, I was fully in. While the event certainly had its issues (I'm looking at you, Mother Nature), the short time that we got to spend on the grounds of the Atlanta Motor Speedway quenched my thirst for a safe mass gathering.
The rules for the Day Of The deadmau5 drive-in show were simple, yet taken very seriously. No more than six people were allowed per blocked off space, attendees had to keep their masks on at all times, you must only use the porta-potties at the end of your specific section, and you could not move from space to space to visit friends (even if you were to stay within the maximum number per spot). This sounds harsh, but let me remind you: if we were all to move around at the same time to mix and mingle with our friends, this would make it very difficult to retain the type of social distancing required to keep the Coronavirus at bay.
With the rules holding clear at the forefront of my mind, it was time to find our spot and get spooky!
First off, let me give a round of applause to the security team for being quick, fair, and effective, as well as to the Heinekin '00' girls that were passing out free 6-packs at the gate. There were multiple lanes according to your section, so this helped to keep the lines from getting long. Once in, finding our spot was incredibly streamlined with upbeat parking attendants to guide us along. We had snagged a pass for section B1, which in simple terms translates to far left front.
While we lucked out and got the inner section of B1 that placed us closer to the stage, I instantly noticed that the cars that got placed on the outskirts of B1 were going to have an impossible time seeing deadmau5. This was a bit concerning seeing as how they paid $300 after taxes and fees for this specific section. To make up for viewing issues, there were two massive LED screens on both sides of the stage, which in all honesty, ended up giving us an amazing view of what was happening on the stage.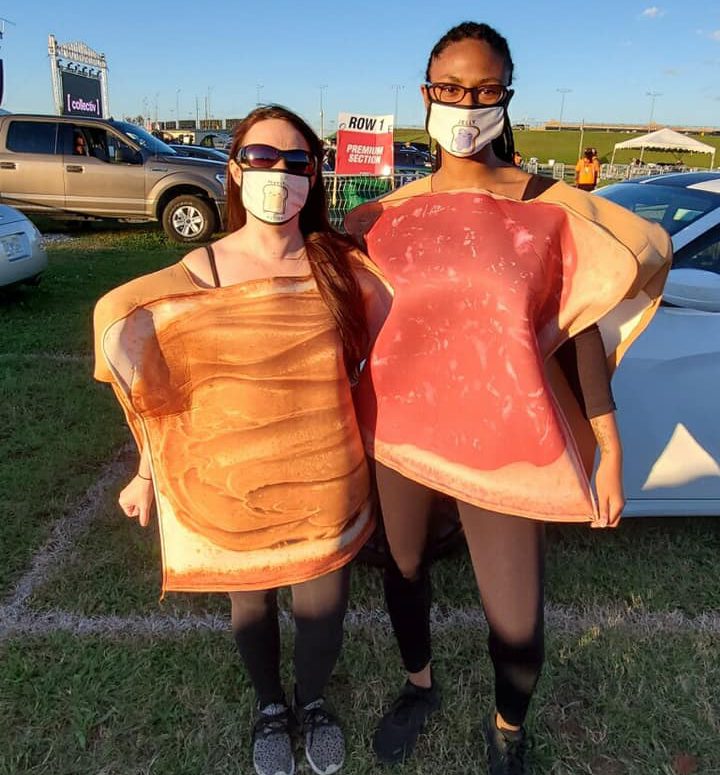 The next thing I noticed was the lack of concessions at the show.
Although it was stated in the fine print that there would be concessions (even though it was highly encouraged to bring your own food and beverage), there ended up being NO food or beverage available for purchase on the grounds. There was only a QR code that was made available for on-site merchandise. Luckily we had brought our own drinks and had packed some yogurt just in case. But other than these minor issues, the most important thing was our safety, and the organizers made me feel incredibly comfortable as social distancing volunteers kept a sharp eye on the shenanigans.
Day Of The deadmau5 began with Morgin Madison and instantly I felt a wave of nostalgia bring tears to my eyes!
It had been about two hours since settling into our plot of land, which was to be expected as the organizers wanted the vast majority of attendees placed before beginning the music. I remember looking around at the crowd behind me and reveling at all of the flow craft, the crazy costumes, and beautiful rave outfits that made me feel like I was back home. You can imagine my elation as the bass began to boom through the speakers. Rising mau5trap star Morgin Madison would proceed to lift us up with festive flair while also dishing out an underground groove.
Up to this point, the weather was surprisingly amazing.
Hurricane Zeta (technically a tropical storm once it went through Georgia) had just passed through in the morning, with the evening bringing clear skies and fairly warm temperatures. It was around 9pm when things would begin to take a turn for the worse, however, as a lingering weather band would sneak into the party. A quick drop in temperature happened first, accompanied by an uptick in the winds. We paid no attention to it because deadmau5 was officially on and rocking us to the core!
deadmau5 designed his set to feature an array of both new music and classics before tragedy struck.
Tracks like "Maths," "Argaru," "My Pet Coelacanth," and "Ghosts 'N' Stuff" blasted through the speedway and reminded us all why deadmau5 is one of the most unique producers to ever walk this earth. Seeing his mouse helmet once again in real life was almost too good to be true. The legend was taking us on the ride of our lives. His sound is the perfect combination of mechanical blips, creepy undertones, and dominant synth chords all whipped up so that we may unleash the freak within.
As I was busting silly moves with the fam, suddenly the 35+ MPH gusts came out of nowhere and began to turn the stage into one hell of a death trap. We were assuming that it was just a fluke at first, but once our chairs started cartwheeling away, we knew this wasn't going to end well. I couldn't really see it from my view, but deadmau5 kept looking up to what I assume was a speaker or a lighting truss? Whatever was swaying in the wind, it sure started to give him and his team a healthy scare.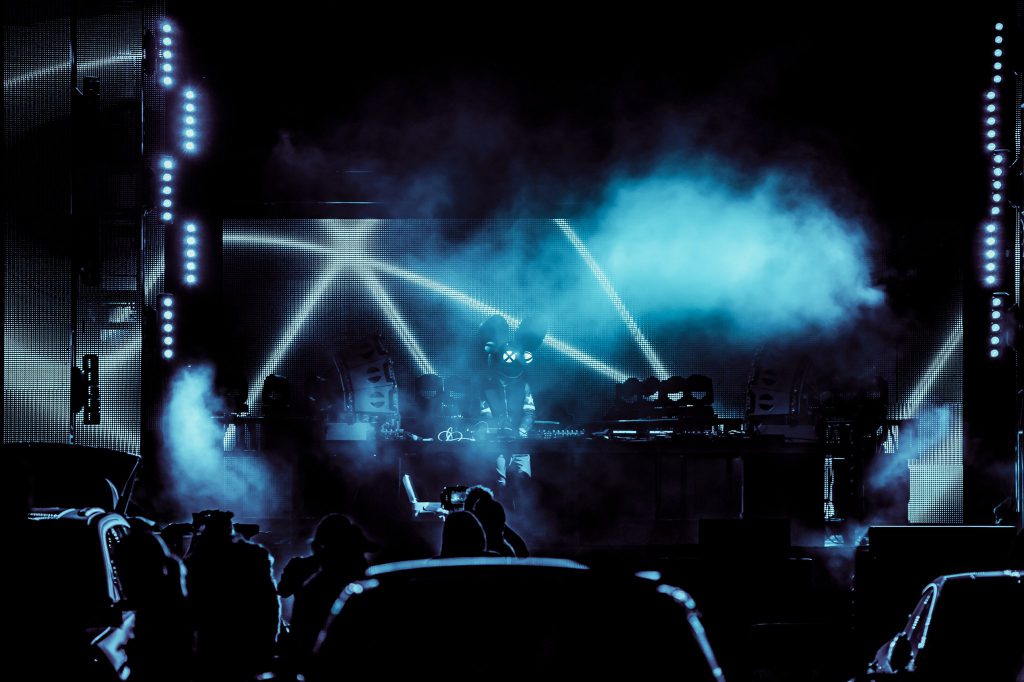 Alas, Day Of The deadmau5 was ultimately facing its demise, but during the track "Imaginary Friends" he would get on the mic and announce, "If only I had a helmet or some type of protective device."
Hearing him utter those words had me tickled pink because, no matter what Mother Nature threw at us, we still found time to laugh. Joel was fighting hard for us, he wanted to continue to play so badly. In fact, even when they shut the music down, Joel stayed on the mic cracking jokes like, "My mouse head smells like wet cardboard and feet." He kept us hilariously engaged while we all sat in our vehicles, patiently waiting for the final determination.
Unfortunately, after jumping back on for about three or four more tracks (which saw deadmau5 dipping into his hip-hop side) the call was made that it was just too dangerous. Our spirit was not shaken, however. deadmau5 showed us how much he cared, and in return, we understood that it just wasn't worth having him crushed by speakers and scaffolding. All we can do is look forward to the next time he graces our wonderful city. At the end of the day, I consider this event to be a success, and I will most certainly be grabbing tickets to any Collectiv Presents/Beware Presents drive-in event in the future!
---
Connect with deadmau5 on Social Media:
Website | Facebook | Twitter | Instagram | SoundCloud | YouTube