We caught up with Lady Faith at EDC Las Vegas before she closed the stage with The Pitcher as Notorious Two!
---
When you talk about the Hard Dance scene here in the USA, it is pretty much impossible to not bring Lady Faith up in the discussion. Over the years she has proven to the world time and time again that she's one of the most dedicated and passionate artists in the scene, with no one getting in the way of her plans of domination.
Whether you're catching her at an underground event, in a nightclub, or taking the stage at major festivals like EDC Las Vegas or Paradiso, her infectious energy and song selection always keeps you coming back for more. Aside from her skills behind the decks, she's also released a solid number of tunes from her studio like "Moxie", "Wildside", "Emanate", and most recently "PLUR" all of which keep fans shuffling away.
Having already taken the stage for a b2b with DJ Stephanie at EDC Las Vegas this year and with a performance with The Pitcher as Notorious Two on the horizon, we caught up with Lady Faith for a quality chat. Listen to her latest track "PLUR" below and read on as she discusses the gender inequality in the dance music scene, thoughts on the future of Hard Dance, and so much more!
Stream Lady Faith – PLUR on SoundCloud:
---
You and DJ Stephanie are the first female hard dance b2b artists to play EDC Las Vegas. What was the dynamic working together behind the decks and in the studio?
Stephanie and I have a really great chemistry on stage. We are both bad-ass women who party hard in high heels and we bring a certain flavor the fans don't get to see very often. We have similar music tastes so that helps as well. Overall, together we bring an enormous energy behind the decks.
You're also performing with The Pitcher as Notorious Two. Since these sets are highly curated and tell a story, how do you keep the performance feeling fresh?
It's not easy and it takes lots of work. Fortunately, it's the kind of music you don't get to hear every day. It's something special. A completely original hour of music that brings so many emotions to the crowd. We strive to bring some thrill, suspense, and romance to music in a really creative way. Its just getting started, but it will break all kinds of boundaries by the time the act is over.
Having played EDC Las Vegas in the past, what has been one of your favorite moments taking the stage at the festival?
I really love the moment right before I step from behind the stage and am greeted by the crowd. You always take a peek and get to see what you are about to be a part of. It is quite surreal.
I remember you played the Q-dance stage back in 2012 and that was the first time there was really a hardstyle stage…
That was one of the greatest nights of my life. The stage was awesome and the crowd was enormous. It was really windy and the show had to be closed about an hour later during Headhunterz set due to fire hazards, but I really felt like the fans still had an amazing experience. It was the moment when American Hardstyle went from the shadows and into the light.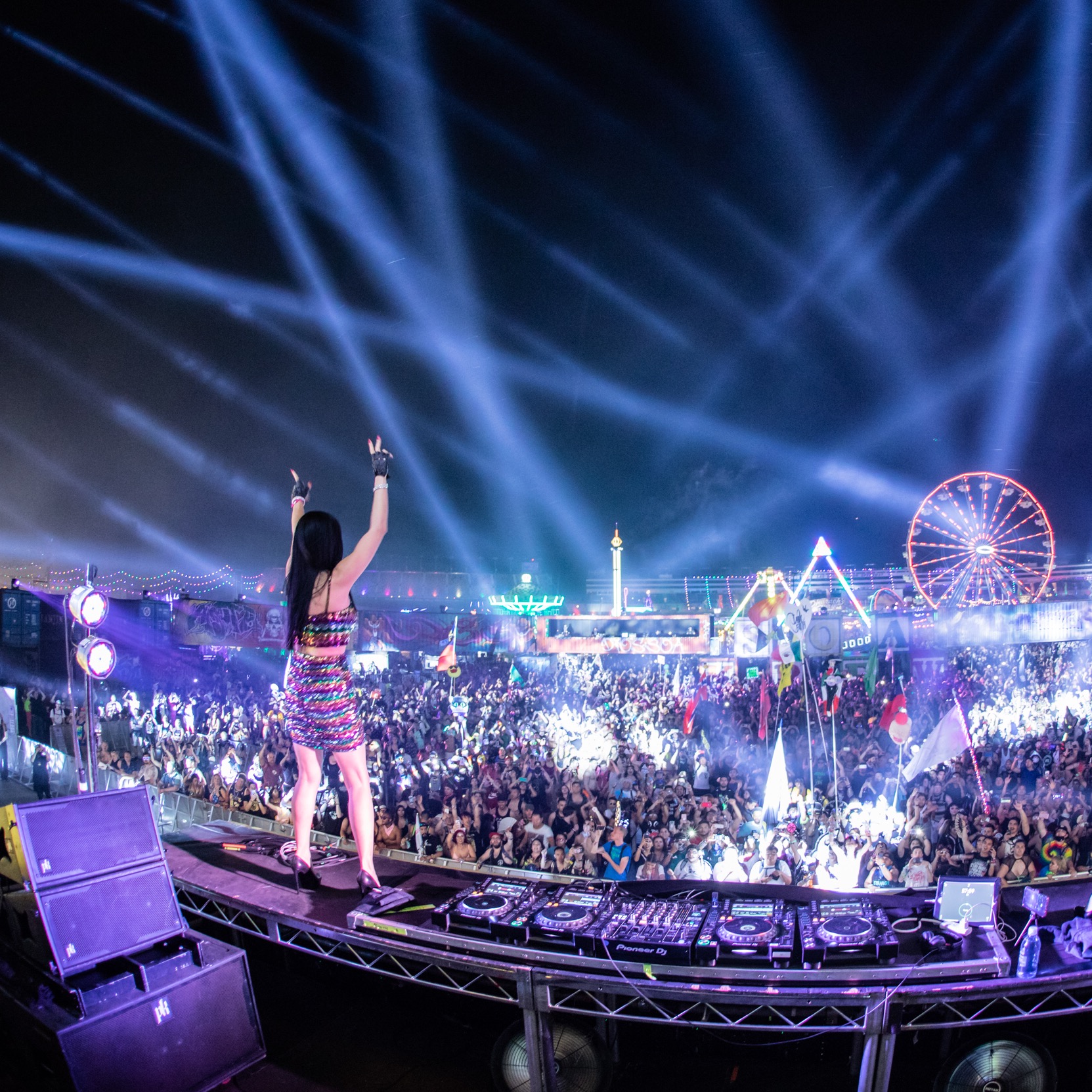 With electronic music becoming more accepted into the mainstream culture, how do you feel the subculture elements of the rave scene like PLUR will continue to last over time?
PLUR was a concept that was developed in the underground where fans would find a place where everybody was welcome. The events were usually held in hidden warehouses and everybody who attended felt a comradery with their neighbors. Love, respect, and dignity for all were the rules of the game and nobody was rejected. It was a family outside of your real family. It is hard to replicate that sense of belonging in a huge event and even harder when not all fans have similar tastes, but we hope everybody who loves EDM will trust in PLUR as it is simply a better way forward.
As one of the true sounds of the underground dance music scene, where do you see hard dance going in the near future?
I hope that more fans will get a chance to be exposed to Hard Dance. Right now, it is difficult for many events to have Hardstyle because our music is faster and harder than many others, but still retains its melodic quality. I can't tell you how many times I have lost bookings because artists from other more mainstream genres don't want to compete with Hardstyle. It's a real shame that so many fans are prevented from hearing the music and instead gets a track or two played on the main stages and not the real experience you get from a true Hardstyle act.
It definitely feels like it's centered, not solely on the West Coast, but it feels like this coast has a majority of the hard dance events right now. 
It's a complicated business. There is significant demand for Hardstyle across America but due to the fact that most top acts in this genre come from Holland, it can get very expensive for promoters to bring on a full lineup and it seems Hardstyle does not play well with other genres. If more fans are exposed, more shows will appear.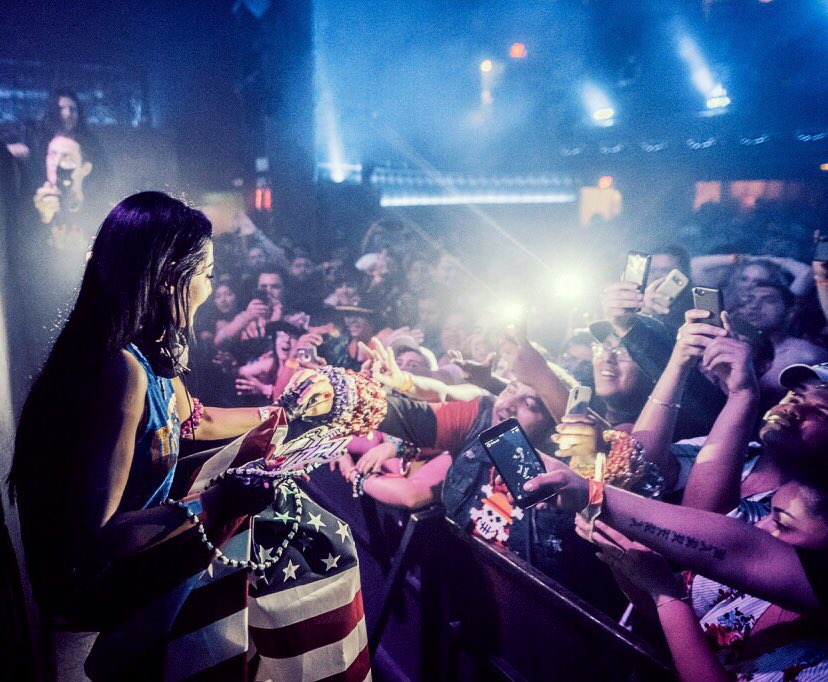 There were a lot of people from the people who I met that came from the East Coast for Project Z in the past, and it was cool to see Insomniac mix bass music and hard dance into one event.
I think it is a natural progression and I hope to see more bass music at Hardstyle events and vice versa. Fans should be exposed to all genres and then they get to decide for themselves what they like.
You'll also be playing Paradiso this year at their iconic venue, The Gorge. What are some other beautiful venues that you've played that other ravers should visit?
I loved playing at the Shrine and the Palladium in Los Angeles and the Echostage in Washington DC. In fact, the Echostage may have been the sickest venue I ever played.
Yeah, they're the highest rated US club right now at #4 in DJ Mag. 
Oh really? I'm not that surprised actually. It was ridiculously amazing, the sound system, the production, everything. You should really check it out.
Do you believe the industry is giving an honest effort to booking more female DJs to have a more fair representation on their lineups?
Do you want me to be honest? [Laughs]
Yeah.
I don't think female DJ's are asking for any special treatment and I don't think they would get any even if they asked. It is a tough industry filled with talented musicians who are all competing for ever decreasing time in front of the fans. The best will get more time, simple as that. The part that makes it more difficult for females is that the guys kind of form a men's club where they all hang out and get along and the industry has become more about who you know than how hard you work.
Until these amazing and talented men are able to see beyond a woman's exterior, it will never be a fair system. Just look at the inequity in the lineups of pretty much every event. Ultimately, this problem will continue until the fans themselves force it to change.
It seems like the tides are almost turning in a sense, it's becoming more equal.
One can hope. The more the females in the industry are profiled and given opportunities, the more young women will believe in the dream. As more new females enter the industry, equality will come naturally, but at all times we need to set a good example for the young fans.
Judge them by the music.
Exactly, but the women still need the bigger platforms so that their music can be heard by a greater audience.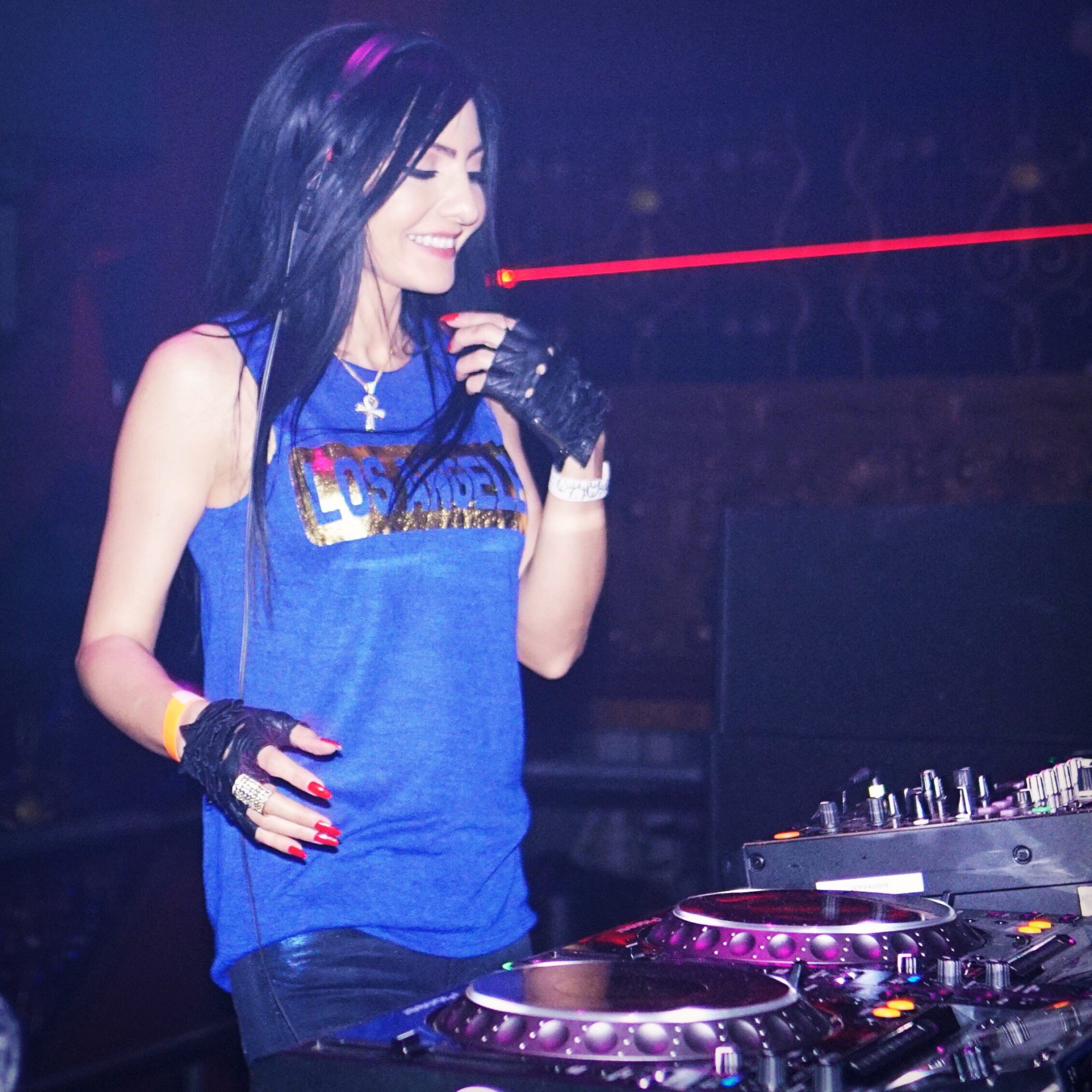 As someone who's originally from Iran, are there any parallels in the US when looking at the suppression of culture in the current climate?
Oy. [Laughs]
That's a big one.
Yeah, I'm very Americanized, but I am also very proud of my Iranian heritage. So I don't really pay attention to these things, but all I know is that I live in the greatest country in the whole world, and I'm absolutely grateful.
As a fashionista, what are some makeup tips for the summer festival season to make your look last through the night?
Makeup setting spray. Almost every cosmetic line has it now. Make sure you get it, put it on before you put on your makeup and put it on after you put on your makeup, and then carry it with you to the festival to keep your face refreshed.
What are some must-have items you take with you while traveling on tour? 
Ooh, well, makeup setting spray. [Laughs] 
Gotta have it. 
I usually have, depending on how many gigs I'm going on when I'm traveling, I have two outfits per event. So just in case something happens, I even do that with my makeup and everything else, there's always a second one. I travel with four USB sticks, if one of them craps out or three of them crap out, then there is that one left. I have two different headphones, you just have to always be prepared.[Laughs] 
Finally, if you could transform into any spirit animal, what would it be and why?
There are two. My fierceness comes from the Lion and my loyal nature comes from the Dog. I absolutely love dogs and I miss my puppies who are waiting for me at home.
What type of dogs do you have? 
Yorkie-Poos, and they're sisters. One of them is black and the other is white.
[Collective Awe]
Yeah, I have two Golden Retrievers I can't wait to go home to, too. 
I bet, I bet, that little cuddle you get as soon as you walk in the door is just heavenly.
Well, that's all we got for ya, thanks for chatting!
Awesome, thank you!
---
Connect with Lady Faith on Social Media:
Website | Facebook | Twitter | Instagram | SoundCloud | YouTube