Gramatik and Luxas bring listeners the soundtrack to this year with the Cyberpunk 2020 OST. Close your eyes and let them take you on a journey!
---
Gramatik and Luxas have collaborated on a few soundtracks over the years with one of the most recent for the 3D animated short Autonomous that was created by Joe Sill. This year has been anything but easy, from protests for social justice to the horrible fires that destroyed millions of homes, all while the COVID-19 pandemic continues to rage on. In fact, it has felt like we are living in a dystopian society akin to that of Blade Runner or The Matrix at times, and now these two artists have created a soundtrack for these world events with the Cyberpunk 2020 OST.
One of the defining sounds of Gramatik has been funky, groovy electronic beats, so this collaborative release was a pleasant surprise. The entire 17-track album was made from modular and analogue synthesizers/hardware to create a soundscape that takes listeners on the journey of 2020, through the highs and the heartbreaking lows.
These two artists did an impeccable job of pouring so many emotions into the masterpiece that is Cyberpunk 2020. Stream the album on your preferred platform and read on for my full review!
Stream Gramatik and Luxas – Cyberpunk 2020 OST on Spotify:
---
The Cyberpunk 2020 OST story begins with "Futura," an ominous and bone-chilling track. This was the perfect way to kick off this album and set the mood for the emotional journey I was about to embark on.
Gramatik and Luxas did an incredible job with "Futura." It instantly had me frozen in my seat as I imagined myself standing in the middle of a city, surrounded by burning and broken buildings as the emotional, dark, and chilling tones play out. With all the protests that have taken place of the year, this tune felt like a representation of that. It's almost as if I was watching everyone around me fighting for justice as it transitioned into "Wrong Info" which carried on with a similar vibe.
"Turing" had sweet sounds of hope echoing through it. The hope for a better future is something that we all are looking for right now, and at some points brought tears to my eyes. While the track has hard dark moments, it also made me think of the changes our society needs to make so we can have brighter days ahead. The next track, "Komut," made me want to take a deep breath and let out all the emotions I have had building up inside me this year. It blows my mind how powerful music is and the places it can take you to.
The journey into the cyberpunk realm continued with the next two tracks that really hit "Home."
Tears filled my eyes yet again as I was listening to "Home." I live in Santa Cruz and watched the gorgeous redwoods I grew up with burn to the ground. This was such a devastating year for fires, my father almost lost his home and countless others did, my friends included. "Home" made me think of all the people who had to lose their own this year. My heart goes out to everyone that was affected by the fires.
The two artists deliver "The Call" right after, which really fits in with the emotions found within "Home." While devoid of vocals, to me it tells a gripping story of the countless people who had to hear the news that their homes were no longer standing.
While dark, the following tracks gave that feeling of hope for the future and the fight that many have taken to stand up for their own rights and those of others as well.
"Arhiw" had undertones that made me immediately think of people standing up to a leader they do not deem fit to lead them. It's a powerful song with sounds that made me picture people marching towards a future they want while holding signs demanding change and respect for fellow peers. "Rows" and "Arapdox" continued that by further descending listeners into the darkness as well.
The eleventh track on Cyberpunk 2020 OST is "Leptir," a tune that is short but so sweet and gave me that sense of hope for what was to come. Following it up is "Praying Mantis," a symbol of good luck in many cultures, that furthered the notion of a brighter future ahead that was found in the previous tunes.
"Rosa," "Slika," "Vatra," and "Bones" all had very similar, eerie vibes to them. They're the perfect soundtrack for the society we are currently living in as they highlight where we are in current events. "Rosa" and "Bones" especially had that twisted, dark energy to them which wraps up the year that we have been experiencing.
As this year draws to an end, so does the album and the story of Cyberpunk 2020.
The year is almost over and so many of us are beginning reflecting on all the events that have taken place in 2020. Some are hopeful for a brighter future, while others are not so sure. When listening to "Memorie," I imagined people replaying everything that happened over the course of this year in their minds, while "Roma Invicta" brings the album to a proper close. It just has those sounds that would be playing as a movie fades out and the credits roll.
Gramatik and Luxas really created an emotional rollercoaster of an album. Although I'm sure others will hear each track differently than I did, maybe reminding them of different events or other experiences this year, I was blown away by how well they captured and created sounds out of 2020. It really did feel like I was watching and listening to 2020 as if it were a cyberpunk movie, make sure to give it a listen.
---
Gramatik and Luxas – Cyberpunk 2020 OST – Tracklist:
Futura
Wrong Info
Turing
Komut
Home
The Call
Arhiw
Rows
Arapdox
Leptir
Praying Mantis
Rosa
Slika
Vatra
Bones
Memorie
Roma Invicta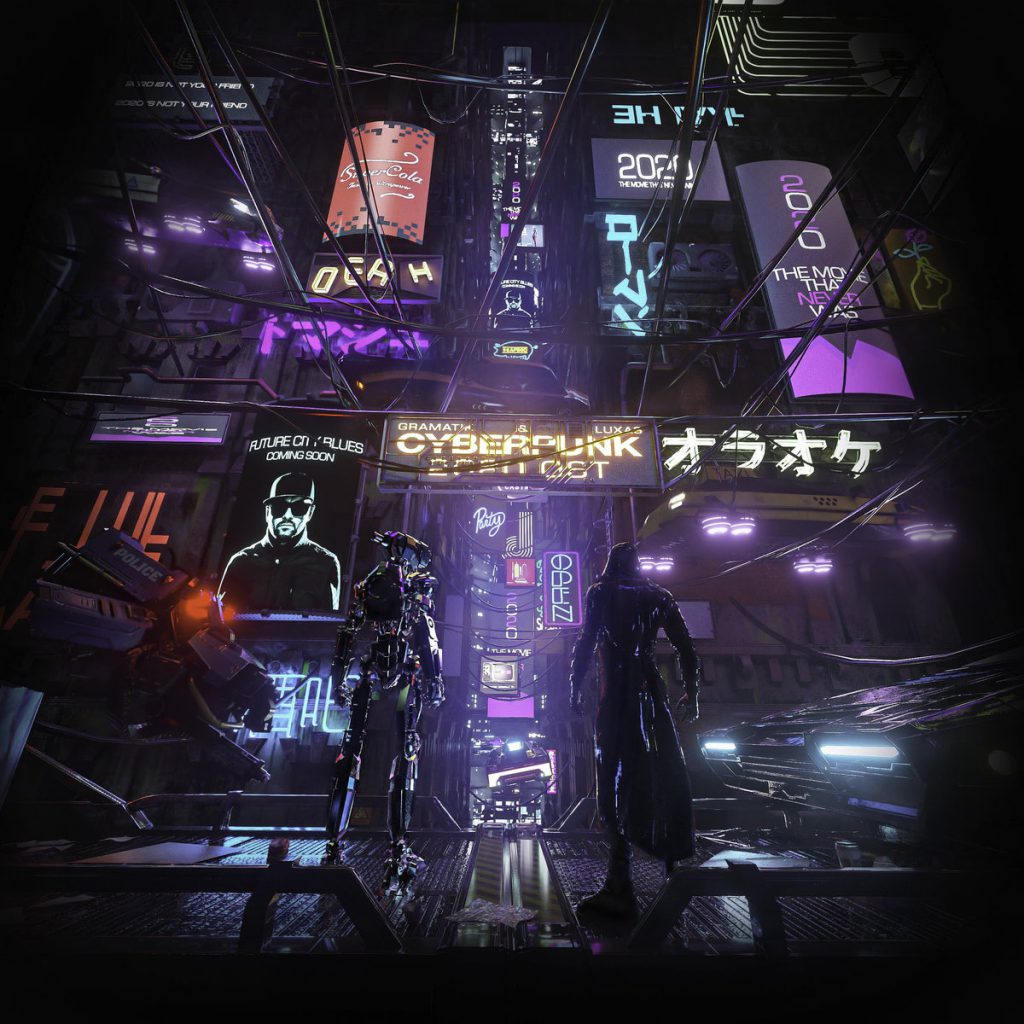 ---
Connect with Gramatik on Social Media:
Website | Facebook | Twitter | Instagram | YouTube | SoundCloud
Connect with Luxas on Social Media
Facebook | Twitter | Instagram | YouTube | SoundCloud