Are you looking for your latest tech house fix? Novodisc and Flash 89 have you covered with their forthcoming Recondite EP!
---
Attention all tech house fans! NONSTOP Records has brought us a phenomenal collaboration between the likes of Spain based Novodisc and Australian up-and-comer Flash 89! Since hitting the scene in recent years, these guys have smashed dance floors and collected a vast amount of nods from the industry elite; so, we can offer a solid guarantee that the fun meter will hit maximum when their musical personalities combine. Heading to a speaker near you on Friday, October 23, Novodisc and Flash 89 proudly present Recondite.
Recondite features two body-bumping tracks, and you get to listen to the A-side right here and right now! In order to find the perfect groove, Novodisc has tapped into his "new-school-meets-old-school" expertise, while Flash 89 gleefully injects funky-fresh energy that will inspire any wallflower to throw all inhibitions to the wind. What's interesting is that if you take the title at face value, we discover a word defined as "little known or abstruse." A far cry from the bright and bubbly character that rages throughout this house banger. 
Novodisc and Flash 89 deliver the style and substance we need to get loose on "Recondite."
There is nothing more exciting than when you land on a track that speaks to your every dance floor desire. For me, "Recondite" offers up a smorgasbord of unpretentious party elements that allow me to fully vibe out. Some of the standout details that I find incredibly attractive appear in flashes of trippy synth blips, sequenced laser stabs, and masculine lyric expressions. Shake those all up above a vibrant bassline kick, and the result sends me straight into celebration mode. 
Even more, it's tracks like "Recondite" that pushes the individual to embrace wacky interactions on the dance floor. How, you ask? I imagine the effervescent soundscape pulling our steady focus from the DJ booth over to our rave tribe. The festive tone of the track reminds us that there is a party happening all around. It is here that we can honestly engage with one another: under the lights and lasers. Mixing, mingling, and building bonds. The way it was always meant to be.
Pre-save your copy of Recondite on your favorite music platform, stream the track below ahead of its October 23 release, and let us know what you think in the comments.
Stream Novodisc and Flash 89 – "Recondite" on SoundCloud:
---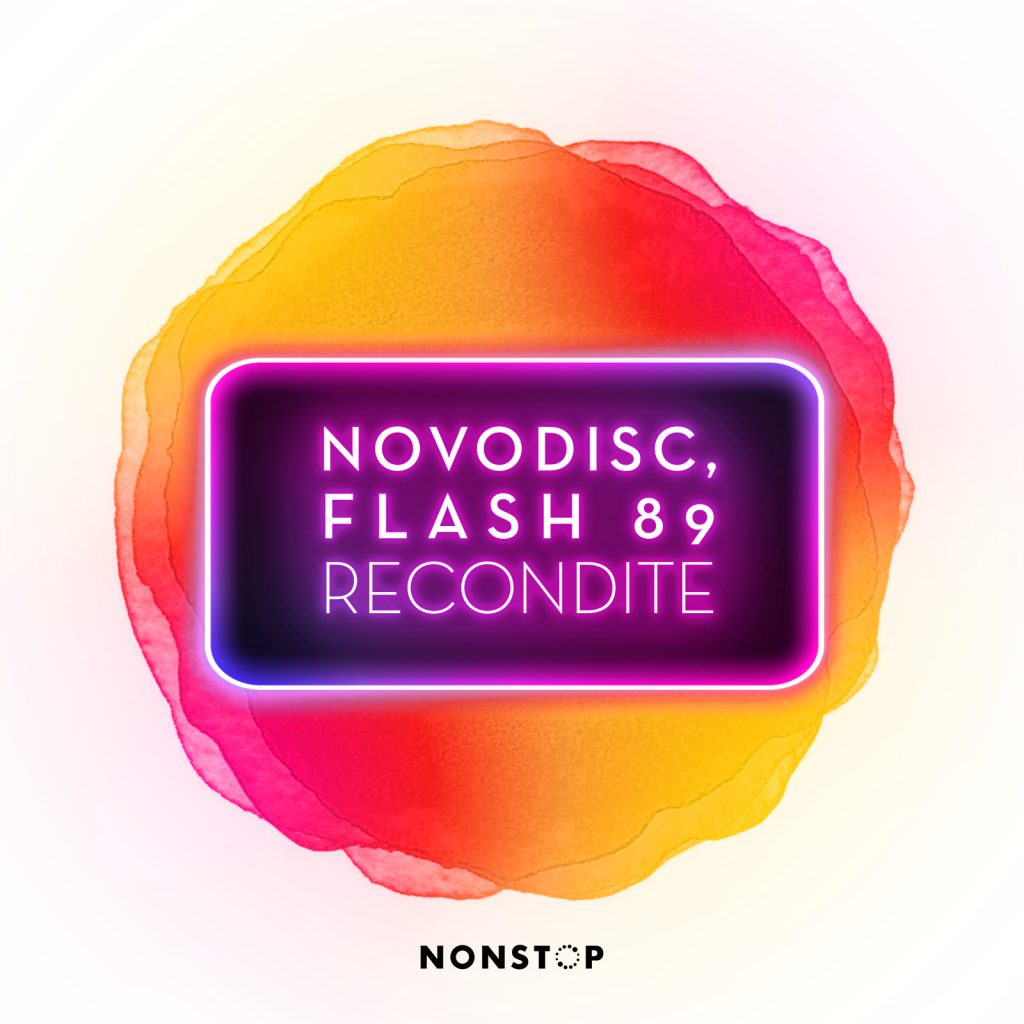 ---
Connect with Novodisc on Social Media:
Facebook | Twitter | Instagram | SoundCloud
Connect with Flash 89 on Social Media:
Facebook | Twitter | Instagram | SoundCloud