Shpongle is well known to fans for deeply trippy soundscapes. Now, they've been lusciously reimagined by Cosmic Trigger.
---
Cosmic Trigger is the solo project of Jamie Grashion, a producer with formal music training and lots of engineering experience for top artists. He was introduced to the Shpongle family to help produce Shpongle Live and soon Simon Posford asked Grashion to be his assistant. Grashion became an integral part of the live band and then Posford invited him to put her personal touch on some Shpongle classics.
Now, Cosmic Trigger has delivered just that with Shpongle Remixed, an album that was described as containing tracks that are "more like recompositions than remixes" that also "feels like listening to something paradoxically new and familiar." These are bold claims! But I'm here to tell you that after listening to this album they feel totally accurate.
Related: Looking for more sounds from the brilliant mind of Simon Posford? Check out his latest album!
When I listen to remixes for the first time, I don't go back to the originals right away; I like to hear how they stand on their own, first. I will also listen for obvious nods to the original if the track is familiar to me, hoping for a balance of the original and layers of new material. It's usually just that – layers, and that can be wonderful, for sure. Yet on Shpongle Remixed, the tracks do feel "paradoxically new and familiar," something that got me excited immediately.
Purchase or stream Cosmic Trigger – Shpongle Remixed from your favorite platform today, and continue below to read the full review.
Stream Cosmic Trigger – Shpongle Remixed on Spotify:
---
Cosmic Trigger started with bold track selections, all fan favorites from Shpongle canon.
Choosing from such popular canon can be challenging – when fans find a track to be somewhat sacred, they can be highly critical of remixes. Yet I think fans will appreciate the beautiful reimagining that Cosmic Trigger has done with these classics. Despite being such original remixes, there's a striking balance of original and new material. Three tracks are originally from the 2009 Ineffable Mysteries in Shpongleland, and the other three from the 2013 Museum of Consciousness.
The "I Am You" remix pays homage to the original with the same length (1:30) introductory build-up. However, the original sounds like an East Indian vision quest while the remix sounds like the first contact with aliens. I could see this playing during a movie scene where the protagonist is driving on a lonely, open road and can't seem to tune in to the right radio station. This is because aliens are taking over the radio waves.
As the dial finally settles in after the first 45 seconds, while the next is the initial message from the otherworldly interlopers. The haunting spoken words "you are me and I am you" are what ultimately transported me from my bedroom into outer space. Or in the case of our movie protagonist, from his car.
It's at this point that the track slowly burrows into the listener's mind with deep, repeating rhythms and beats that are truly mesmerizing. Synths and some organic sounds are layered into this epic build – one which is longer than most complete songs on the radio these days. While the underlying percussion and bass remain steady for the next three minutes, the synths speed up and slow down, conveying the scope of the journey ahead. So now we're nearly halfway into the ten-minute track, and it feels like we're just getting to the body of this song. Trust me, this is a good thing – this one track took me on more of an adventure than some full-length albums released these days.
I could talk about this first track seemingly forever, it's just so beautiful and has so many layers! But let's move on…
With "Nothing Is Something Worth Doing" we get a very nature-driven, organic opening that builds into some lofty synths. It begins to become clear that Cosmic Trigger likes to play with natural sounds as a foil to the rhythm and synths in most electronic music. This track would likely sound lovely without this addition, but adding it just makes the track so much more magical. While so much from Shpongle pulls the listener away from earth, these sounds act as a nice grounding to that giant rock under our feet. I especially love the natural overlays in the transitions of this song.
The third track, "No Turn Unstoned," keeps up the pattern of a long opening build. I got very pulled in by a sound that reminded me of trying to unlock my front door at 6 AM after a rave. Perhaps that connection is a personal one just for me, but it made the entire song feel very close and intimate. There's also a beautiful wind instrument sound that carries the melody, and then more of these organic, environmental sounds that really pulled me in. There's something slightly unsettling in this track and I like it; it feels like a little bit of counterbalance to the otherwise peacefulness of the song.
While these tracks aren't necessarily grouped into any sort of theme, the last three caused me to envision them as one as they washed over me.
"How The Jellyfish Jumped Over The Mountain" has fascinating connections to its title. While listening, I was picturing myself on a mountain, embarking on hiking and camping adventure. Night had fallen and I was in a dark and misty clearing. One set of sounds in the track were eerily familiar and I could hear the gear clanking around as I set up my camp for the night. And, of course, there's a squishy sound that could simply be me stepping in the creek-side muck to get some water, or could be, well, that jellyfish overhead.
Having set up camp and cooked a meal, it was time to hunker down in my tent for a sleepy night in the wilderness. "Juggling Molecules" is just the track to take me from activity to relaxation. It's actually a very energetic track, and it would not disappoint on the dance floor. Yet, it contains a very smooth rhythm that is the sort of energy I like in the evening. Enough to get me dancing if I'm full of energy, or just a pulse to carry me into a meditative state if it's time to wind down. The synthesized vocals are hauntingly deep and it seems as though I'm being told a bedtime story by benevolent demons. Almost as though I should be fearful of them, but they are actually looking over me and creating a safe space for me to be free.
To complete my three-song mountain adventure, "Aquatic Garden" is nature waking me from my slumber at dawn. I can hear the animals stirring and feel the warmth as the sun rises over the horizon. The song, like me awakening, isn't in a rush to get anywhere in particular. Yet it's very deliberate in its build and brings some needed energy to my otherwise relaxed state.
As nature awakens around me, I'm serenaded by evocative and celestial vocals that bring me to my feet. It's definitely time to get up and move! The final section of this song brings my entire six-song journey full circle as the celestial voices are joined by the aliens from earlier and we ultimately unite in a spiritual chant.
Cosmic Trigger does such a great job with these remixes, I was truly left uplifted by this album and hope you will feel the same. Leave a comment below with your thoughts on this fantastic journey!
---
Cosmic Trigger – Shpongle Remixed – Tracklist:
I Am You (Cosmic Trigger Remix)
Nothing Is Something Worth Doing (Cosmic Trigger Remix)
No Turn Unstoned (Cosmic Trigger Remix)
How The Jellyfish Jumped Over The Mountain (Cosmic Trigger Remix)
Juggling Molecules (Cosmic Trigger Remix)
Aquatic Garden (Cosmic Trigger Remix)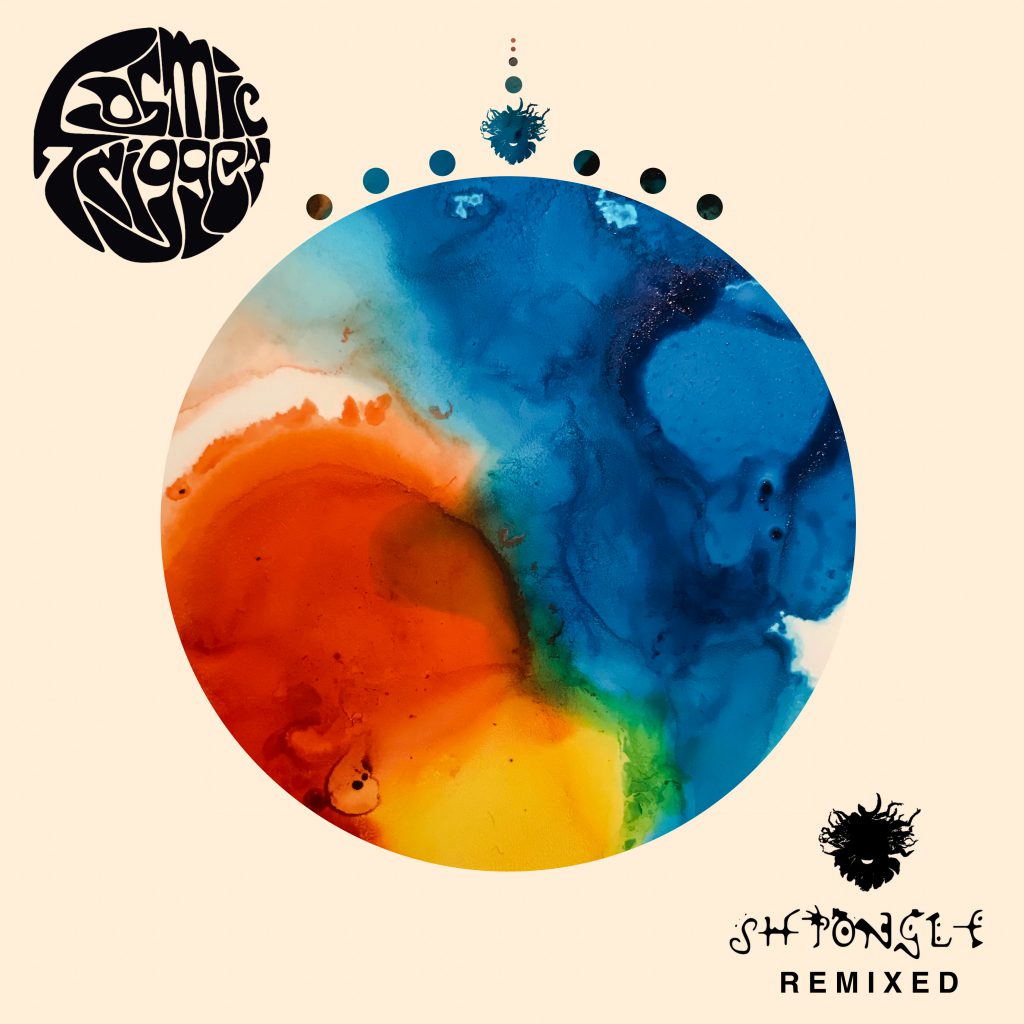 ---
Follow Cosmic Trigger on Social Media:
Facebook | Twitter | Instagram | SoundCloud | YouTube
Follow Shpongle on Social Media:
Facebook | Twitter | Instagram | SoundCloud | YouTube