ZHU has released his latest single "Risky Business," which is paired with an eerie video reminiscent of scenes in a murder mystery thriller.
---
Over the last few years, ZHU has made a remarkable name for himself; not only in the dance music community but across the globe. Since emerging from the underground in 2014, he solidified his own unique psychedelic sound and effortlessly cool style. He's also expressed his creativity beyond the studio with impressive performances in unique locations and cultivated cinematic visuals for his releases as well.
Keeping his fans satiated with fresh music, ZHU teamed up with Bob Moses for "Desire" which was a true stunner with immersive visuals. And now he's unveiled a mysterious new single "Risky Business" this week for everyone to soak in as the summer days wane. While upholding his signature sound, he lures in listeners with a sexy touch adding hushed vocals that whisper "risk it all," and leave viewers curiously anxious for more.
Conjoined with the release of "Risky Business" is an eerie music video that could've been pulled straight out of a blockbuster film. Directed by Joey Vitalari, it keeps viewers on their toes as it shows provocative scenes with a series of unknown subjects who frequent a bedroom that shows both sexual tension and perilous despair. The video maintains suspense as the initial colors are replaced by a black and white scene as the evidence is destroyed by a group in hazmat suits before ZHU arrives on the scene.
In true ZHU fashion, he has also paired "Risky Business" with a merch drop inspired by the music video as well. Shirts, bucket hats, safety glasses, fur coats, and even an evidence bag are all available now and are moving quickly, so head over to his website now if you want to add something to your own collection!
Check out the music video on YouTube below, download or stream "Risky Business" on your preferred platform, and let us know what you think about the latest track from ZHU in the comments!
Watch the music video for ZHU's "Risky Business" on YouTube:
---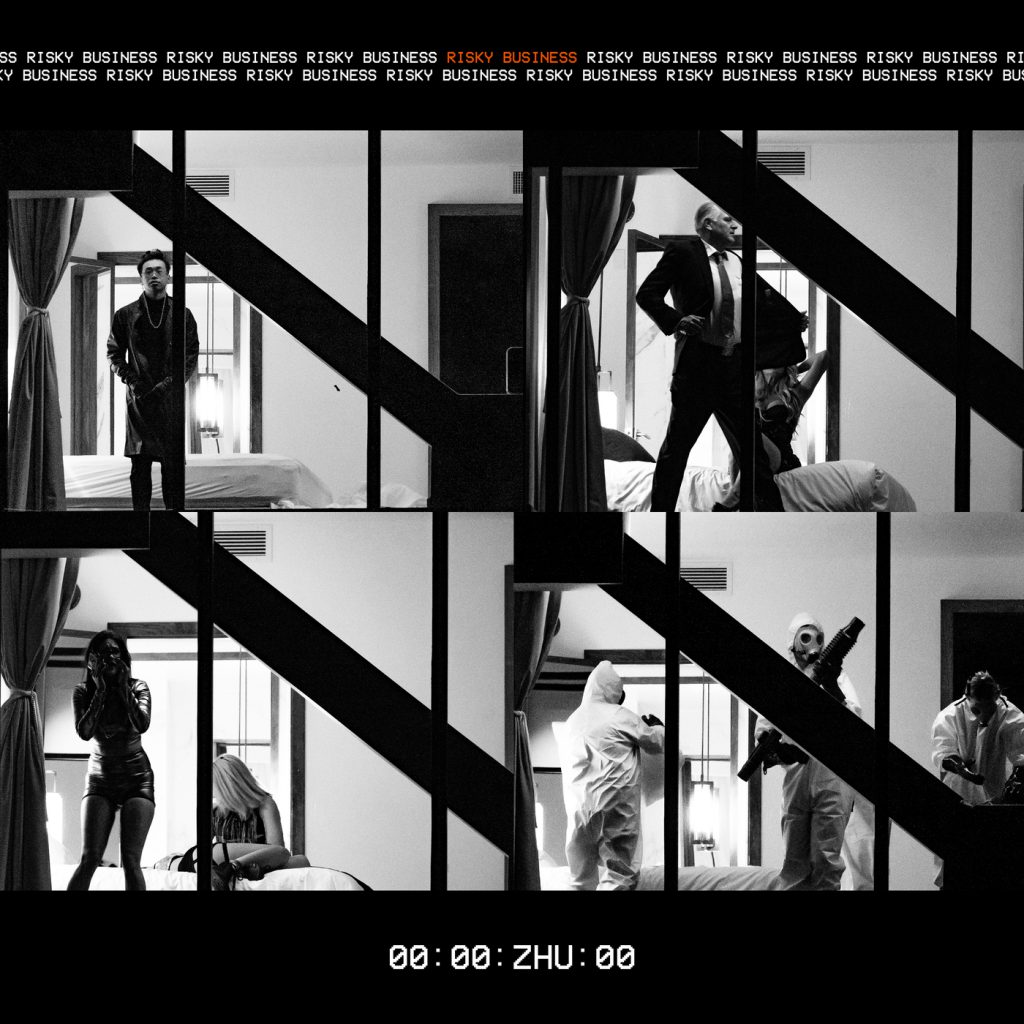 ---
Follow ZHU on Social Media:
Website | Facebook | Twitter | Instagram | SoundCloud | YouTube