Outside Lands has unveiled the schedule for Inside Lands featuring live and archival performances from artists like Gorillaz, Major Lazer, ZHU, and more!
---
Outside Lands has officially joined the virtual festival party! Ranger Dave enthusiasts everywhere were heavy-hearted to hear of the 2020 edition of the fest's cancellation due to the pandemic. However, those of us who were planning on making the trip up to SF this month will get the chance to enjoy the festival from the comfort of our very own homes. (Hey, at least we're saving some gas money, right?) Appropriately named Inside Lands, you'll be able to stream the two-day virtual festival exclusively on Twitch over the weekend of August 28-29.
Featuring a mixture of both live and archival sets, as well as exclusive interviews, Inside Lands boasts a billing so great, it almost makes up for the fact that we'll be watching them perform from our couches. (Almost.) Some of the artists that'll be gracing our screens include Gorillaz, J. Cole, Cage the Elephant, Anderson .Paak and the Free Nationals, as well as Beach House and Khruangbin who are slated to play Outside Lands 2021.
As far as electronic acts go, the lineup will appease fans of all sorts of subgenres, from trance legends Above & Beyond to electro-rock superstars LCD Soundsystem. The lineup also features Bob Moses, Disclosure, Gryffin, Louis the Child, Major Lazer, Shiba San, ZHU, and more, so get excited! Lyrics Born will host the event and throughout the stream, Inside Lands will be accepting donations for Outside Lands Works, the festival's charitable fund that supports local nonprofit music and arts education programs that benefit underprivileged communities.
Check out the full schedule for the weekend below, assemble your virtual watch party squad before tuning in to Twitch, and get ready to get down socially distanced-style with Ranger Dave!
---
Watch Inside Lands Virtual Music Festival 2020 on Twitch:
---
Inside Lands Virtual Music Festival 2020 – Schedule:
---
Inside Lands Virtual Music Festival 2020 – Lineup: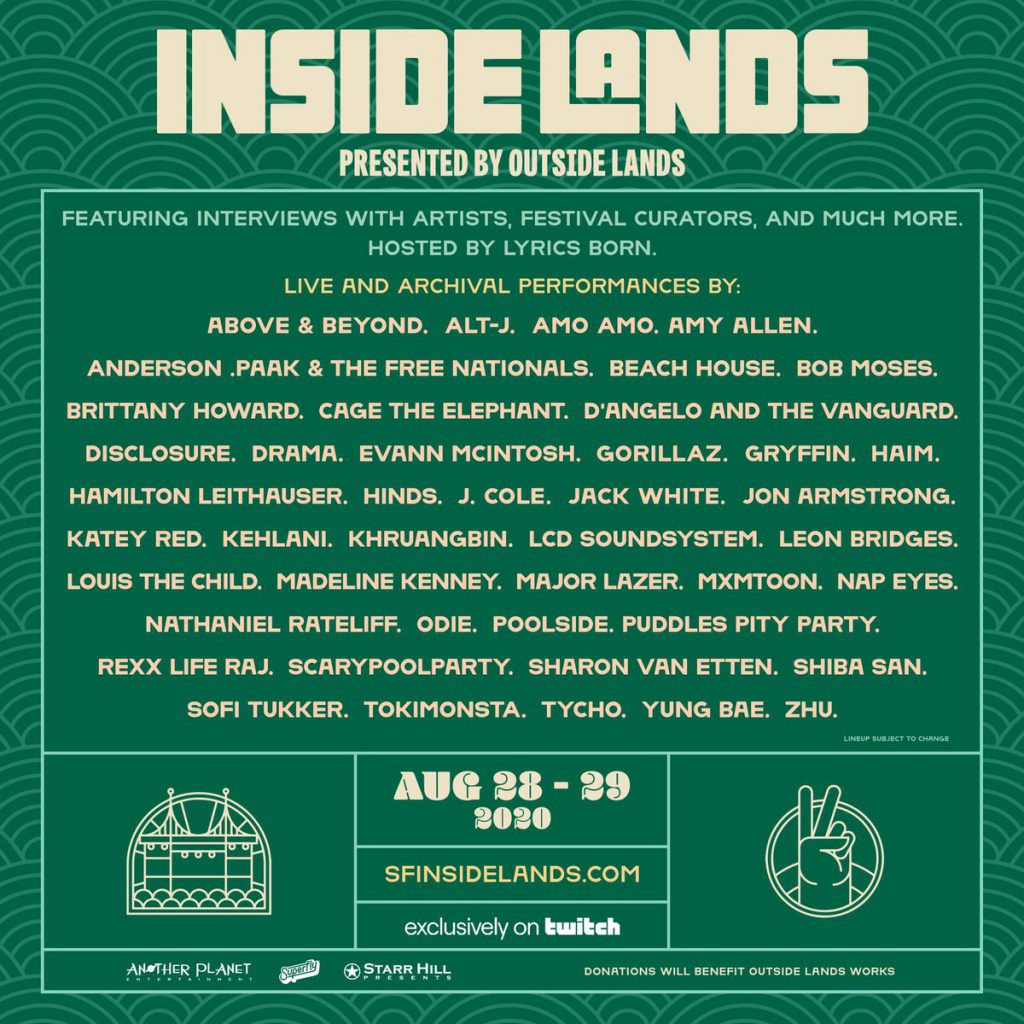 ---
Follow Outside Lands on Social Media: