After a successful edition this summer with two-step COVID-19 testing, In My Elements returns in the fall with a lineup of fantastic artists.
---
As the festival scene continues to face the ongoing pandemic headfirst, Elements Festival looked for a solution to keep dance music lovers grooving to the beat. The result? In My Elements, an open-air retreat in Northeastern Pennsylvania limited to 250 people and requires an advance, two-part test for COVID-19 to ensure the safety of those who choose to attend.
Earlier this summer, the first edition of In My Elements was marked as a success with no positive cases of the virus surfacing after the event. Now, they've announced that the open-air retreat will be returning for a fall edition on the weekend of September 25-28 with a lineup that's filled to the brim with some of the best names in house and techno, as well as experiences for attendees as well.
Headlining the fall edition of In My Elements are Wax Motif, Eli (Soul Clap), and Sacha Robotti, but the lineup only gets deeper from there with other standouts like Golf Clap, Gene Farris, Westend, The Golden Pony, and J. Phlip on the bill. Lee Reynolds and Porky from the Desert Hearts crew will also be making an appearance along with a number of local artists who will keep the vibes rolling on strong.
So how does the two-part testing work? In the week leading up to the festival, all attendees must take a COVID-19 test from a certified location or conduct an at-home test to mail-in. Then, upon arrival, a secondary 30-minute rapid response test will be done to verify that each attendee is not positive for the virus. Detailed information on the testing procedures and other safety measures can be found via this PDF.
Passes for the fall edition of In My Elements Open Air Retreat are available now with COVID-19 testing kits also available for purchase as well. Different options can be found via Tixr and more details will be posted to their event page on Facebook. Additionally, if there's another lockdown or the gathering is canceled for any reason, they will be issuing full, automatic refunds of all tickets and credit card fees.
---
In My Elements Open Air Retreat: Fall Edition – Lineup: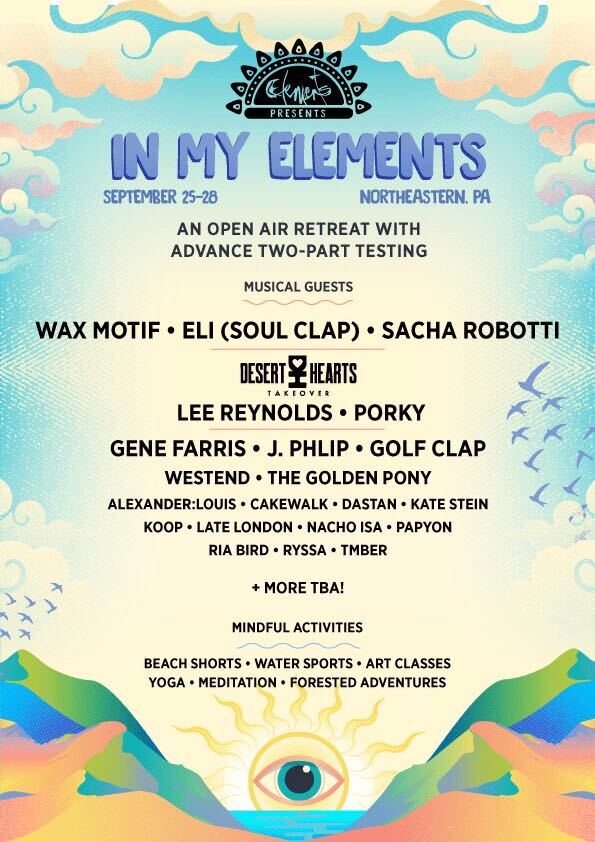 ---
In My Elements Open Air Retreat: Fall Edition – Lineup By Artist:
Wax Motif
Eli (Soul Clap)
Sacha Robotti
Desert Hearts: Lee Reynolds + Porky
Gene Farris
J.Phlip
Golf Clap
Westend
The Golden Pony
Alexander:Louis
Cakewalk
Dastan
Kate Stein
Koop
Late London
Nacho Isa
Papyon
Ria Bird
Ryssa
TMBER
+ more regional DJs TBA
---
Connect with Elements Music & Arts Festival on Social Media: