EDMIDtv and Nightenjin are looking to keep the vibes of the season rolling strong with their collaborative Summer Stream showcase on Twitch!
---
As the entire dance music community continues to face the global pandemic head-on this year, one of the bright spots has been the continued ability of brands in the scene with similar mindsets connecting and collaborating. And that's exactly what the minds behind EDMIDtv and Nightenjin have done with a fresh, two-night Summer Stream showcase!
Hosted exclusively on Twitch on August 28-29, the Summer Stream showcase features a curated lineup of artists in the realm of house and bass music who will surely help anyone beat the heat that's been blasting the planet this season. Kicking off at 5pm PDT daily, the first night that takes place on EDMIDtv is focused solely on groovy house sounds that will have anyone who tunes in shuffling away to the beats from Alex Amaro, Galo, House Divided, KillWill, and Michael Bricker.
Then, the bass vibes take over during the second night over on Nightenjin with some epic sets arriving from heavy-hitters including Dalfin, Havek, Jalaya, Mhytee, and Pvrty Hvrd to amp up your weekend and energize your soul. If you're looking for a place to hear the next wave of artists who are primed to dominate the decks post-pandemic, this will surely be the place to be!
RSVP to the event on Facebook to know the moment the set times drop and make sure to follow EDMIDtv and Nightenjin on Twitch so you can catch all the action this weekend!
---
EDM Identity & Nightenjin Present: Summer Stream – Lineup: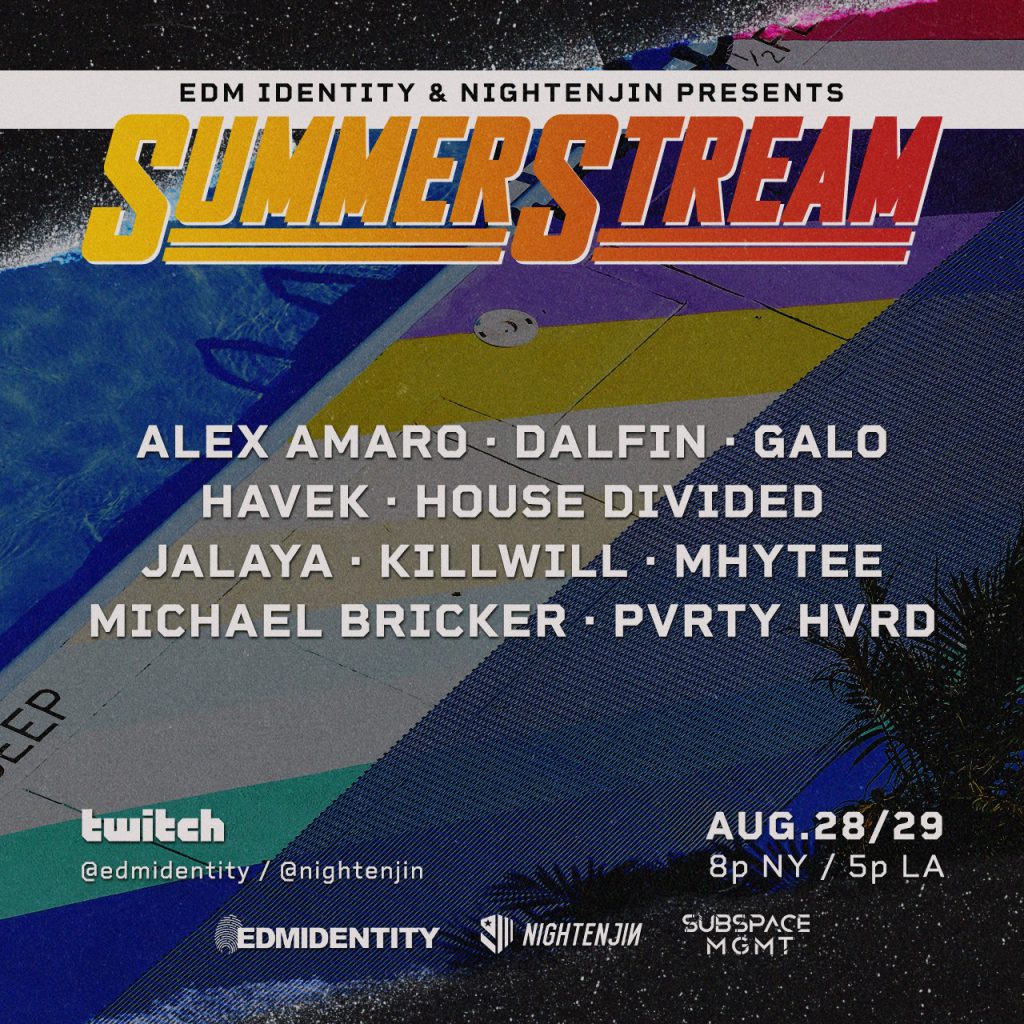 ---
EDM Identity & Nightenjin Present: Summer Stream – Lineup By Artist:
Alex Amaro
Dalfin
Galo
Havek
House Divided
Jalaya
KillWill
Mhytee
Michael Bricker
Pvrty Hvrd
---
Connect with EDM Identity on Social Media:
Website | Facebook | Twitter | Instagram | SoundCloud | Mixcloud | YouTube | Twitch
Follow Nightenjin on Social Media:
Website | Facebook | Twitter | Instagram | SoundCloud | Twitch