Hayden James' debut album Between Us is an exciting culmination of his career so far – offering up new tracks that usher the listener into summertime.
---
Six years ago, Australian songwriter and producer Hayden James introduced listeners everywhere to his breezy bright melodies with his debut single "Permission To Love". Since then, he's kept his audience captivated with an EP and slew of impressive singles that may not have explicitly given us permission to love him, but certainly given us more than a reason to.
Prior to last Friday, James had yet to release an album, but that didn't stop him from becoming an international electronic music sensation. Armed with numerous platinum singles, he's become known for his honest songwriting and energetic production style, both of which have earned him consistent attention – while lacking a full-length LP – in an industry with a goldfish-like attention span.
Now, James has returned with his debut album Between Us on Future Classic. After spending the entire weekend with the album on repeat, we can confidently attest to its success. A brilliant medley of house, funk, and even some hints of R&B, Between Us works to elevate James' already impressive career and solidifies his status as an impressive songwriter and producer.
Download or stream Between Us on your favorite platform, take a listen to the album below, and read on for my take on the release!
Stream Hayden James – Between Us on Spotify:
---
James' singles such as Boy Matthews-sung "Just Friends" and ever-haunting "NUMB" are powerhouse entities by themselves but Between Us takes these standalone tracks and fills in the space between the lines.
The album is a cohesive masterpiece of upbeat melodies adorned by airy vocals and bouncy synths that transport the listener straight into summer mode. The perfect culmination of James' career so far, Between Us features four of his previously released singles, along with seven brand-new tracks that take you on a fantastic journey through life, loss, and ultimately, love.
The album opens with "Hold Me Back", a melancholy track at its heart that hides behind its bubbly beats and catchy chorus. "If I ring and I've been drinking," longtime collaborator Boy Matthews croons over the melody, "Just pretend that I've misdialed." In this way, "Hold Me Back" sets the precedent for the rest of the album. On a superficial level, Between Us comes off as a lightweight, warm weather listen, but each track has more to say than simply "best listened to when paired poolside with an Aperol spritzer."
"Nowhere To Go" featuring NAATIONS sings of happier times alongside a funky, flowing melody that feeds perfectly into the well-known "Just Friends".
A fan favorite, the platinum single is as addictive as the friends-turned-lovers romance it sings of. "Feelin' (Interlude)" slows things down a bit with its rippling piano crescendos, acting exactly as an interlude should and setting the tone for the beautiful "Lost To You". A love song, its echoing production complements its simple hook that hits you right in the feels and mimics what it feels like to lose yourself to love. Sung by Farr, listeners are eased in by its thumping bassline that eventually erupts into a subtle, yet satisfying drop.
Following his collaboration with Running Touch dubbed "Better Together", comes James' fresh track with fellow Aussie group Panama, "Between Us".
This harrowing house ballad and title track encapsulates the entire album, singing of both love and loss over James' signature airy production, while "Remember You" featuring Elderbook pays homage to an earlier funk sound reminiscent of his debut EP. Adorned by horn samplings throughout and a choppy production style that places emphasis on the vocals, this track stands out on the album as one of the highlights.
Aside from the single "NUMB", tracks "Favours" and "Weightless" close things out on a high note. The former features sharp claps and synths that slap, while the latter's woozy beats are deserving of a sunrise set slot at festivals like Lightning in a Bottle, literally making the listener feel weightless.
Overall, Between Us is distinctly Hayden James,
Throughout the album, he maintains his classic breezy production style while leaning on old and new collaborators alike to change things up and give it a little spice. After listening, we can't wait to see what's to come for James. We just hope that we don't have to wait another six years for his next one.
---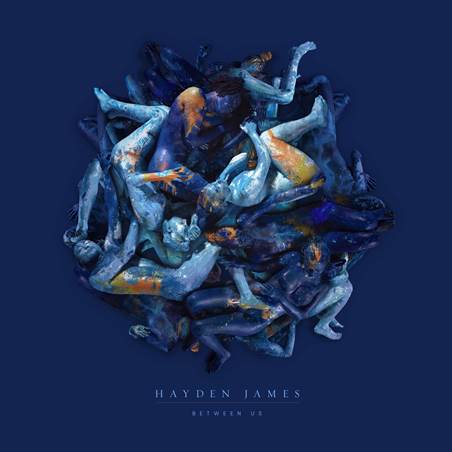 Hayden James – Between Us – Tracklist:
Hold Me Back feat. Boy Matthews
Nowhere To Go (w/ NAATIONS)
Just Friends feat. Boy Matthews
Feelin' (interlude)
Lost To You feat. FARR
Better Together feat. Running Touch
Between Us feat. Panama
Remember You feat. Elderbrook
Favours (w/ Nat Dunn)
Numb feat. GRAACE
Weightless feat. Shungudzo
---
Connect with Hayden James on Social Media:
Website | Facebook | Twitter | Instagram | SoundCloud