WHIPPED CREAM is showing the world who she is with WHO IS WHIPPED CREAM?, an EP full of personality and surprises.
---
Whipped Cream isn't a stranger to dance music. The Vancouver-native has been around since 2015, but it wasn't until the release of her 2017 EP Persistence that she really started turning heads. The lead track off that EP, "Ignorant," currently has over seven million streams on Spotify. Baller. Also, she was apart of Birds of Prey: The Album, which features tracks from artists like Megan Thee Stallion, Halsey, Sofi Tukker, Saweetie, and many more badass women changing the game in music. Another baller moment in her career.
Describing her own sound as "limitless," you can feel that sentiment throughout WHO IS WHIPPED CREAM?. The nine-track EP consists of features from a diverse group of up and coming artists in the music industry, and you can tell that she challenged herself during this project. It's apparent that WHIPPED CREAM is showing off her versatility and range as a producer—Metro Boomin' and Murda Beatz better watch out.
Listen to WHO IS WHIPPED CREAM? on Spotify below or on your favorite platform. Let us know your thoughts on the EP in the comments!
Stream WHIPPED CREAM – WHO IS WHIPPED CREAM? on Spotify:
---
First, let's kick this off with the opening track, "Us."
The EP kicks off with "Us," a track that brings a slow tempo and lo-fi elements. The introduction is gradual as a gentle vocalist appears on top of the melody and directly speaks to you, the listener, with messages such as "so nevermind what happened yesterday," and "the only thing that we have tonight is us."
Midway through the track, the lo-fi vibes shine through brilliantly as the slow tempo hits a little harder. Another voice hops onto the track dropping some spoken word, and it feels like a stream of consciousness. The words flow effortlessly with the melody and the overall vibe is relaxing. WHIPPED CREAM could've easily kicked things off with a bang, but she went in a different direction which worked in her favor.
WHIPPED CREAM shakes the table with impressive collaborations.
As mentioned previously, WHIPPED CREAM collaborated with a diverse group of artists. A handful of the collaborations are powerful— in particular, "Do I" featuring Mulatto and Baby Goth, "I Told Ya" featuring Lil Xan, and "So Thick" featuring Baby Goth. The following three tracks work in favor of both WHIPPED CREAM and the featured artists. 
"Do I" is filthy and seductive. Rising rapper Mulatto shines like no other over the beat. Her verses are sick and she adds that extra layer of attitude and confidence which boosts the energy of the track. Baby Goth brings the heat and seduction with her verse, and the production compliments the strengths of both artists.
"So Thick" featuring Baby Goth is the single featured on Birds of Prey: The Album. This song is empowering. It's about embracing your confidence and doing things for yourself, by yourself. Baby Goth delivers yet again on "So Thick," and it's clear that Goth and CREAM have a magnetic connection. 
"Told Ya" featuring Lil Xan is super fun. The production is exquisite, especially the distorted guitar chords. The combination of ad-libs are charming and insert more personality into the song. WHIPPED CREAM added her laugh on the track, and it sounds like she's singing on the chorus too. I'm not the biggest fan of Lil Xan, but this is a solid collaboration and you can tell they had a great time creating this song. 
Unfortunately, WHIPPED CREAM decided to add the single "Dumb Sh!t" with Jasiah on the EP.
The music production is incredible, but it's the lyrics that leave a slightly sour taste in my mouth, pun intended. When someone says, "I don't give a f**k, jerk off, out in public, yeah, we in the pit, duh, doin' dumb s**t," it's an instant turn off. Personally, it robbed my interest in the song and made it my least favorite on the EP.
For me, the most influential songs are "I Won't Let You Down," featuring Finn Askew and "IDFC," featuring Raveena Golden.
Both songs are unique in their way for a variety of reasons. Most importantly, the two tracks show off WHIPPED CREAM's range and versatility in the studio. She can produce for soulful, R&B artists. She can produce for alternative rock artists. She can produce for hip artists, and the list goes on.
The thing that is so special about "I Won't Let You Down" is that WHIPPED CREAM made room for Finn Askew to shine. The melody is smooth and rhythmic, with a hint of distortion. The song is definitely about heartbreak and for the emotional individuals of the world, and it's one of my favorites. I learned the words in less than a day; that's how much I love the song.
On the flipside, "IDFC" is edgy and disruptive. The bass is distorted and blown out, and Raveena Golden's vocals add that grittiness to the track. It sounds like a goth cheerleader performing during an assembly and I love that. It's such a fun collaboration and I hope the two work again together in the future. It just worked for me.
With the release of this EP we're just seeing the tip of the iceberg of who WHIPPED CREAM really is.
Overall, the EP is solid, but I feel like WHIPPED CREAM has more to offer and some surprises up her sleeve. If this is just the introduction, then I'm curious to see what she plans on showing in the future. Caroline Cecil has skills, and her talent can't be boxed into one category. She is more than a single genre. She really is limitless. Nice work, girl.
---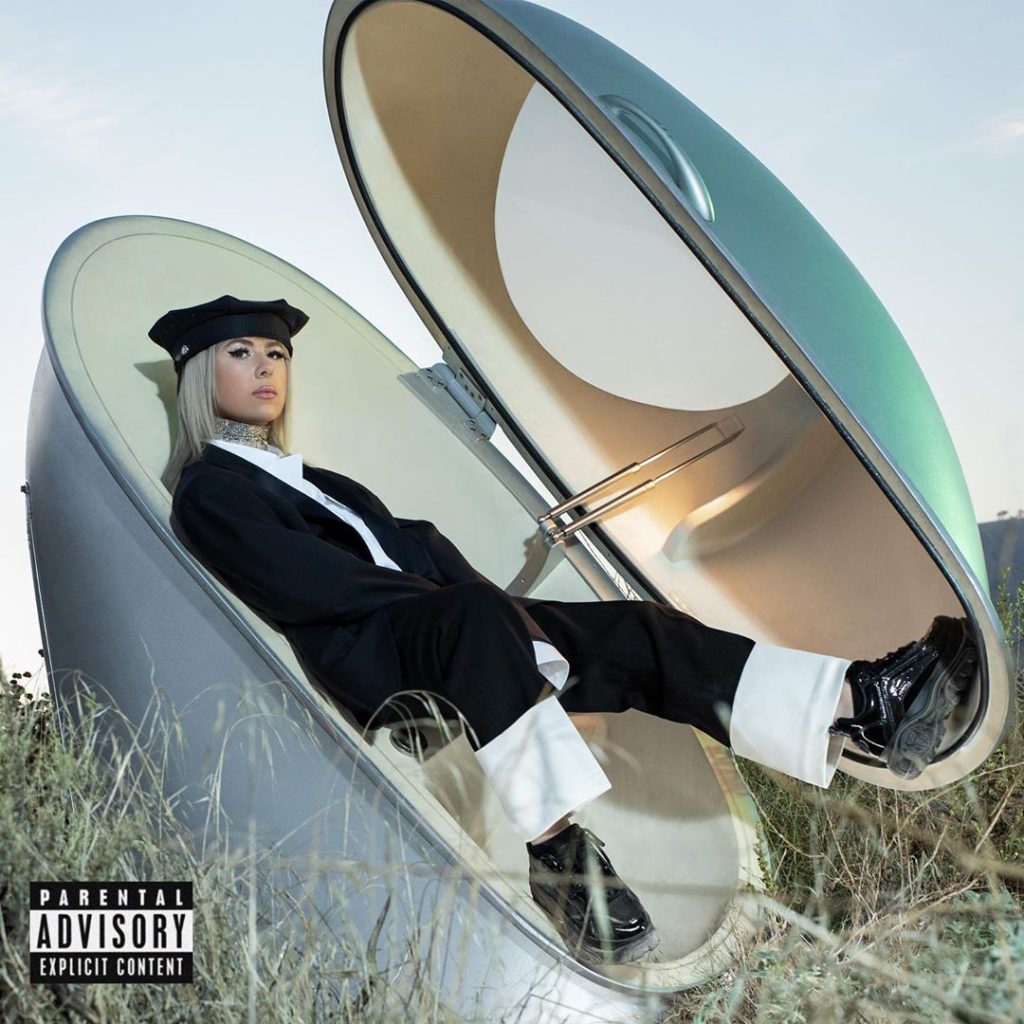 WHIPPED CREAM – WHO IS WHIPPED CREAM ? – Tracklist:
Us
I Won't Let You Down (feat. Finn Askew)
Do I (feat. Baby Goth & Mulatto)
IDFC (feat. Perto, Raveena Golden)
WRK
Dumb Sh!t (with Jasiah)
I Do The Most (with Lil' Keed)
Told Ya (feat. Lil' Xan)
So Thick (feat. Baby Goth)
---
Follow WHIPPED CREAM on Social Media:
 Facebook | Twitter | Instagram | SoundCloud | YouTube | Twitch