Northern Nights is going digital for this year's edition and NNMF:VRTL is set to feature stunners like Mikey Lion, Qrion, Elderbrook, and more!
---
One of the most renowned festivals that takes place annually in Northern California is Northern Nights Music Festival. Known for bringing some of the best artists in the dance music scene to their picturesque venue while also delivering unique workshops and experiences for attendees, the festival has a special place in the hearts of many. But due to the ongoing coronavirus pandemic, this year's edition will be finding a new home in the digital realm with NNMF:VRTL.
Hosted on Twitch over July 17-18, NNMF:VRTL continues the trend of the festival's highly curated lineups with a stacked list of its own. Immediate standouts include Desert Hearts' own Mikey Lion, rising star Qrion, and fantastic trio Crooked Colours, but that's just the tip of the iceberg.
Digging deeper into the lineup you'll find Elderbrook, David Starfire, LP Giobbi, and others round out the bill to make this virtual festival even more packed with talent. Additionally, NNMF:VRTL will feature visual artists including Blake Reagan, Hatziel, and Knock to name a few while they are also bringing Vinyasa Flow Yoga with Maddie Brisbane, live aerialists, and fire performances for fans to check out over the two days.
Head over to Facebook to RSVP to their event for the latest updates including set times and more, follow Northern Nights Music Festival on Twitch to catch all the action, and let us know who you're most excited to catch in the comments!
Tune in to NNMF:VRTL 2020 on Twitch:
---
NNMF:VRTL 2020 – Lineup: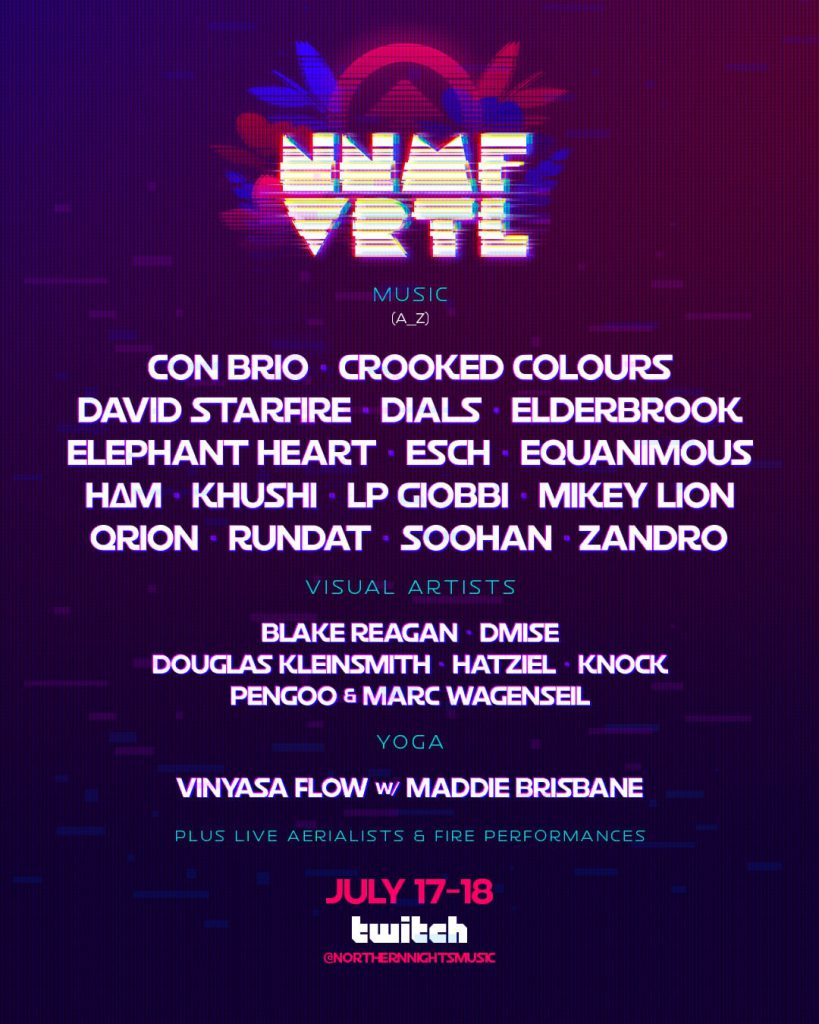 NNMF:VRTL 2020 – Lineup By Artist:
Con Brio
Crooked Colours
David Starfire
Dials
Elderbrook
Elephant Heart
Esch
Equanimous
HAM
Khushi
LP Giobbi
Mikey Lion
Qrion
Rundat
Soohan
Zandro
---
Follow Northern Nights Music Festival on Social Media: