Shambhala Music Festival is easing the woes of many this year by hosting Shambhala At Home featuring CloZee, Billy Kenny, Dr. Fresch, and more.
---
Update July 17: Shambhala Music Festival has officially postponed the upcoming Shambhala at Home livestream in light of the allegations against Billy Kenny and their handling of reports of sexual misconduct. Details can be found in their message below.
Update July 14: Billy Kenny has been removed from the lineup amid allegations of sexual and physical assault. Details can be found in this post. The updated lineup and statement from Shambhala can be found below.
---
Previously: As the COVID-19 pandemic continues to affect the livelihood of people around the world, there has been a lot of speculation if the festival culture will ever really truly return full force. Though it is frustrating to think about the continuation of canceled and postponed events, the ending of which is unforeseen, the focus for many festivals has turned to the virtual space. Now, Shambhala Music Festival has joined in the mix with their own digital edition to help keep their signature vibes rolling strong in 2020.
For many electronic music lovers, Shambhala Music Festival was, and still is, home. Thankfully, those who had attended in the past or were planning for their first time will still be able to go "home," but this time from the comfort of their own rave caves rather than the funky farm grounds. Hosted on July 23-25, Shambhala At Home will bring a dose of beats for bass and house music aficionados alike.
Set to take place on Mixcloud, the virtual festival features a roster with fantastic artists from a range of styles and genres. House music lovers will be stoked to catch Claptone, Kyle Watson, and Billy Kenny, while bass artists like Woofax, Boogie. T, and ill. Gates have been added to the mix. Additionally, there will be unforgettable sets from artists like CloZee and DJ Jazzy Jeff to really make this a special experience for all who tune in.
But the fun doesn't stop with the music, as Shambhala At Home will also bring a Shambhala "story time" with The Funk Hunters and Stickybuds, workshops, yoga, zoom parties, circus acts, and dance performances to make for an immersive at-home experience. Though this is already a staggering amount of exciting news, more details and surprises are set to be released as we get closer to the event.
Check out the full lineup for Shambhala At Home below, stay tuned for the schedule and the latest updates by RSVPing on Facebook, and don't forget to follow them on Mixcloud to catch all the action!
---
Shambhala At Home 2020 Lineup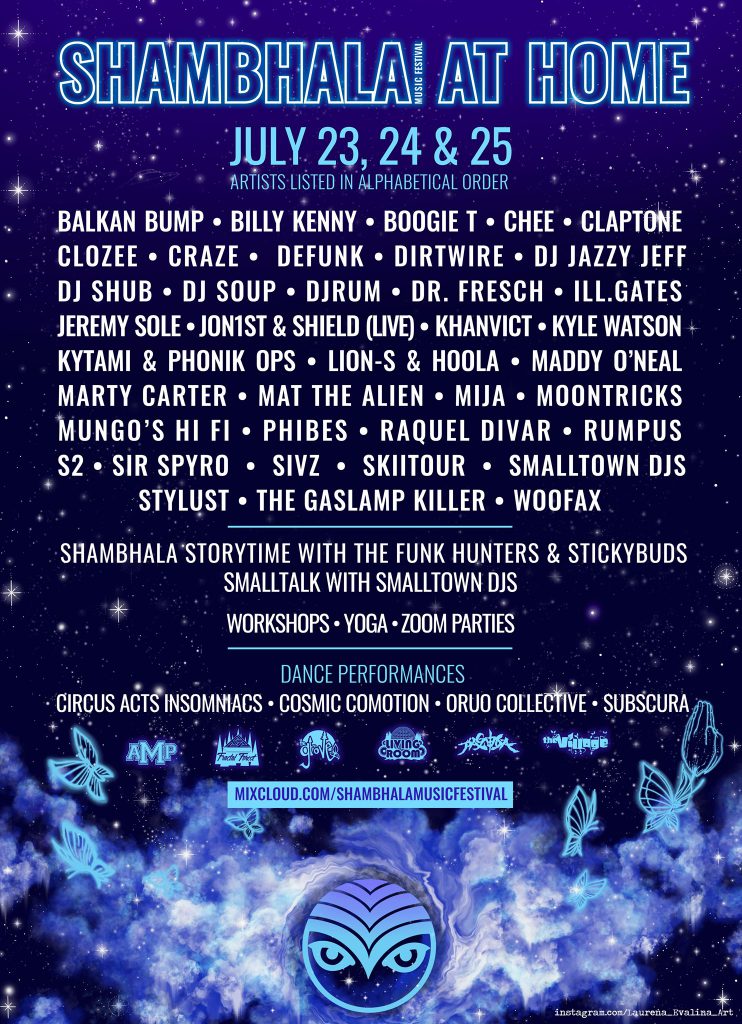 ---
Shambhala At Home – Lineup By Artist:
Balkan Bump
Billy Kenny
Boogie. T
Chee
Claptone
CloZee
Craze
Defunk
Dirtwire
DJ Jazzy Jeff
DJ Shub
DJ Soup
DJRUM
Dr. Fresch
ill. Gates
Jeremy Sole
jon1st & Shield (live)
Khanvict
Kyle Watson
Kytami & Phonik Ops
Lion S & Hoola
Maddy O'neal
Marty Carter
Mat the Alien
Mija
Moontricks
Mungo's Hi Fi
Phibes
Raquel Divar
Rumpus
S2
Sir Spyro
Sivz
Skiitour
Smalltown DJs
Stylust
The Gaslamp Killer
Woofax
---
Follow Shambhala Music Festival on Social Media
Website | Facebook | Twitter | Instagram | SoundCloud | Mixcloud | YouTube