Fresh of off his debut album release, Cosmos, we jumped on the opportunity to link up with Dezza to get to know the man behind the music!
---
If you are searching for music that pulls out emotion while hitting you straight in the gut with profound layers of melodic depth, then look no further than the heavily supported progressive house mood lifter, Dezza! With over five million streams on Spotify and counting, a massive 2018 release schedule that saw Dezza drop over 15 tracks in under a year, and support from some of the biggest names in the industry including Above & Beyond and Armin van Buuren, the world has become his oyster!
While he has been killing it on the production front for some time now, it all started falling into place the moment he debuted on Anjunabeats with the tribal flair of "Sunburn", a collaborative effort with Rolo Green that proved his true coming out party. Now, here we are in 2019 and celebrating the debut of Dezza's first artist album, Cosmos.
Just one listen to this spectacular LP and all reservations get swept away with the wind, providing a glimpse into the multidimensional mind of a man who will someday rule the industry with the top dogs. Read on for our in-depth chat with Dezza and be sure to hit play on his exclusive EDM Identity Guest Mix below, you will not be disappointed!
Stream EDMID Guest Mix 169 || Dezza on SoundCloud:
---
Thank you for offering us your time for this interview! Let's get right into some music talk! You have an innate ability to paint a magnificent story through layered soundscapes and billowing melodies. What drew you to this style of progressive house and who are some of your artist inspirations?
Thank you, and thanks so much for having me. I take influences from a wide range of things, it's hard for me to pinpoint where the inspiration comes from.  However, I love listening to music with depth that goes in a completely different direction from what you would expect. You can find that in many different genres, from many different artists. The amount of stuff that I discover on my daily mix playlists on Spotify is insane. My list of musical inspirations grows daily.
You recently released your debut album Cosmos and it is nothing short of emotionally riveting. Can you talk about your personal emotions while you were working on this album? Were there specific tracks that knocked you on your feet? Were there things going on in your life that acted as inspiration? Give us the scoop!
I made the album over the span of 2 years, so personal emotions were all over the place haha! The first track "Apollo" I made specifically for a guest-mix I did on ABGT 242 in 2017. Shortly after that, Colorize label mate Matt Fax released his album Contrast.  He didn't just stick to one genre and really showcased his skill. I saw the amazing reactions he was getting and that was the moment that I decided to follow suit.
In 2018 I released around 18 tracks on labels like Enhanced, Zerothree, and Anjunabeats whilst still working away on the album tracks. The title track "Cosmos" was made and it was that single track that inspired the theme and artwork. "Honey" is an interesting one, I wanted to have something housey on the album because I absolutely LOVE house music. Right now, it is the track that is pulling in the most streams, which really surprised me. I can't thank the Colorize/Enhanced Music team enough for giving me the creative freedom to release the music that I want.
"Northern Star" sends goosebumps up my arms every time I hear it. From the crescendoing melody, heart-grabbing piano detail and soothing lyrics; it's simply divine! Can you get technical and talk about how that particular track came to fruition?
That's amazing to hear, thank you! With this album, I wanted to think outside the box and do some different stuff. I had the piano bit done for "Northern Star" and decided to ask my longtime friend and neighbor Josh Kelly over to help make a song out of it. Josh has recently re-discovered his musical talents and has been working hard at it making the rounds at local open mic nights around town performing his own songs.
The first time I went down to watch I couldn't believe how good he sounded and the depth of the songwriting was awesome. So we sat down and wrote the lyrics with the piano track one evening. Josh went back to his studio and recorded the vocals and harmonies on his own and I was floored. That track is nothing without those vocals!
For those who look forward to seeing you live in the future, can you paint a picture of what you bring to the table as a DJ?
I can't wait to get out on the road! From what I have heard, there are lots of interested bookers in the USA! Ultimately, my sets depend on the atmosphere for of particular show. I don't really plan out my sets. Even for ASOT 900 in Utrecht I just winged it and at the time it was mostly 'ID's' from Cosmos.
I am always working on new material so for future shows it will be great to be able to test that stuff out. If I am playing a short 1-hour festival set, people can expect mostly original material. I love playing extended club sets. for something like that, I will be working the room with originals and music that I am digging from other artists.
Above & Beyond continue to sing your praises and your productions have also caught the attention of Armin Van Buuren as well. As a blossoming artist, what advice have you garnered from your interaction with him and what does his support mean to you on a personal level?
The support from the big names is incredible and still blows my mind to this day, it never gets old. During my interview on ASOT 911 Armin said he loved the music and to continue to keep doing what I am doing. After the interview, I took him aside and reminded him of a show he had in my hometown 10 years ago. At that point in time, I was working the show as a sound and lighting guy trying to work my way into playing warm-up sets for that kind of show. Also too shy to hand him a demo CD haha! His support today is a huge motivation!
You are quite the busy bee as you work for an airline as well as digging in deep on the DJ/producer front. For others dreaming about producing and DJing but don't think they have the time to truly go for it, what would you say to them?
It's all about finding a balance which is extremely challenging. My day to day routine strongly affects my creativity levels. I have been working full time for 13 years now and juggling that with music. Sometimes I wish I had more time to do music, but on the other hand, it's nice to take a break from it and go to work and break out of the zone of music.
To someone dreaming about doing music full time, go get yourself an enjoyable job that will pay the bills so that you can live comfortably and spend every spare second you have perfecting the music. Don't ever let making music feel like it is your job – the creativity will suffer.
As an up and coming artist, what has been the biggest hurdle you have had to face and how did you overcome it?
I think my biggest challenge has been the fact that I live in a small city where the music I make isn't that popular. We don't have any real world class night clubs here, it's mostly all pop and top 40 format. Electronic music has a scene here, but unfortunately, like most places with a small population, it's very cliquey. To overcome that, I stepped back from the local DJ/event scene, and strictly focused my energy on making my own music. In the end, it has brought much more satisfaction and an international audience of extremely devoted listeners.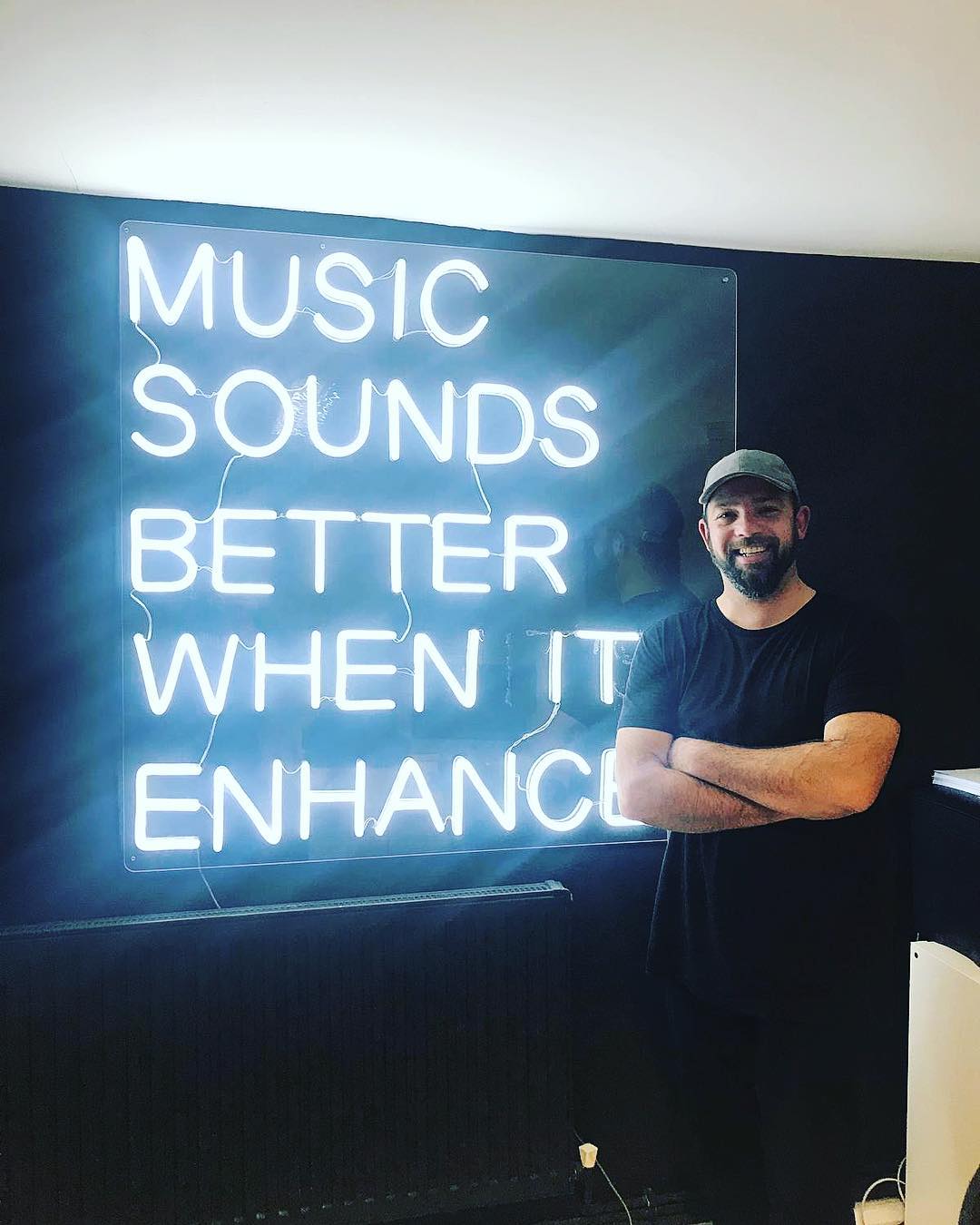 Let's talk five-year plan. What are some of your major goals inside the studio, future collaborations you dream about bringing to fruition, and labels that you are working to grab the attention of?
Inside the studio, and already in the works is Album number 2. I don't really have a dream collaboration, I'll work with anyone doing anything that pushes music in a forward-thinking direction. Label-wise, I think it would be amazing to catch the attention of a major label whilst staying true to my sound.
Finally, let's have a little fun!  In honor of your track "A Dog's Dream" and your post on social media about your dog Koko, in your opinion, what do you believe that dogs dream about?
That is the whole mystery to the title of that track.  No one really knows what's going on haha. Koko is a water dog, you can't keep him away from any body of water no matter how hard you try. I would like to believe he is swimming and fetching a stick!
---
Connect with Dezza on Social Media:
Facebook | Twitter | Instagram | SoundCloud