Liquid Giraffe swung by to chat about his recent album Peloton, what his production flow is like, and some of the unique venues he's played!
---
For over two decades now, Kraig Tyler, aka Liquid Giraffe, has ascended through the ranks in the music industry while constantly honing his skills along the way. From his bands like Chemlab and 16Volt to being a member of Crazytown and working with The Plain White T's, his mastery as a songwriter and musician has continued to be evident throughout. But when the bands died down he developed a passion for Drum & Bass and began down the path of domination in the electronic realm.
Recently, Liquid Giraffe returned to the spotlight as he delivered a fresh album for his fans to soak in and get down to wherever they might be listening from called Peloton. This 11-track album features a number of solid tunes that will satiate the cravings of any DnB lover looking for their fix like "Wat U Wan" and "TimeGrind."
Looking to explore the depths of his career and gain some insight on the new album, we jumped at the recent opportunity to chat with Liquid Giraffe. So take a listen to his exclusive guest mix below and read on for the full conversation!
Stream EDMID Guest Mix 225 || Liquid Giraffe on SoundCloud:
---
Hey Liquid Giraffe! Stoked to have you here with us today. Let's start off by exploring a bit of your background in music since it's extremely impressive. Can you speak a little bit about your early career and how Liquid Giraffe came to be?
Hi EDMID! Stoked to be here with you. Music has been my center for as long as I can remember. I started making multitrack recordings using cassette decks when I was like 13. Took some bass and theory lessons and kinda learned the rest just by touching things and figuring out how they work. Dropped out of college and started a band called Virus-23 that made a bunch of industrial noise in NYC. That led to me playing guitar in a grip of other bands, making a bunch of records, and touring around the world. It also led me to move to LA.
Around 2011 the band stuff had quieted down and I was primarily writing and producing. A friend who knew I love Drum & Bass asked if I'd play a DNB party at his sound camp at Burning Man, and I said yes of course. That three-hour set was a game-changer for me and I decided right there this was a project, it was called Liquid Giraffe, and I was going to go home and write what came to be Delicate Business.
Your first full-length album Peloton dropped earlier this year and showcases some serious skills. How did that album come together? 
When I first started playing around LA as Liquid Giraffe I would hand out CDs of my first EP and a bunch of remixes. I'd run into people months later who would tell me that my CD still lives in their cars, so I basically wanted to make another CD to give them. I was also inspired by the creativity of the Gorillaz album Humanz and wanted to do something similar for art's sake.
When you're sitting down in the studio, what's your production flow like? Do you root your productions around a specific inspiration?
My workflow is kinda all over the place unless I have deadlines. Often I sit down and get some cool things going and then come back around to them with fresh ears and finish them. Much of Peloton came together this way. Recently in homeschooling (that's my rebrand of quarantine) I find myself finishing songs in one sitting. It's given me some serious focus!
How do you feel your sound has developed since your debut EP Delicate Business?
I'm a songwriter so I didn't really consider the art of DJing when I made Delicate Business. I was just writing songs in this 80-90bpm pocket. On Peloton, I definitely considered that more. I also had the gift of playing many more shows and festivals and that's really helped me define what I want this project to represent, both vibe and sound design-wise.
Every artist, big or small, faces writer's block at some point in the career. Have you experienced this yet? How did you overcome it?
I definitely did towards the end of Peloton, and some tech problems had a lot to do with that. The answer was to force myself to sit down and get some loops going. Then my friend WHYS came over and I played them for her and she loved one of them. That loop became "Make Cents" and I finished it that night.
You've collaborated and performed with artists across the music industry. Are there any special interactions that stand out to you?
I really love all the work I did with Taryn Manning. All those songs we wrote and produced together still stand up for me. Rama Duke, who is featured on Peloton and Delicate Business I met when I produced her debut album on Hollywood Records. I love that all this time later our flow together is so pure. Even though Tom Higgenson from Plain White T's and I only had two days of writing together, we wrote three songs and two went on their Every Second Counts album. That's pretty special!
One of the places you've played is a venue that most artists haven't: San Quentin Prison. What was that experience like? Would you go back and do it again?
San Quentin was seriously a life-changing experience. Obviously I think our prison for-profit system is complete bullshit and we came there to provide a gift. I was performing with an amazing artist Queeny King and only the two of us were allowed in. I didn't even know I was going to DJ, but when they asked for it I found myself playing songs like "Pusher Man" by Curtis Mayfield and "Genius Of Love" by Tom Tom Club.
You could tell our presence there meant so much and I couldn't believe the access we received. Our performance received a standing ovation, and afterward, we held space for the inmates face to face, answering all their questions and hearing their stories. We did that for so long that when I looked at my watch I realized that we were going to miss the last plane back to LA. I would absolutely do that again as many times as I could.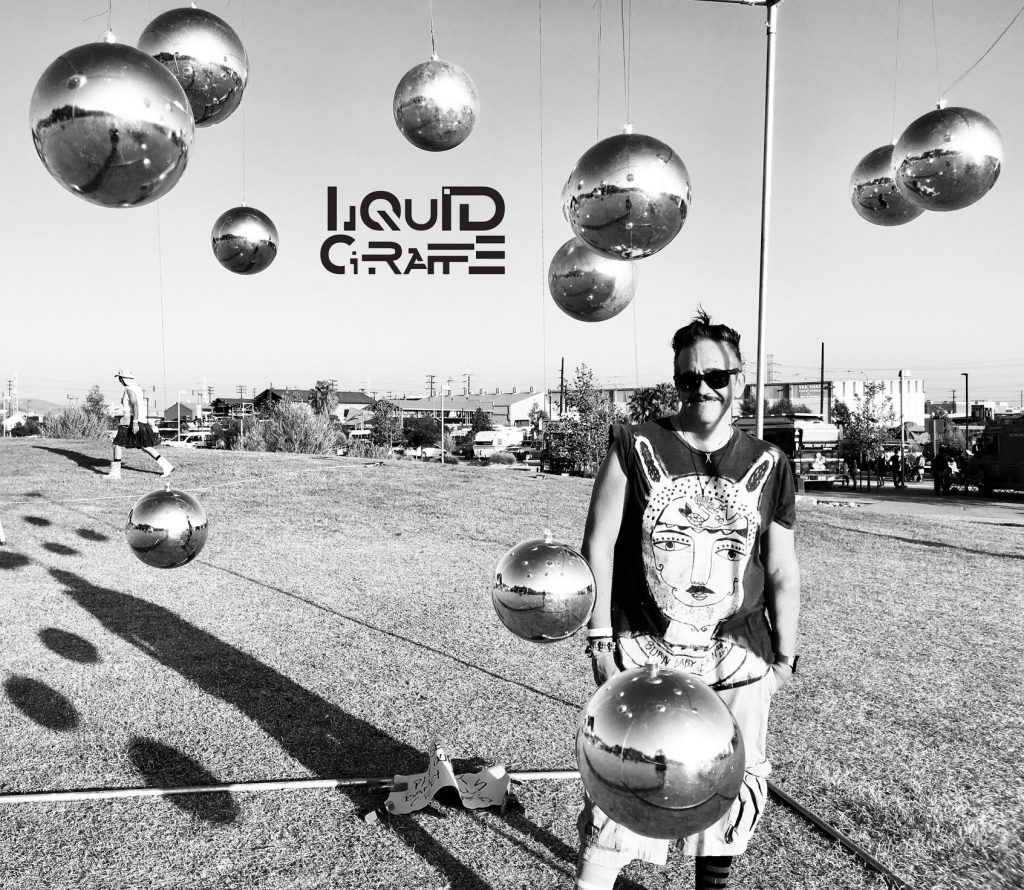 How has quarantine affected you on a professional with no shows happening for the foreseeable future?
I was already more focused on studio work PreVID, so homeschooling has only accelerated that. I've mixed records for Bellavolent and some other great artists, and I'm trying to build a world where I can make a living without leaving the house. It's also taught me how to become a television broadcaster, learning OBS and devising ways to perform thru streaming. 
What's one thing that's kept you grounded in the crazy past few months? 
The most important thing for me has been immediacy. When I am present I can handle this for the most part, but I have to work to keep myself focused only on the now. Anything else is pretty terrible, so I'm gunna keep working to keep myself present in this very moment.
If you found yourself stuck on a desert island, who would you be with and what three items would you have on you?
I'd be with this amazing grrrl I'm currently crushing on, and we'd have endless fresh food, my recording studio and an open bar.
Finally, with the year nearly halfway over, what goals do you hope to achieve during the rest of 2020?
Originally my goal for 2020 was to play overseas again, but now I'd like to release music on labels around the world, and help bring about the social and political changes our world desperately needs.
---
Follow Liquid Giraffe on Social Media:
Facebook | Twitter | Instagram | SoundCloud | YouTube | Twitch