Nitti Gritti is getting us all in our feelings with the recent release of his new All In EP via Spinnin' Records. 
---
Music is the ultimate healer. It is something that can get anyone through their darkest days. Right now, we're still in a pandemic and the entire world is currently in the midst of protesting and supporting the Black Lives Matter movement following the deaths of Breonna Taylor and George Floyd. Instead of promoting their music, artists like Nitti Gritti have been focused primarily on keeping the attention on what really matters right now. However, earlier last week, Nitti Gritti tweeted asking for opinions about what he should do about the release of his new EP All In. Two tracks off the EP, "All In" featuring Jimmy Levy and "Another Way" featuring Mario, were released prior to June 5. But due to unforseen circumstances, Nitti Gritti and his team were unable to pump the brake on releasing the final three songs on the EP. Out now on a variety of platforms, Nitti Gritti stated upon its release "I hope my music can help you in these troubled times." Additionally, he announced that he will continue to donate all the proceeds from his official merch store to organizations that support the Black Lives Matter movement. Even though it feels insanely weird reviewing a body of work right now, I decided to sit down and listen to the EP after protesting all weekend. Let's just say that I'm happy that I did. I haven't been listening to new music at all, but sometimes music is what the doctor ordered. With that being said, let's dig deeper into All In. 
Stream Nitti Grittii – All In EP on Spotify:
---
There are five glorious tracks on the EP all with a featured artist.
Nitti Gritti teamed up with Mario, Jimmy Levy, Emma Jensen, Midian, and Reo Cragun. All the songs transition into one another, so I advise that you listen from start to finish. No shuffling around. The tracks themselves are short and sweet, in fact, the EP is 17 minutes long. 
As mentioned earlier, two tracks were released prior to last week. Both songs are brilliant, but I will devote my focus on the tracks that touched my spirit. Hands down, my favorite song off the EP is "Breathe Out" featuring Midian. It's been on repeat for the past two days because the lyrics are relevant to the reality that we're all living in right now. The melody is a vibe and it puts your mind at ease. Midian's vocal blend so beautifully with the flow of the track, and the last minute of the track is pure heaven. 
The production of "Dead In The Water" featuring Emma Jensen is truly beautiful. The unique vocals of Emma Jensen bring that soulful energy to the track, and the breakdowns are reminiscent of Illenium. We're all in our feelings right now, so prepare to fall down that rabbit hole during this track. You might shed a tear or two. But we're all doing that so it's ok. 
The EP ends with "Empty" featuring Reo Cragun. You can tell that Nitti Gritti carefully crafted the song to compliment Cragun's style. The song is a journey and follows a person in their feelings. But the best part is the last verse, where Cragun is talking to himself with words of encouragement. We all reach that point where we have to speak with affirmations.
Each song on the EP brings forth a smooth melody and rhythmic qualities, and it's clear that Nitti Gritti invested a ton of time into this release. So give yourself a break and listen to All In. You deserve it. 
---
Nitti Gritti – All In – Tracklist:
All In (feat. Jimmy Levy) 
Dead In The Water (feat. Emma Jensen)
Breathe Out (feat. Midian) 
Another Way (feat. Mario)
Empty (feat. Reo Cragun)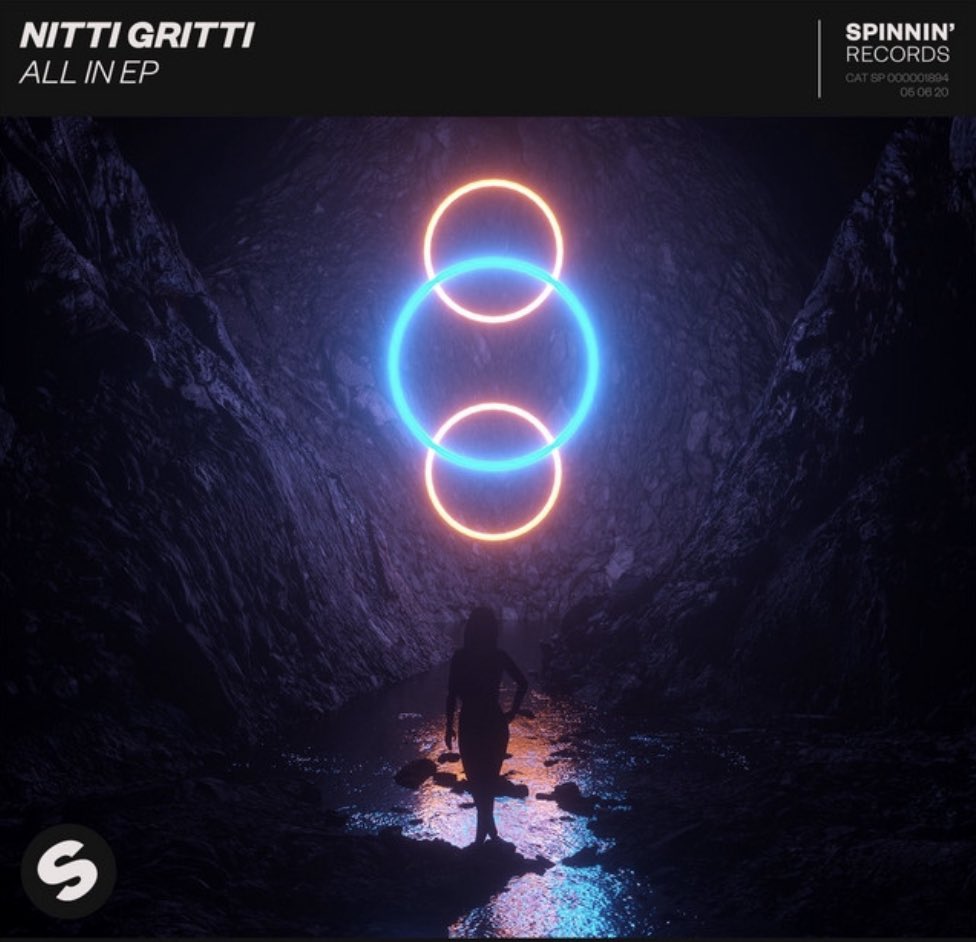 ---
Follow Nitti Gritti on Social Media:
Facebook | Twitter | Instagram | SoundCloud