Shawn Wasabi takes us on a summery cruise through a tropical paradise on the debut album we've all been waiting for, MANGOTALE.
---
California-born, 24-year-old Shawn Wasabi has been involved in music since the age of four. His effortless beat-making skills combined with a bubblegum imagination have earned him international esteem.
He first intrigued the internet by playing "Marble Soda" on a rare Midi Fighter 64, in 2015. This machine is his main beatmaker and is made up of 64 arcade buttons rigged with LEDs and over 140 music samples. His expert-level dexterity and rhythm are truly mind-blowing to watch. There is no doubt that his style is defined, and is an artist to keep your eye on.
Today, Shawn Wasabi releases his long-anticipated debut album MANGOTALE. After teasing us with six juicy singles, this summery 12-track album delivers. Each song represents a character in Mangotale Island, an idyllic and adorable paradise created by Shawn and designed by illustrator Ann Alfonso. This album oozes Kawaii cuteness and videogame ecstasy with every beat.
Excited to share his first full-length project with the world, Shawn explains,
Listen to MANGOTALE on all platforms and continue reading below to take a deep dive into Shawn Wasabi's debut album!
Shawn Wasabi – MANGOTALE on Spotify:
---
Kicking off MANGOTALE and perfectly setting the tone for the album is "princess peach".
Listening to this nostalgia-fueled song, you have no choice but to match the energy and bop along blissfully. Instantly teleporting you into Shawn's mind and introducing you to his charming world of Mangotale Island. Next up, "Halo Halo" featuring Chevy is the first of many tracks on the album that incorporates the talents of female singer-songwriters. This and "Medicine" were both written and produced during his time in quarantine.
Kennedi's confrontational lyrics over Shawn's happy beats in the song "Lemons" makes for a juxtaposition, both catchy and intriguing. This track is appropriately named with a sour chorus of "I just think she's kinda ugly/ And that she's not the one for you." As usual, his intricate production shines through the deep bassline and punchy beats, enhancing the humor of this bop. 
Shawn's creativity and imagination shine brightest in these next two songs.
Shawn and Sophia Black paint a vivid picture of a day in the life of "Animal Crossing", the recent viral videogame on the Nintendo Switch. The sweet radiance of this tune is met with descriptions of spending a golden afternoon collecting shells and eating peaches by the pool. Heading into the quarantine, the mid-March release of this single was timely and gave us the sense of community we were missing. 
Imagine if a mango fell in love… These are lyrics in the chorus of "Mango Love" that will get stuck in your head, so fair warning. The multitude of clever puns and Satica's smooth voice are deserving of many replays. This tropical paradise of a track incorporates waves crashing, birds chirping, coconut percussion, and bubbly pops.
So, let's talk about consistency.
If you are new to Shawn Wasabi's music, it's important to note that he has maintained these themes of cuteness and pop for years. The consistency serves as a testament to the authenticity of his art. And while his range has obviously grown throughout the years, the nature of his music has retained his unique vibe.
In 2015, his famous single "Burnt Rice" had an upbeat, obscure sound that underground rave kids connected to immediately. Shawn flexes similar, complex production abilities in "Tokyo Tea" and nods to his beginnings in the scene. He successfully marries these jagged rap stylings and elements of future bass with the playfulness of the rest of the album. 
The start of "Love Potion" piggybacks off of those calculated electronic sounds and meshes into a glittery dreamland. This track is Raychel Jay's third feature on the album, alongside "The Snack That Smiles Back" and "Home Run". Her and Shawn's styles complement each other to create vibrant and kitschy tracks.
Rounding out MANGOTALE, "Igloo" takes you on one last instrumental journey. A gentle rollercoaster of sounds and Shawn's lullaby whispers dissolve you out of glorious Mangotale Island, concluding with a powering down of his beloved characters. 
Placing Shawn Wasabi's music into a single genre seems almost impossible. Yet, once you are familiar with him, the brilliant song structures and elaborate beats instantly become recognizable as his. 
The level of detail in each track makes up for the long-awaited release of this debut album. It is clear that MANGOTALE is the physical manifestation of the colorful inner-workings of Shawn's mind. This is only the beginning of what this crazy talent has to share!
---
Shawn Wasabi – MANGOTALE – Tracklist:
princess peach
HALO HALO (feat. Chevy)
LEMONS (feat. kennedi)
MEDICINE (feat. Tia Scola)
MANGO LOVE (feat. Satica)
ANIMAL CROSSING
SNACK (feat. raychel jay)
MARBLE TEA
toyko tea (feat. Spacegirl Gemmy)
LOVE POTION (feat. raychel jay)
HOME RUN (feat. raychel jay)
IGLOO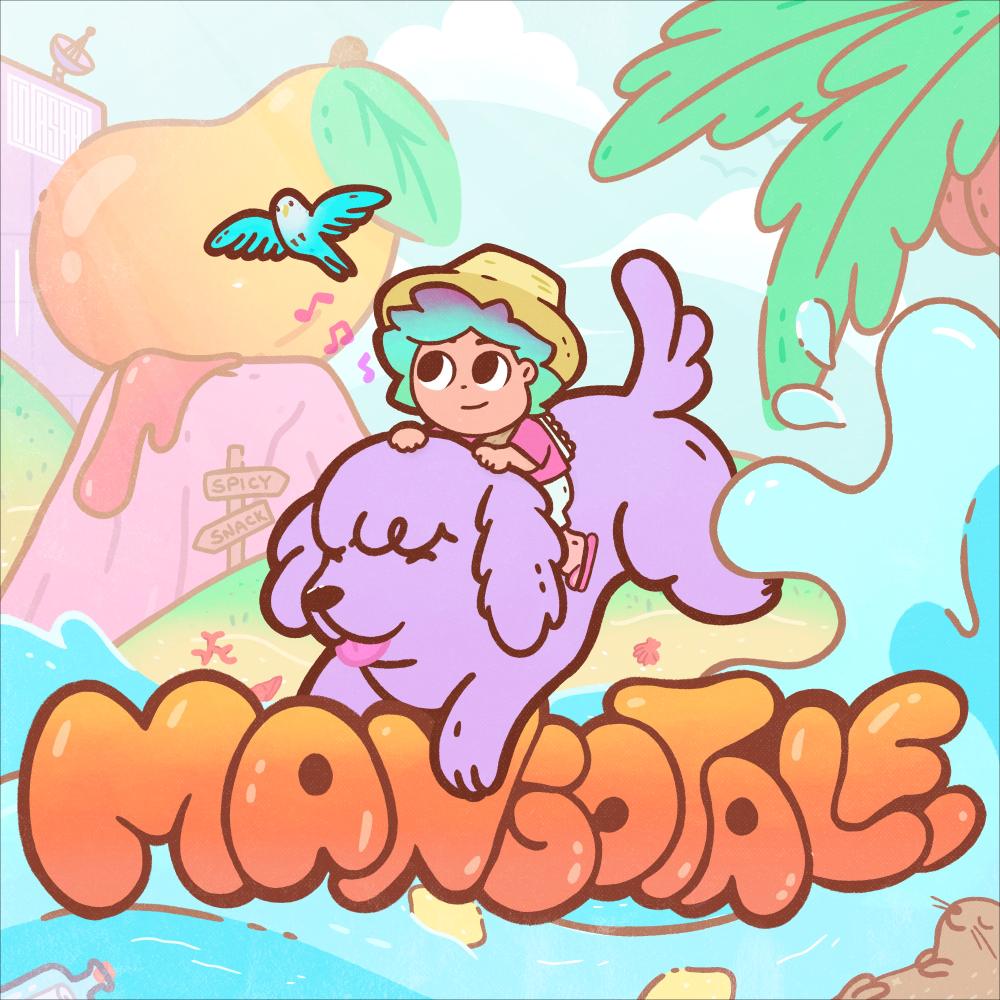 ---
Follow Shawn Wasabi on Social Media:
Website | Facebook | Twitter | Instagram | SoundCloud | YouTube | Twitch