San Holo gets candid about his upcoming performance during Secret Sky Festival, latest project stay vibrant, and bitbird.
---
The dance music community went wild earlier this week when Secret Sky Festival was announced by Porter Robinson, Brownies & Lemonade, and Goldenvoice. The lineup is full of talented artists, and San Holo is included on that list. Not only is he the mastermind behind iconic tracks such as "Light" and "lift me from the ground" featuring Sofie Winterson, but he's also just a well-rounded person.
Even during these strange times, San Holo is keeping our spirits high with his latest project stay vibrant. For the past six weeks, he's released a new song to keep his fans and listeners of the community hopeful. In addition to playing Secret Sky this weekend, he's going to release the final track on the project "staring at the sea without you next to me" featuring ILIVEHERE on Monday, May 11.
Honestly, we can talk about San holo all-day long, but it's time to jump into our interview with him. Read on for the full chat, tune in to his stay vibrant playlist on Spotify, and don't forget to tune into his set tomorrow at 12:28 PM PT. You won't regret it.
Stream San Holo – stay vibrant on Spotify:
---
Hi San Holo. Thank you for taking the time to speak with us today. We're pretty excited about your set during Secret Sky this weekend. When the event was announced, the community went wild. It uplifted a lot of spirits. Can you tell us how you got involved?
Porter's team reached out to me about seeing if I would be open to doing a performance for Secret Sky. Up till now, I haven't really done many live stream sets but this was such a special opportunity that I knew I just had to be involved!
Soon after the lineup was posted, you tweeted a picture of you and Porter Robinson. What's your relationship like with Porter?
I have a lot of respect for Porter, he's a legend. He's truly one of the great pioneers of electronic music and I'll always look up to him for that. He was gracious enough to put me on the Shelter Tour with Hugo a few years back early on in my career and that really helped me. I have a lot of great memories of being on that tour (my first time on a bus!) and have kept in touch with him and many others from that tour even till today.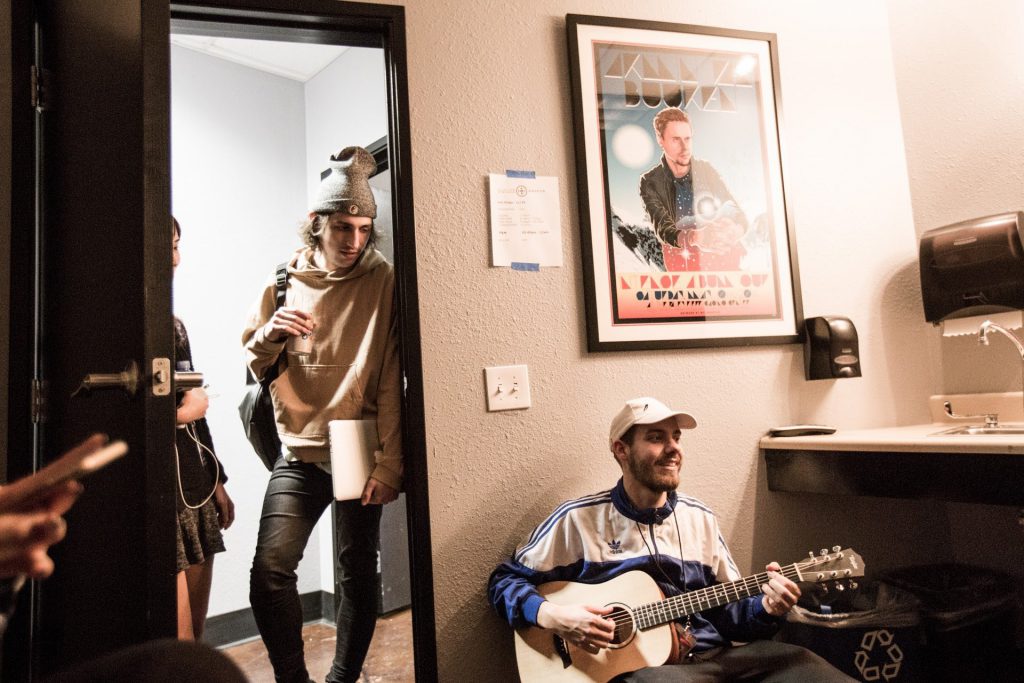 Virtual festivals and live streams are the new normal. What's the biggest thing that you miss about touring and playing shows? Does performing digitally compare at all?
I haven't done that many digital sets so I'm probably not the best person to ask about this but it's absolutely nowhere near as engaging as performing in real life. I love being able to walk up to the front of the crowd and really see people face to face and how they're connecting to the music and the show and even with the other people around them. It's a beautiful thing and It's just not the same online.
Let's chat about your current project stay vibrant. You've been releasing a new song every week which is quite impressive. What inspired the project and in your own words what does it mean to stay vibrant?
The stay vibrant playlist started because I needed a way to express a lot of the emotions I had right when the quarantine all started. I have a much easier time expressing myself through music than I do with words and I had so much to say that I just wanted to get that all out. Staying vibrant is all about accepting the ups and downs of life and trying to be as mindful as you can be and sharing the vibrant energy you have with the people around you.
You recently collaborated with Broods on the beautiful track "Honest." What was it like working with the sibling duo? 
I wrote 'Honest' a few years ago with Georgia [Nott] from Broods and two other writers Nate Campany and Kyle Shearer. Even though it took a while to put it out, it never lost that magic for me or my team. If anything I may have spent too long overthinking the production and I'm glad that we finally put it out. 
Bitbird has been on a tear lately with some seriously stunning releases. Can you share a little bit about the background behind recent projects like Create Together and what you're looking for when listening to demos?
It's all about music that touches our hearts in some form or another. We don't care much for genres or boxes. We want music that is real and boundaryless. Create Together is a perfect example of that. The fans in the bitbird Discord group came up with the idea of a compilation. Every producer was challenged to make a track within a month and the best ten would make the final compilation. I love how different all the tracks on that compilation are. But they all sound like they're made with the same intention.
Since this is a topic that's definitely on everyone's mind as well, how has the coronavirus and the quarantine affected you?
It's been quite the adjustment but I'm coming to terms with it more and more. The whole situation has definitely forced me to slow down a bit and reexamine my life. I've been on the road almost non-stop for the past couple of years which has been fun and I can't wait to get back again. But because it's so much fun, I find it hard to take a break every now and then. So in that way, this has been a good thing for me. I have more of a "normal" routine and get to sleep in my own bed. 
Right now we're all taking life day by day, what are some things that have kept you grounded during this time?
I'm making a lot of music, which is what I love doing most. Beyond that, taking some long walks and enjoying nature with some music. I've also spent more time with my family than I have in a while so that's another blessing in disguise.
Finally, when we think of San Holo, we think wholesome and positive. You're all about spreading the good vibes. What advice can you share with someone having a difficult time right now?
Take a deep breath and remember that nothing is final. Brighter days will always come.
---
Connect with San Holo on Social Media:
Website | Facebook | Twitter | Instagram | SoundCloud | YouTube